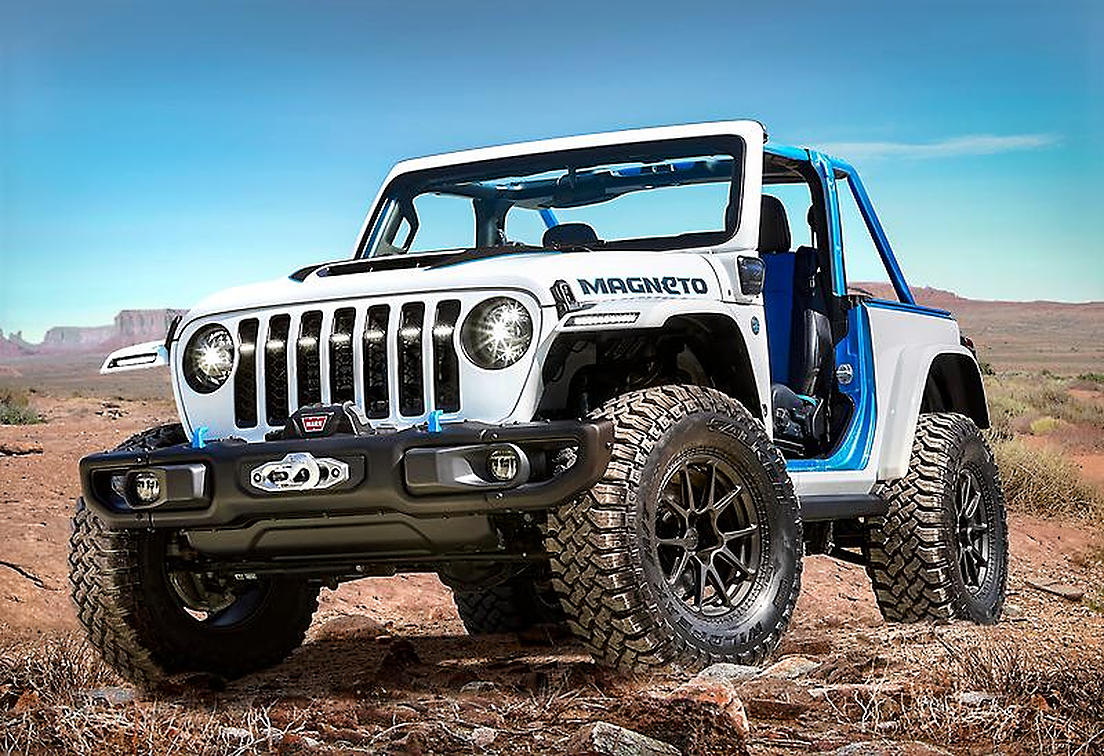 Image source: Stellantis
Jeep's parent company, Stellantis NV (NYSE: STLA ), has unveiled a concept version of a fully-electric Wrangler sport utility vehicle.
On Monday, the brand showed off a battery-powered version of its iconic SUV – dubbed the Magneto – which it plans to debut at this year's Easter Jeep Safari, an off-road event that will take place in Moab, Utah, from March 27 to April 4.
The Magneto concept is based off a two-door 2020 Wrangler Rubicon and powered by an electric motor that offers up to 273 pound-feet of torque and 285 horsepower, according to Jeep.
The electric off-roader also comes equipped with an 800-volt system spread across four battery packs, has a six-speed manual transmission and goes from 0-60 miles per hour in 6.8 seconds. Jeep did not specify the vehicle's range.
Jim Morrison, vice president of the Jeep brand in North America, described the Magneto as "a sustainable, stealthy, rock-climbing force."
"It's a zero-emissions concept vehicle with Jeep 4×4 capability taken to the next level," he said.
Jeep did not announce when it would officially begin producing an all-electric version of the Wrangler but has previously said it will eventually offer an electrified option for every model in its lineup.
The company, which recently pledged to become "the world's greenest SUV brand," already has a plug-in hybrid model of its Wrangler, the 4xe.
The Magneto is one of several concept vehicles that will appear at the Jeep Easter Safari, an event that Jeep regularly uses as a testing ground for vehicles and to gauge consumer interest in new products.
Morrison told CNBC, "The Moab Easter Jeep Safari has been a great tradition for more than half a century. It's a place where we get to connect with our most die-hard off-road enthusiasts and the ones who are most loyal to our brand."
_____
Source: Equities News