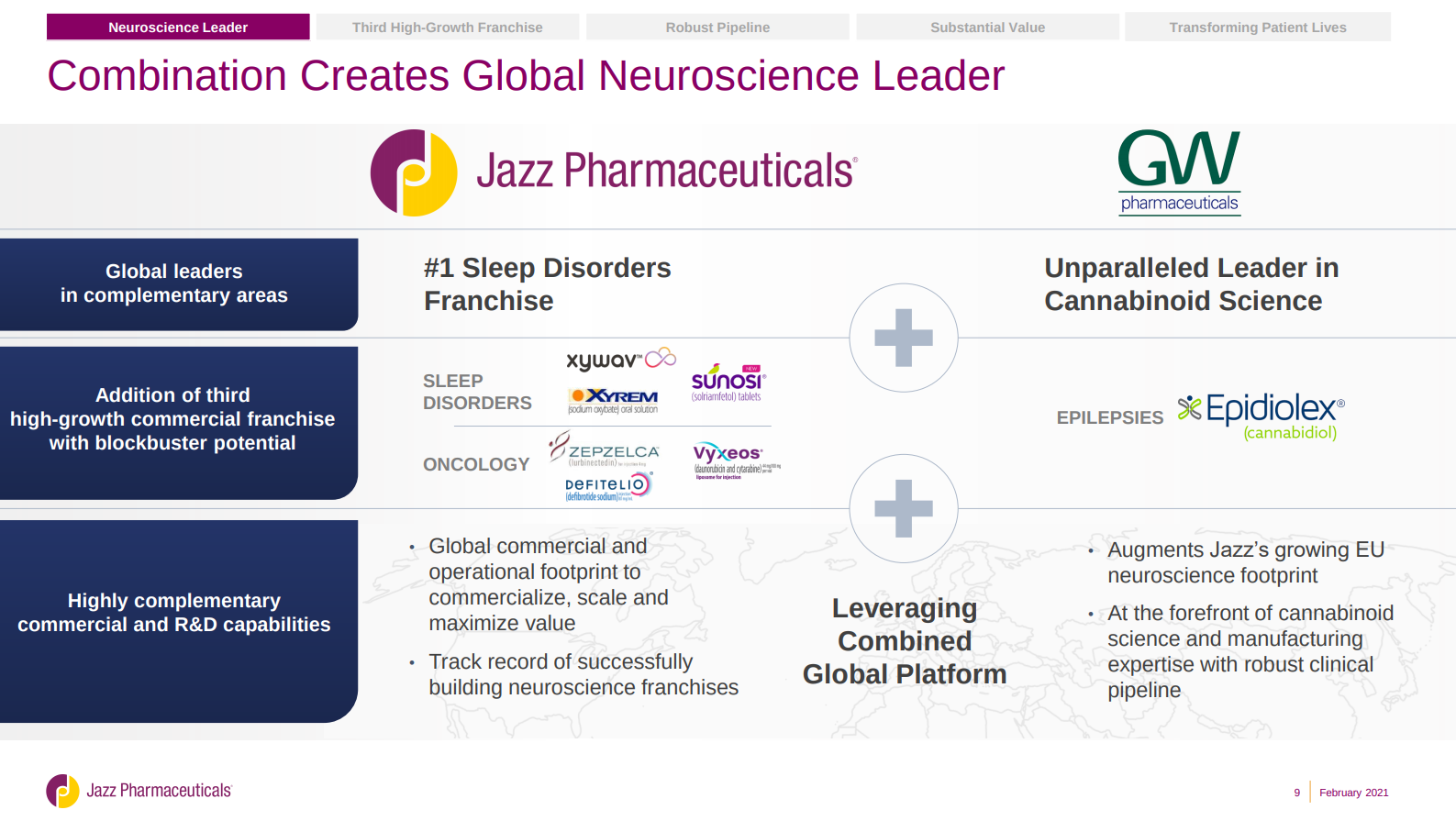 Image source: Jazz Pharmaceuticals investor presentation, Feb. 3, 2021
Jazz Pharmaceuticals plc (Nasdaq: JAZZ) has agreed to acquire GW Pharmaceuticals plc (Nasdaq: GWPH), maker of the first cannabis-based epilepsy drug, in a $7.2 billion cash-and-stock deal, the companies announced.
In a statement Wednesday, Bruce Cozadd, chairman and chief executive officer of Jazz Pharmaceuticals, said the deal will enable the drugmaker to move beyond sleep disorders and cancer treatments by strengthening its neuroscience unit.
GW's Pharmaceuticals' cannabinoid products will also "further diversify our revenue and drive sustainable, long-term value creation opportunities," said Cozadd.
Epidiolex, GW Pharmaceuticals' lead product, is the first plant-derived cannabinoid approved by the U.S. Food & Drug Administration. The drug is approved in the U.S., EU and Australia to treat seizures associated with Lennox–Gastaut syndrome (LGS), Dravet Syndrome or TSC in patients 1 year of age and older.
A second product, Sativex, is approved over 25 countries outside the US for the treatment of spasticity due to multiple sclerosis (MS). Sativex is a cannabis extract containing tetrahydrocannibinol (THC) and cannabidiol (CBD) along with other cannabis plant components.
GW Pharmaceuticals is in late-stage trials with the compound in the US for spasticity due to MS and has other early stage programs in post-traumatic stress disorder (PTSD), autism, schizophrenia and neonatal encephalopathy
According to Reuters, Epidiolex generated over $500 million in sales last year and is expected to reach $1 billion soon.
Justin Gover, chief executive officer of GW Pharmaceuticals, said, "We believe that Jazz is an ideal growth partner that is committed to supporting our commercial efforts, as well as ongoing clinical and research programs, We have a shared vision of developing and commercializing innovative medicines that address significant unmet needs in neuroscience and an approach of putting patients first."
The transaction, which has been approved by the boards of both companies, is expected to close in the second quarter of 2021.
_____
Source: Equities News