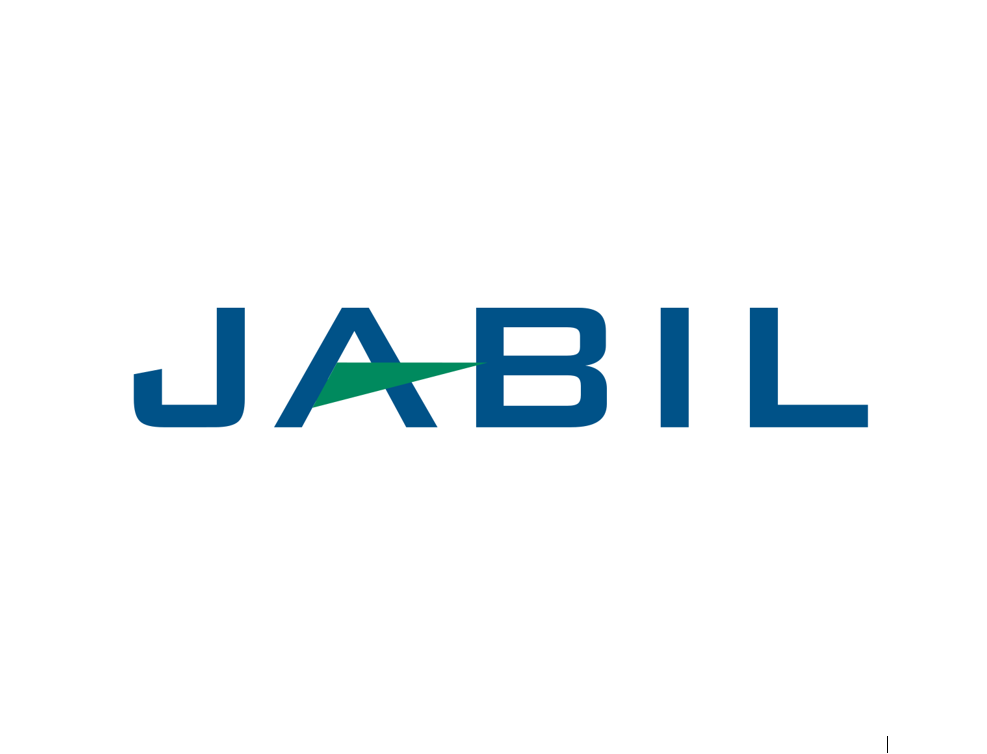 Jabil Inc. is a manufacturing services company that outsources for many of the largest companies in the world including Apple, Hewlett-Packard, Magic Leap, Go Pro, Tile, Keysight Technologies and Zebra Technologies among many others. As one of the largest U.S.-based manufacturers, the company has nearly $26.3 billion in revenue in the latest 12 months ending Nov. 30, 2019, specializing in automated, continuous flow manufacturing. Jabil consistently has its hand in helping to create the next technological innovation in consumer electronics, although the company is working in almost every major vertical including 5G, IoT, 3D printing, augmented reality and digital healthcare.
Simply put, technological innovation at scale often leads back to Jabil. As connected devices per person worldwide continually increases – we have gone from 3.47 per person in 2015 to 6.58 per person in 2020 (according to Statista) – the company looks like a proxy to bet on upcoming trends in technology, the automotive sector and even healthcare. At the time of writing, the company's stock is up more than 35% over the last 6 months.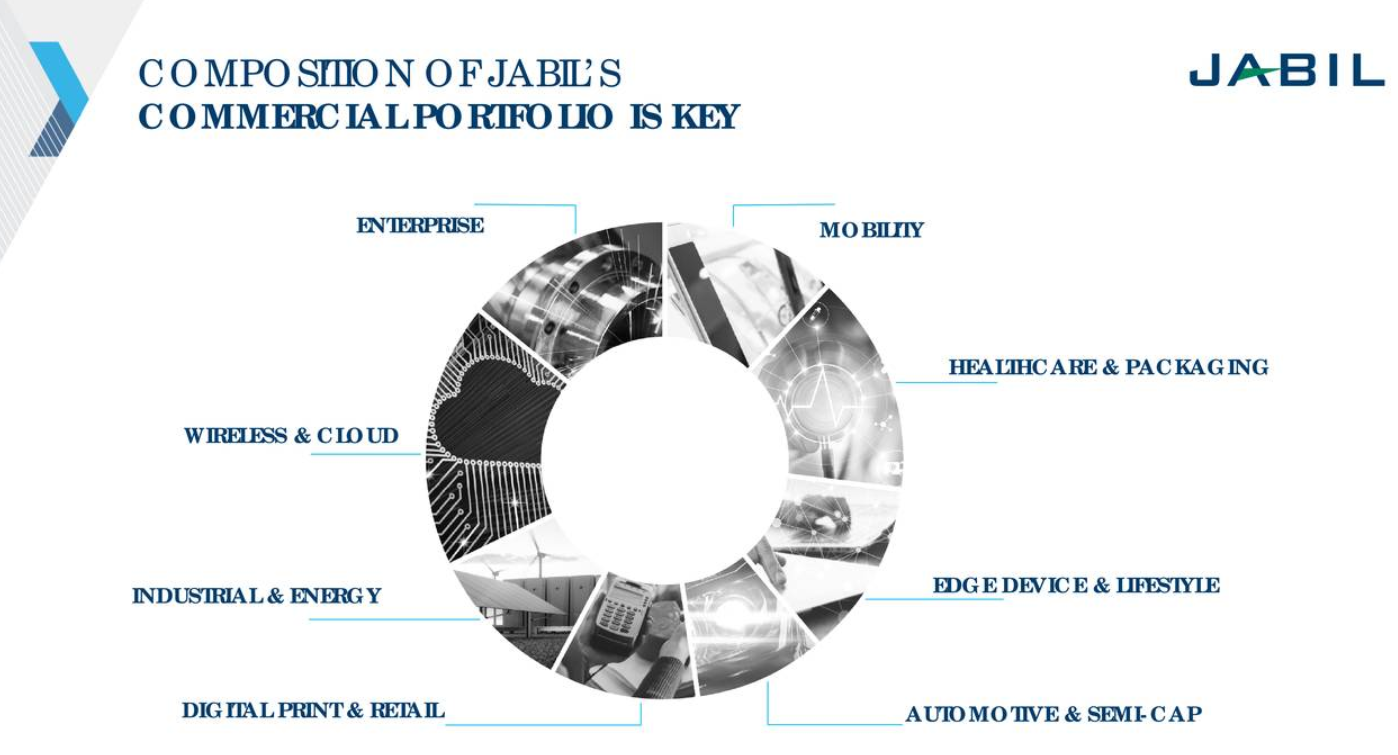 Source: Company Presentation
In total, Jabil's commercial portfolio touches 8 segments and Q1 results for 2020 showed 15% year-over-year growth, 3.7% increase in core operating margins and 17% growth year-over-year Core EPS. In the recent conference call, CEO and Director, Mark Mondello, touched on the diversity of the company's portfolio:
"A bit of our foundational magic which makes the portfolio so powerful comes from our ability to efficiently and quickly share technologies across our various business sectors and do so with little friction. With each passing year, our revenue has become far less dependent on any single product or product family, improving the predictability of our earnings while enhancing our ability to execute."
Jabil's EMS and DMS segments
Jabil is broken up into two segments: Electronic
Manufacturing Services (EMS) and Diversified Manufacturing Services (DMS). The EMS
segment focuses on computer components, printing and telecom, while DMS is
engineering solutions for the technology and material sciences sector. In fiscal
Q1 2020, revenue for DMS was $3.1 billion, an increase of 3% year-over-year
with core margins at 5.6%. EMS's revenue increased 26% year-over-year to $4.4
billion with core margins of 2.4%.
DMS is the higher-margin segment and often partners
with companies to work hand-in-hand like it has with HP's Multi Jet Fusion
Additive Manufacturing System. As an example of another high-profile client
using Jabil's equipment, the latter piece of technology is already making
50,000 mouth molds a day for SmileDirectClub, according to ZDnet.
While DMS represents some of the sexier projects for
which Jabil is known, the global EMS market is growing rapidly and is expected
to surpass $650 billion by 2024 with a CAGR of 7.5%, according to Global
Banking and Finance. The catalyst for this industry growth is consumer demand
for new products, a reduced time to market and increased competition. Furthermore,
Jabil offers network infrastructure for 5G and, as I have written about
recently, 5G network infrastructure will reach $4.2 billion, an 89% increase
from 2019, according to Gartner, Inc.
With its hands in many of the growing technology
trends, Jabil offered guidance of a 4% increase for Q2 on a year-over-year
basis for their DMS segment and a 5% increase year-over-year for their EMS
segment due to higher revenues in cloud and auto sub-segments.
"We
expect total company revenue in the second quarter of fiscal 2020 to be in the
range of $6 billion to $6.7 billion for an increase of 5% at the midpoint of
the range," Jabil CFO, Mark Dastoor, said in the company earnings call. "Core
operating income is estimated to be in the range of $155 million to $255
million with core operating margin in the range of 2.6% to 3.8%."
Growth Opportunities and Risks
Jabil
is extremely diversified and skilled at acquisitions. Last year, the company
acquired medical device manufacturing facilities (14 sites were mentioned in
the deal) covering endoscopy, surgical, spine, trauma and
instrumentation from Johnson & Johnson. The company believes these
acquisitions could grow annual revenue by $1 billion annually. The transfer of
J&J's medical device manufacturing capacity offers high profit margin sales
that are predictable.
One risk factor, however, is how large of a footprint
the company has in China. The company does certainly benefit from manufacturing
in China, and it has around 44 million square-feet in facility space, but Jabil
is far from dependent on Chinese manufacturing as it boasts manufacturing space
in 29 countries. This gives Jabil the ability to move operations entirely or
expand operations at an existing facility. Further, Jabil is commencing a 2020
restructuring plan in China including headcount reductions and capacity realignment.
_____
Equities Contributor: Stephen L. Kanaval
Source: Equities News