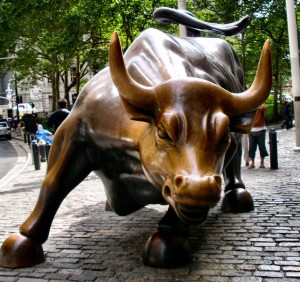 Manufacturers cumulatively expanded operations in December, following a brief contraction in November, according to the Institute for Supply Management.  The ISM index rose to 50.7% in December from 49.5% in November, which was the lowest level of 2012.  Readings over 50 signal that the number of manufacturers expanding is greater than those contracting.  December's reading was only the third time in the past seven months that manufacturing expansion was recorded.
The Employee Index came-in at 52.7% in December, a sharp climb from November's 48.4%.  The contraction in November was the first month since September 2009 that the Employee Index was below 50 percent.  The New Orders Index was equal to November at 50.3 percent, marking the fourth month of growth after three straight months of contraction.  The Production Index dropped from 53.7% in November to 52.6% in December, representing the third consecutive month of expansion.
The Export Index scored 51.5 percent, the first expansion in seven months while the Import Index also registered 51.5 percent, its first growth in four months. The Inventories Index docked 2 points from November, registering 43 percent in December.  This is the lowest reading since December 2009's 41.5% level.  Given the looming fiscal cliff, it is not surprising that inventory levels were slimmed in December.
Seven of the 18 manufacturing industries reported growth in December, led by Furniture & Related Products and Paper Products.  Contracting industries were paced by Nonmetallic Mineral Products and Chemical Products.
Although still below 50 for the ninth straight month, ISM's Backlog of Orders Index registered 48.5 percent in December, a 7.5 percentage points climb from the 41 percent reported in November.
The ISM noted that comments from panelists were mixed for December with some indicating that demand was growing, while others suggested continued industry softness, and that "many respondents" conveyed uncertainty about macroeconomics, taxes and regulations; seemingly alluding to the fiscal cliff that was rapidly approaching at the time of the survey.
Of course, Congress finally bridged the impasse over the past two days to approve a bill averting the potentially crippling effects of the fiscal cliff, a series of deep spending cuts and tax increases that went into effect at 12:01 AM ET January 1, 2013.  Wall Street began rallying Monday, sensing that a deal was going to get done.  With official news of both the House and Senate approving the bill, the bulls are stampeding on Wall Street on Wednesday morning.  The Dow Jones is ahead by about 240 points (1.84%), the S&P 500 is up 26.78 points (1.88%) and the Nasdaq has scampered higher by 72.89 points (2.41%).
DISCLOSURE: The views and opinions expressed in this article are those of the authors, and do not represent the views of equities.com. Readers should not consider statements made by the author as formal recommendations and should consult their financial advisor before making any investment decisions. To read our full disclosure, please go to: http://www.equities.com/disclaimer