Each week, we tap the insight of Sam Stovall, Chief Investment Strategist, CFRA, for his perspective on the current market.
EQ: With over 20% of the S&P 500 companies having reported already, earnings season has not seemed to be able toquell investor angst as volatility has remained elevated. What are your thoughts on what this reporting season and corporate guidance have shown thus far?
Stovall: I think what's been happening is investors have finally come to realize that maybe there really is a negative fallout to the trade tariffs that have been going on and that we are approaching that peak period for corporate earnings. We've been in this bull market for nine and a half years, and investors are wondering just how long this 20%-plus growth can continue. Well, it seems not very long.
Expectations are that earnings will be up 18.5% in the fourth quarter, and then in the low-teens to upper-single digits for much of 2019 as the year-on-year comparisons will become even more challenging. So, I think it's a combination of "P" and "E," meaning politics and earnings that are causing investors to feel a bit anxious these days.
EQ: Some analysts and market strategists such as from Bespoke and UBS have pointed out that reporting stocks are underperforming the market. Does this suggest investors are selling the news to head for the sidelines?
Stovall: Well, the markets had done so well leading up to the Sept. 20 peak, with specific sectors like Technology and Consumer Discretionary leading in the move, and I think investors might've been looking for reasons to lock in their gains since we are getting closer to the end of the year. There's usually a period in which you have investors trying to lock in profits, move to the sidelines, and then wait things out. Maybe that's what is occurring right now.
Traditionally, investors gravitate to the sidelines before midterm elections, and once the midterm elections are over, the uncertainty lifts and the market tends to recover.
EQ: In this week's Sector Watch, you highlighted that there have been some movement at the sub-industry level within the S&P 500. There have been some additions and drop-offs in the top 10% here. Are there any implications to glean from the new leadership groups and where investors might be rotating toward?
Stovall: Yes, slightly. What it's implying, I think, is we're seeing investors gravitate toward a lot of the consumer areas—many of which are more Consumer Staples related, such as Food Retail. Also, interestingly enough, Health Care has seen a pickup in terms of a rolling 12-month relative strength with groups like Health Care Facilities, Health Care Services, and Managed Healthcare.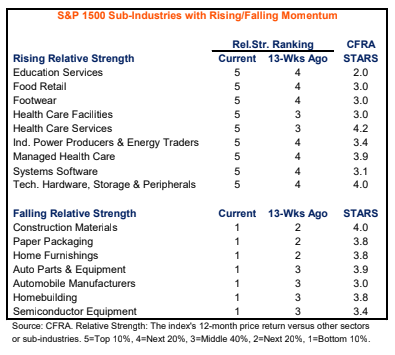 I think in general what's happening is investors are saying they want to stick with stocks; they don't want to retreat. So, what they'll do instead is rotate and therefore will still be in equities should we see the culmination of this downward move and have the market start to recover once again.
EQ: The S&P 500 has broken below 2700 with Wednesday's close. Is there a key level of support in the near-term that you're watching as the midterm election nears?
Stovall: What I have found is there have been 26 years since World War II in which we had two declines in excess of 5% in the same calendar year, and about 70% of the time, the second decline was deeper than the first one. That's probably because the first one didn't reset the dials enough. So, maybe we should be looking at 2,600.
So, 2,580 to 2,600 would point to about a 12% peak to trough decline, which would be a little greater than what we experienced earlier this year but still leave us higher than where we were toward the latter part of the most recent decline.
EQ: President Trump has been increasingly critical of Fed Chair Jerome Powell in recent weeks regarding the Fed raising rates. Do you think this has any effect on the market's psyche on the uncertainty of rising rates?
Stovall: Well, I think it indicates that the President might not know the purpose of the Fed and that he would try to inject his influence, not only on the selection of the Fed Chair, but also on the actions of that individual. So, I think while right now most investors are probably simply saying it's Trump being Trump, should he get rid of Jerome Powell because he's not doing what he wants him to, that I think would end up throwing the market into a tailspin, and maybe into a new bear market.