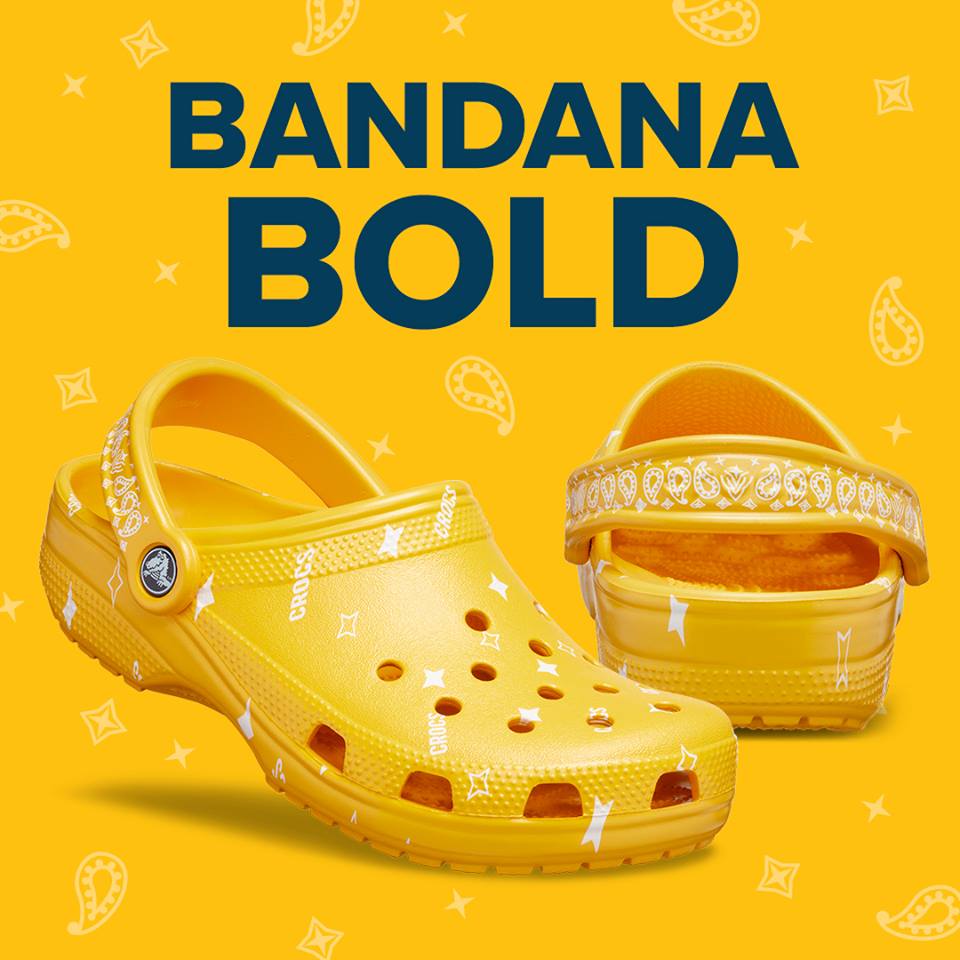 Image courtesy of Croc's Facebook page
The financial comeback story of the year might go to a foam clog.
Yes, Generation Z, those plucky kids who have been using smart phones since toddler-size, are all grown up and they are loving their Crocs Inc. CROX. And, they helped turn this company that was close to bankruptcy in 2009 into a top-15 global footwear brand again.
As of market close on Tuesday, the company saw its shares drop nearly 5% to $26.94 despite posting first-quarter profits that totaled $24.7 million, or 33 cents per share — up from $12.5 million, or 15 cents per share, from the prior-year period. Revenues similarly climbed to $295.9 million, compared with $283.1 million during the same time in 2018. While this is not amazing, it is leaps and bounds compared to where the brand was five years ago.
Specifically what is behind this turnaround? Ugly fashion. While that may seem like an oxymoron to most, ugly aesthetics kind of works like this: a designer makes a hideous item, charges an absurd amount for it and the internet goes completely crazy with memes, rage and laughter.
Get Comfortable
Crocs has been able to turn this viral vitriol into actual sales. For example, the company partnered with luxury designer Balenciaga to make a stiletto version of their foam clog that looked like Barbie high on ketamine. The pricetag was $850.
Most teens are not paying high prices for their clogs, but instead putting on their mall-bought shoes and snapping picture for Instagram as kind of a bold, I-don't-care-what-you-think fashion statement. The company also makes jibbits, which are customizable pins for your clogs to add a little more spiciness and flair to your Crocs 'tude.
In fact, the musical Drew Barrymore did for the brand said as much repeating the Broadway-style refrain, "just be comfortable in your own shoes." Besides Drew Barrymore and John Cena, Post Malone, the rapper, has done two collaborations with the brand that sold-out instantly making the covers of both Vogue and GQ in varying respects.
Besides, Post Malone, Crocs has also partnered with some more underground brands.
"In Q1, we focused on influential LA streetwear brands. Our collaborations with PLEASURES, Left Hand L.A., Chinatown Market and PizzaSlime, brought us great visibility with their fans," the company stated on the call yesterday.
This is a nice marketing story, but Post Malone and Drew Barrymore did not resurrect the brand. Croc's chief executive Andrew Rees' austerity measures and strategy shift is responsible for the brands turnaround. Before the recession, Croc's clogs were everywhere – even President George W. Bush was wearing a pair – but due to excess inventory and the fickleness of fashion the brand had to make significant changes.
Rees and his team shuttered stores, ended distribution deals, closed production facilities in Mexico and Italy and cut underperforming lines. The company went back to clogs and sandals made only by third-party producers in China and Vietnam.
"We will continue to focus on molded footwear, particularly clogs and sandals, which are the best reflection of Crocs DNA," Rees told analysts in late summer last year as the company had seemingly turned the ship around.
Looking ahead, Crocs sees growth areas in the sandals market specifically the women's sandal market that is worth $26 billion, but does not have a clear leader. Of course, clogs continue to be in high demand. First-quarter clog revenues grew approximately 12% and represented 56% of the company's footwear sales.
"With respect to the second quarter, we expect revenues to be between $350 million and $360 million, compared to $328 million in last year's second quarter," Rees said on the call "At the midpoint of our guidance, adjusting for currency and store closures, this represents underlying growth of approximately 13%."