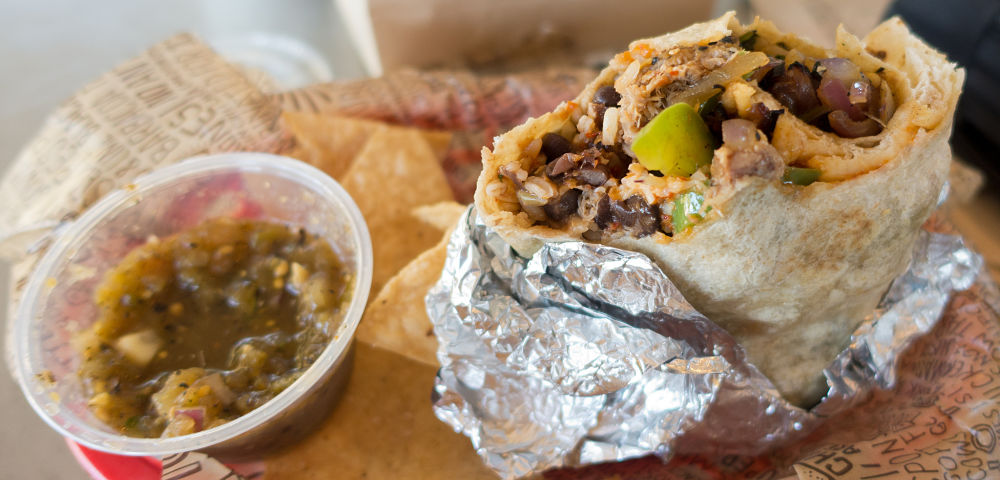 Image via Eric/Flickr CC
Chipotle Mexican Grill (CMG) was one of the market's leading growth stocks back in 2010-2014, but business took a hit and the stock was crushed after a bunch of food illnesses led to plunging earnings. Recently the stock gapped up nicely on earnings, writes Mike Cintolo.
The bottom line fell from $15 per share in 2015 to $1.28 the next year! But, slowly but surely, the company has tightened up operations, improved quality control and won back customers, with the firm's first-quarter report last week indicating that, while the rapid growth days are gone, the firm's best days are still ahead of it.
While total sales rose just 7.4%, same-store sales were up 2.2%, a figure that accelerated compared to the past couple of quarters.
More importantly, costs were controlled, leading to a 33% jump in earnings (the $2.13 of earnings per share beat estimates by 57 cents!), and both management and analysts see the good times continuing.
The top brass expects same-store sales to continue rising in the low single digits for the rest of the year and plans to open about 140 new restaurants in 2018 (boosting the store count by 5.7%), which has analysts expecting earnings to rise 28% this year and another 34% in 2019.
This isn't the same dynamic cookie-cutter story it was a few years ago, but after a couple of years in the doghouse, Chipotle looks like a durable turnaround story with solid potential.
CMG crashed 65% from mid-2015 through October of last year, a decline that wiped out all the weak hands as business collapsed. But the stock basically began to build a bottom at this point; there was a one-week dip to new lows in February, but the stock immediately snapped back.
What's interesting is that CMG then tightened up for the next couple of months, a good sign that big investors were starting to accumulate shares — and then recently, the stock gapped up nicely on earnings. Nibbling on dips makes sense.
Mike Cintolo is editor of Cabot Top Ten Trader.
Subscribe to Mike Cintolo's Cabot Top Ten Trader here…
About MoneyShow.com: Founded in 1981, MoneyShow is a privately held financial media company headquartered in Sarasota, Florida. As a global network of investing and trading education, MoneyShow presents an extensive agenda of live and online events that attract over 75,000 investors, traders and financial advisors around the world.