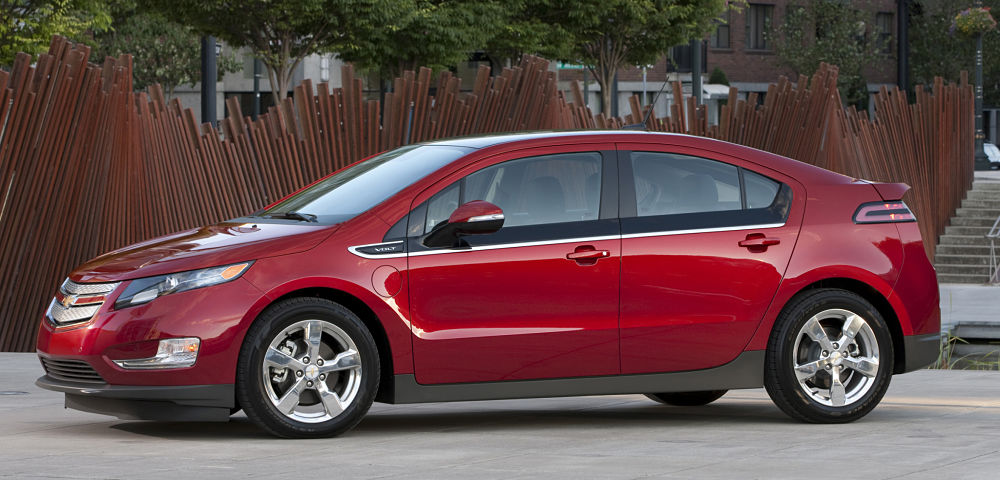 Image via Mariordo/Wikimedia
Shares of General Motors (GM) have been on quite a run of late, with the latest jump last week courtesy of excitement over the company's electric car programs, notes value investing expert Jason Clark, contributing editor to The Prudent Speculator.
Mark Reuss, GM executive vice president of Product Development, Purchasing and Supply Chain, said recently, "General Motors believes in an all-electric future."
The company added, "In the next 18 months, GM will introduce two new all-electric vehicles based on learnings from the Chevrolet Bolt EV. They will be the first of at least 20 new all-electric vehicles that will launch by 2023."
While the ever-popular Tesla (TSLA) continues to struggle to get its "more affordable" Model 3 produced at a desirable rate, GM's focus in the EV and autonomous area has sparked interest in the stock as the firm definitely has the capacity, leaner cost structure and ability to produce these types of vehicles in mass if they can score some popular hits.
Furthermore, GM's Cruise Automation unit is developing self-driving cars. Its Maven unit provides Chevy Bolts to workers for short stint driving for ride-hailing or delivery outfits.
The Bolt gets over 230 miles on a charge, putting it in Tesla's territory and the Volt costs less than $40,000 and is available now — good luck scoring a Tesla Model 3 at that price anytime soon.
In addition to the excitement about the future, GM's auto sales in September rose 11.9% compared with a year earlier, with total units climbing to 279,397 vehicles, as sales to fleet buyers rose and truck demand boomed.
Of course, the positive momentum was boosted by car replacements following hurricanes Harvey, Irma and Maria, which should remain a tailwind, given that forecasts suggest upwards of 600,000 vehicles were damaged beyond repair in the storms.
We have boosted our target price for GM to $50, and still see plenty of upside potential for the stock, which, despite the recent run, trades for less than 8 times estimated earnings and offers a 3.4% dividend yield.
Jason Clark is contributing editor of The Prudent Speculator.
Subscribe to The Prudent Speculator here…
About MoneyShow.com: Founded in 1981, MoneyShow is a privately held financial media company headquartered in Sarasota, Florida. As a global network of investing and trading education, MoneyShow presents an extensive agenda of live and online events that attract over 75,000 investors, traders and financial advisors around the world.
DISCLOSURE: The views and opinions expressed in this article are those of the authors, and do not represent the views of equities.com. Readers should not consider statements made by the author as formal recommendations and should consult their financial advisor before making any investment decisions. To read our full disclosure, please go to: http://www.equities.com/disclaimer