Is Cryptocurrency Too Volatile to Invest In?
Due Follow |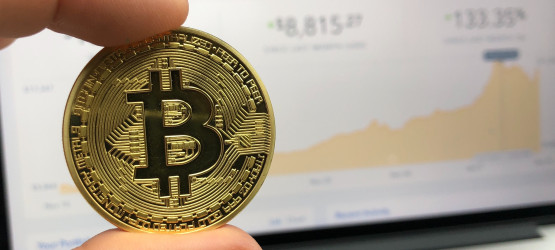 As an investor watching the skyrocketing price of Bitcoin at the end of 2017, and an observant consumer wondering about the future growth of the economy, you've likely wondered about the prospects of an investment in cryptocurrency. The inherent benefits of cryptocurrency over a traditional currency system make it a promising choice for the future, but this is an entirely new system we're dealing with—and the price volatility of the most popular digital coins on the market have made most investors apprehensive to get involved.
Is cryptocurrency currently too volatile to touch?
Why Crypto Is Volatile
Let's start by exploring why cryptocurrency is volatile in the first place:
Uncertainty. First, there's a lot of inherent uncertainty about the nature and future of cryptocurrency. Even proponents of crypto aren't sure it's going to be our future currency of choice, and there's no basis for how to value cryptocurrency since it's an entirely new creation. On top of that, there's little to no historical precedent for how the price of crypto can or should change; this leads to extreme changes in valuation.
Waves of excitement. We're also seeing waves of excitement in the general public. When the media started talking more about cryptocurrency, more people started investing. When more people started investing, the price started rising significantly. More investors saw that rise, and wanted to jump on the bandwagon before it was too late, pushing the price higher and faster. Then, in a rush to reap the profits or avoid losses, people started selling in droves. These ongoing cycles of emotion-based buying and selling only keep volatility high.
Low market cap. Compared to blue-chip companies, the market cap for many coins is still relatively low; in other words, there isn't much value in active circulation. That means, hypothetically, even a handful of transactions could be enough to influence the price in one direction or another. In this context, it doesn't take much for the price to skyrocket or plummet, seemingly overnight.
Rapid changes. The crypto market is also sensitive to news about rapid changes that could affect its future environment. For example, countries are starting to take a stance on cryptocurrency, with some nations banning it from being used altogether. Others are introducing new regulations, and are starting to define how crypto should operate within their borders. Interpretation of this news could push the price significantly higher or lower in the course of a day.
The Future
Many factors for volatility are beyond our control, and appear likely to remain for the foreseeable future. However, the volatility of cryptocurrency may start to decline soon, for several reasons:
Stable alternatives. We're starting to see the emergence of fiat-backed "stablecoins," such as TrustToken. Stablecoins are types of cryptocurrency that are backed with traditional fiat currency. In other words, they're digital currencies that rely on existing currencies. These would eliminate much of the uncertainty associated with digital currencies, and would prevent their value from skyrocketing or plummeting.
Desensitization. To many consumers, Bitcoin isn't new or exciting anymore, which is actually a good thing for the future of the currency. Fad chasers aren't rushing to buy or sell as quickly as they have been, and their excitement will likely decrease even further in time. That means fewer transactions to influence the price up or down.
Consolidation. Hundreds of coins have emerged in the wake of Bitcoin's success, but we're seeing less interest in these marginal coins and more interest in a handful of strong competitors, including Bitcoin and Ethereum. This is helping to build the market cap for these central coins, which will help reduce their volatility.
Making the Decision
So, is cryptocurrency too volatile to invest in? That depends on your current goals. An investor hoping for a long future of steady gains, year over year, may wish to keep their money in an index fund or a collection of low-risk stocks and bonds. But if you believe in the future value of cryptocurrency, and don't mind taking a bit of risk, it may be in your best interest to get involved now.

If you're still worried about paying too much for Bitcoin or another cryptocurrency of your choice, consider using dollar-cost averaging to spread your investments out. That way, you can mitigate at least some of the volatility associated with crypto investing. Just make sure you aren't trying to time the market; this is never a wise strategy, even in conventional forms of investing.

DISCLOSURE: The views and opinions expressed in this article are those of the authors, and do not represent the views of equities.com. Readers should not consider statements made by the author as formal recommendations and should consult their financial advisor before making any investment decisions. To read our full disclosure, please go to: http://www.equities.com/disclaimer