Image: Revolution Medicines, Inc.
February 14, 2020 —
Revolution Medicines' IPO Was In High Demand Before the Deal — and After
Redwood City, California, based Revolution Medicines priced its initial public offering Wednesday night, offering 14 million shares at $17.00—the top end of an upwardly revised range—via J.P. Morgan, Cowen, SVB Leerink and Guggenheim Securities. The $238 million in gross proceeds were more than twice what the company had originally contemplated.
Revolution Medicines' Form S-1, filed with the SEC on Jan. 17, carried a placeholder transaction size of $100 million. Initial pricing terms were disclosed on Feb. 3, showing a 10 million share offering at a range of $14.00 to $16.00. The Feb. 11 amendment carried revised terms of 14 million shares at a range of $16.00 to $17.00, reflecting what must have been significant enthusiasm on the institutional roadshow for the oncology company.
Shares opened for trading Thursday at $28.00 and never fell below that watermark, peaking at $32.41 in the early hours before settling in to trade around the $29.00 level the rest of the day on volume of over 7.3 million shares. The $967 million IPO valuation had ballooned to over $1.64 billion by day's end with a $28.90 per share close.
Signaling Pathways and Targeted Therapies
The study of cellular signaling pathways is central to biopharmaceutical research and drug discovery and development. These pathways comprise different molecules in a cell working together to control specific normal functions such as cellular growth and survival.
The first step in a pathway may be some protein or hormone, for example, that binds to a specific receptor on a cell, or inside a cell. That action then activates another molecule to perform the next task, and the action continues down the pathway—each completed step signaling the next step to begin—until the desired function is ultimately achieved.
Problems involving abnormal signaling along a pathway can lead to serious diseases including cancer. Many FDA-approved cancer treatments are drugs that target specific molecules in order to interfere and disrupt the dysfunctional signaling pathways.
When you hear words like inhibitor or receptor antagonist, you're dealing with drugs that are targeting molecules along signaling pathways. Roche's blockbuster breast cancer drug Herceptin (trastuzumab), for example, is an antagonist that binds to HER2 receptors on cancer cells, thereby inhibiting them from receiving the signals to grow and multiply.
Revolution Medicines — Developing Therapies To Inhibit Frontier Targets
Revolution Medicines is developing cancer therapies to inhibit frontier targets within well-known growth and survival pathways, with particular emphasis on the RAS and mTOR signaling pathways.
The company defines frontier targets as those that play an important role in cancer and for which there is either:
No approved drug that directly inhibits them,

Or one or more approved drugs that directly inhibit them, but through a mechanism of action that may not enable suppression of the full range of biologic contributions to cancer.
RAS and mTOR Signaling Pathways
The RAS and mTOR signaling pathways are notorious in the proliferation of cancer, in which mutations in key nodes in these pathways cause excessive or aberrant signaling and cell growth.
According to the National Cancer Institute, over 30% of all human cancers are driven by mutations in the RAS family of genes. This encompasses 95% of pancreatic cancers and 45% percent of colorectal cancers. Diverse mutations in three different RAS isoforms (KRAS, NRAS and HRAS) drive distinct human cancers.
KRAS mutations are commonly found in non-small cell lung cancer (NSCLC) and account for approximately 85% of RAS-mutant cancers. NRAS mutations are commonly found in melanoma and account for approximately 11% of RAS-mutant cancers. HRAS mutations are commonly found in bladder cancer and account for 4% of RAS-mutant cancers.
While there are many therapies on the market that target the RAS pathway, significant treatment gaps still remain. First, several oncogenic proteins are not addressed at all by current therapies. Second, cancers often progress in the face of drug therapy due to their adaptive resistance mechanisms.

The mTOR signaling pathway is a key regulator throughout the life cycle of a cell, including growth, metabolism, proliferation and metastasis. According to data from the Cancer Genome Atlas Pan-Cancer initiative, the mTOR signaling pathway was found to have among the most mutated genes in 12 different cancers analyzed from 3,281 tumors, including breast, colon, lung, uterine, ovarian, head and neck.
Revolution Medicines' most advanced product candidate, RMC-4630, is a potent and selective inhibitor of SHP2, a central node in the RAS signaling pathway. In collaboration with Sanofi, Revolution Medicines has the compound in a multi-cohort Phase 1/2 study for a range of tumor types. An interim reading of the trial data, first disclosed in the Form S-1, shows preliminary evidence that RMC-4630 has single agent anti-tumor activity in KRAS mutant NSCLC.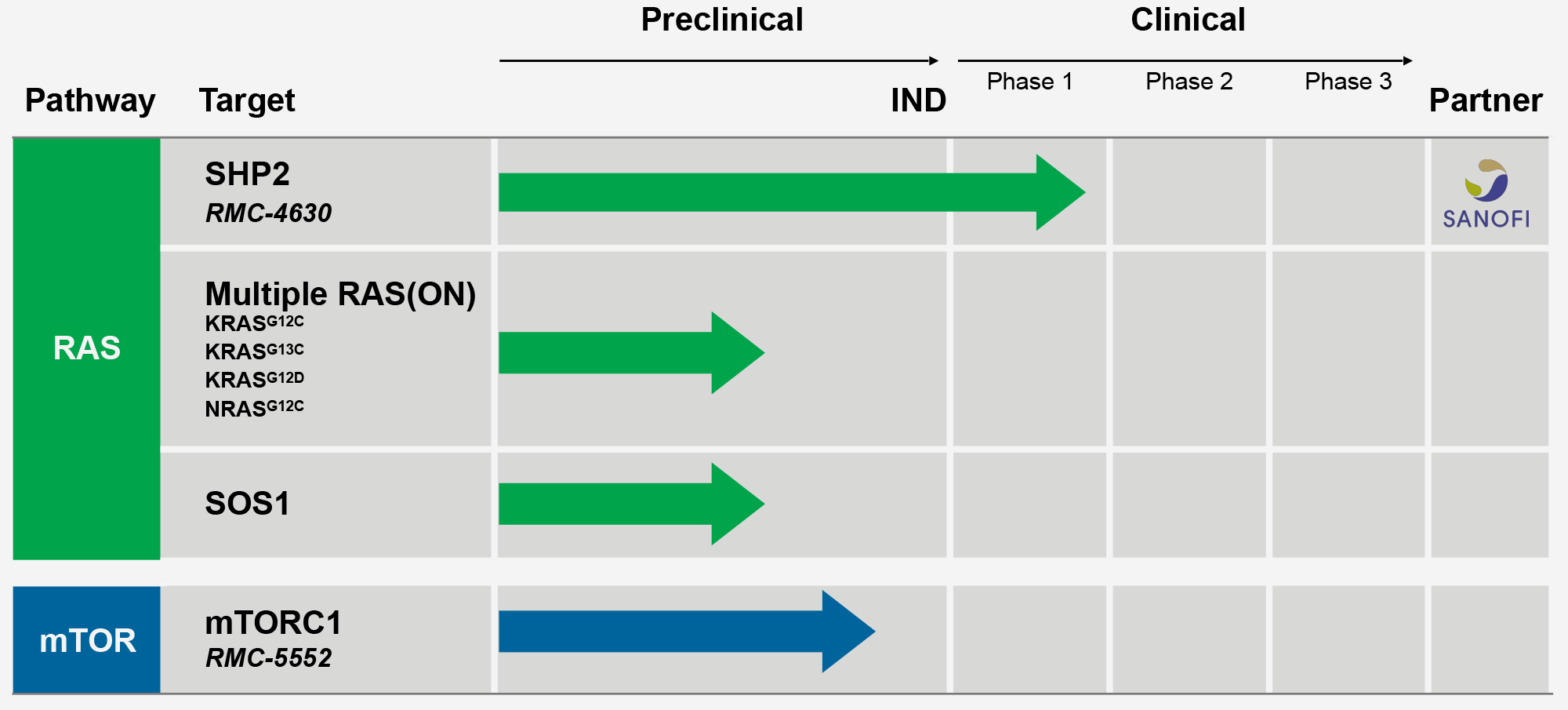 Source: Revolution Medicines, Inc.
Sanofi Collaboration on SHP2 Inhibitors
In July 2018, Revolution Medicines and Sanofi entered into a partnership to jointly develop SHP2 inhibitors. Sanofi paid Revolution Medicines $50 million upfront and is covering research and development costs for the joint SHP2 program. Sanofi has an exclusive worldwide license for global commercialization of any approved products targeting SHP2, subject to a US co-promote right for Revolution Medicines.
The companies have a 50/50 profit and loss share arrangement in the US, and Revolution Medicines is entitled to receive tiered royalties on annual net sales ranging from high single digit to mid-teen percentages on sales outside the US. Revolution Medicines could also receive more than $500 million in development and regulatory milestone payments.
Amgen Conducting Combination Phase 1b Study
In November 2019, Amgen and Revolution Medicines entered into an agreement to evaluate the combination of RMC-4630 and Amgen's AMG 510 in a Phase 1b trial being conducted by Amgen in subjects with advanced solid tumors harboring a mutation of a specific gene called KRASG12C.
This combination study is the first step in evaluating whether or not inhibition of the RAS pathway at two nodes simultaneously increases the clinical benefit for patients with tumors bearing the KRASG12C gene.
AMG 510 is known as a KRAS(OFF) inhibitor, signifying that it targets an inactive form of KRAS. Revolution Medicines' RAS family of drug candidates are inhibitors targeting active forms of RAS, or RAS(ON).
Revolution Medicines' RAS(ON) Portfolio

Although Amgen's AMG 510 was the first KRASG12C inhibitor to reach the clinical stage, Revolution Medicines believes that its own RAS(ON) candidates may ultimately have more staying power. As the company states in its IPO prospectus:
Historically, direct inhibition of any RAS protein has been challenging due to a lack of tractable, or 'druggable,' binding pockets. Recently, selective inhibitors of inactive, GDP-bound forms of RAS, or RAS(OFF), have demonstrated encouraging preliminary anti-tumor effects and thus provide clinical validation for targeting mutant RAS in cancer. Our small molecule inhibitors of mutant RAS(ON) are derived from our proprietary tri-complex technology platform, which enables us to target proteins lacking intrinsic drug binding sites by inducing new druggable pockets. In tumor cells that are addicted to high levels of RAS activation, we believe that selective inhibitors of RAS(ON) will suppress cell growth and survival and be less susceptible to adaptive resistance mechanisms recognized for RAS(OFF) inhibitors.
IPO Is the High Point So Far of a Journey That Began With Antifungals
Revolution Medicines was formed in 2015 with a $45 million Series A investment from Third Rock Ventures "to discover and develop new therapies… that are pharmaceutically optimized analogues of complex natural products," according to the press release announcing that deal.
At the time, the company's first drug candidates were designed to improve upon amphotericin B, a broad-spectrum antifungal compound with significant side effects, principally kidney damage.
In 2016, the company raised an additional $25 million as an extension of the Series A from The Column Group and again from Third Rock. With the addition of Larry Lasky, PhD, a Column Group partner, to the board of directors, Revolution Medicines was clearly prioritizing oncology over its work in antifungals.
As CEO Mark Goldsmith, MD, PhD, said then, Dr. Lasky's "extensive background and track record in oncology drug discovery, coupled with the recent expansion of our founder and senior advisor groups that contributes additional oncology expertise, mark our deepening commitment to bringing innovative drugs forward for cancer patients."
2018 brought a Series B investment of $56 million led by Nextech Invest, an oncology-focused investment firm, and in July 2019, Revolution Medicines completed a $100 million Series C round led by The Tavistock Group's Boxer Capital. This round also included notable names such as Cormorant Capital, Deerfield Management, Fidelity, Vivo Capital and Biotechnology Value Fund.
Once the IPO proceeds are booked, the equity funding since inception will have added up to $464 million in gross proceeds. Not too shabby for a company with one candidate in Phase 1/2 trials.
We salute Dr. Goldsmith and the team at Revolution Medicines for the hill they've climbed to date, and we look forward to following their progress as they navigate the clinical gauntlet and the associated binary event risks that come with life as a public biopharmaceutical company.
Edward Kim is Managing Editor of Equities.com.
_____
Sources: Equities News