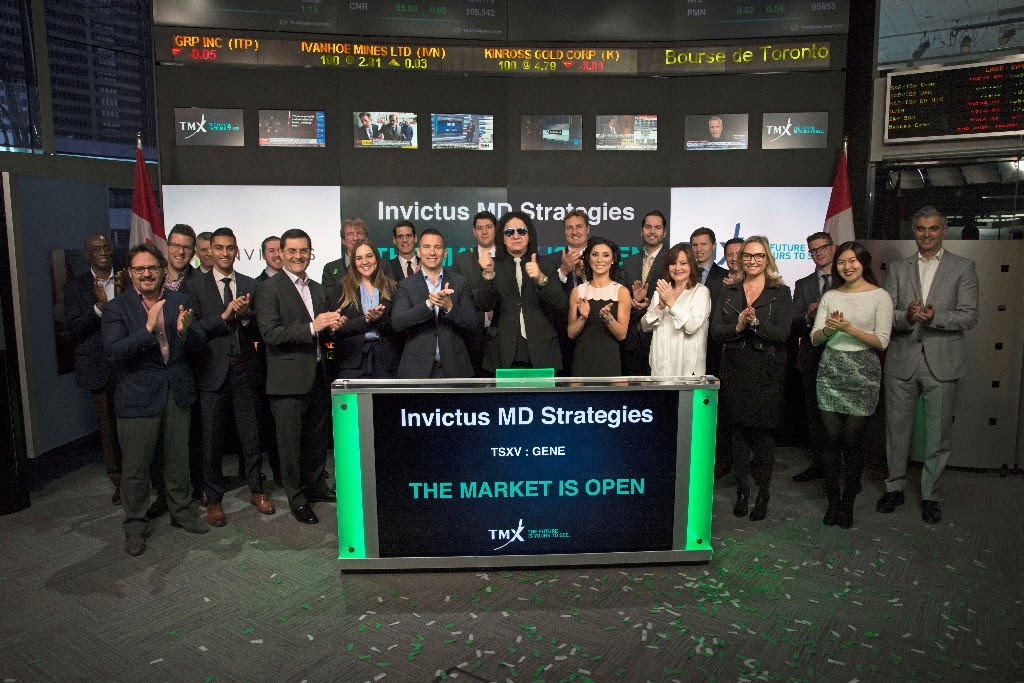 INVICTUS MD STRATEGIES CORP. (TSXV: GENE; OTC: IVITF; FRA: 8IS1) is pleased to announce that today, Gene Simmons, Chief Evangelist Officer for the company and its management team opened the trading day at the TSX Venture Exchange (TSXV). The appearance coincides with the company changing its share ticker from IMH to GENE.

"To have a cannabis company like Invictus open the trading at TSXV, one of the world's best trading communities, is truly inspiring," said Invictus Chairman and CEO Dan Kriznic. "With our footprint in Ontario and Alberta on track for full production over the next 12 months, and poised to help supply Canada's dynamic consumer marketplace with a wide variety of strains and extracts."
Invictus changed its TSX Venture symbol from IMH to GENE, effective immediately for trading commencing on March 20, 2018, to reflect the importance of the company's new partnership with rock icon and branding genius Gene Simmons, anticipating that Simmons will play a vital role as the company marches into this historic year for Canada and cannabis.
Simmons will be involved on a variety of different areas. His key focus will be on helping the company forge its public awareness strategy. Additionally, he will make appearances at the annual general meeting, investor meetings, and trade shows, and will serve as a media spokesperson. His efforts will be performed in accordance with the strict regulations of Health Canada's Access to Cannabis for Medical Purposes Regulations (ACMPR), the Food and Drugs Act (FDA) and the Narcotic Control Regulations (NCR).
Simmons explored a number of potential cannabis partnerships before deciding to work with Invictus.
"As I learned more about the changing sentiment of the public and investors, I was enthusiastic to invest in the Cannabis space. I did my due diligence with the available information on the top 10 Licensed Cannabis Producers in Canada, including a number of face-to-face interviews," said Simmons. "They have a leadership that has the potential to change that and a solid plan for growth."
About Invictus
Invictus operates cannabis companies in Canada with the vision of producing a variety of high quality and low cost cannabis products and strains to the global market place as regulations permit. Gene Simmons, music legend and media mogul, conveys the vision of Invictus as the Chief Evangelist Officer.
Invictus operates two cannabis production sites under the Access to Cannabis for Medical Purposes Regulations ("ACMPR") in Canada and has over 95,000 square feet of cannabis production capacity at the licensed production sites. The Company's wholly owned subsidiary Acreage Pharms Ltd. ("Acreage Pharms"), located in West-Central Alberta on 150 acres, has approximately 40,000 square feet of cannabis ready production with its recently completed Phase 2 expansion. The Company intends on expanding to 120,000 square feet by the end of 2018 once Phase 3 is complete.
Invictus also owns 50% of AB Laboratories Inc. ("AB Labs"), a licensed producer under the ACMPR located in Hamilton, Ontario. AB Labs currently operates in a 16,000 square foot facility and recently acquired a facility adjacent to the existing property that will allow for a total of 56,000 square feet of cultivation space ready for production by June 2018. During the first quarter of 2018 AB Labs submitted a secondary license to Health Canada for a nearby property on 100 acres under the name AB Ventures Inc. ("AB Ventures"). Invictus has committed $5.5 million in cash to AB Ventures to secure its 33 1/3 percent ownership and allow AB Ventures to build its first 20,000 square foot facility on the 100-acre property.
Combined, the licensed producers owned by Invictus expect to have approximately 200,000 square feet of cannabis production capacity by the end of 2018 and 520,000 square feet of cannabis production capacity by the end of 2019.
In addition to the ACMPR licenses, the Company has an 82.5% investment in Future Harvest Development Ltd. a high quality Fertilizer and Nutrients manufacturer based in Kelowna, British Columbia that has been in operation for over 20 years under the brand Plant Life Products and Holland Secret.
In the interest of full disclosure, we call the reader's attention to the fact that Equities.com, Inc. is compensated by the companies profiled in the Spotlight Companies section. The purpose of these profiles is to provide awareness of these companies to investors in the micro, small-cap and growth equity community and should not in any way be considered as a recommendation to buy, sell or hold these securities. Equities.com is not a registered broker dealer, investment advisor, financial analyst, investment banker or other investment professional. We are a publisher of original and third party news and information. All profiles are based on information that is available to the public. The information contained herein should not be considered to be complete and is not guaranteed by Equities.com to be free from misstatement or errors. The views expressed are our own and not intended to be the basis for any investment decision. Readers are reminded to do their own due diligence when researching any companies mentioned on this website. Always bear in mind that investing in early-stage companies is risky and you are encouraged to only invest an amount that you can afford to lose completely without any change in your lifestyle. Equities has been compensated with cash, common shares and/or warrants for market awareness services provided.