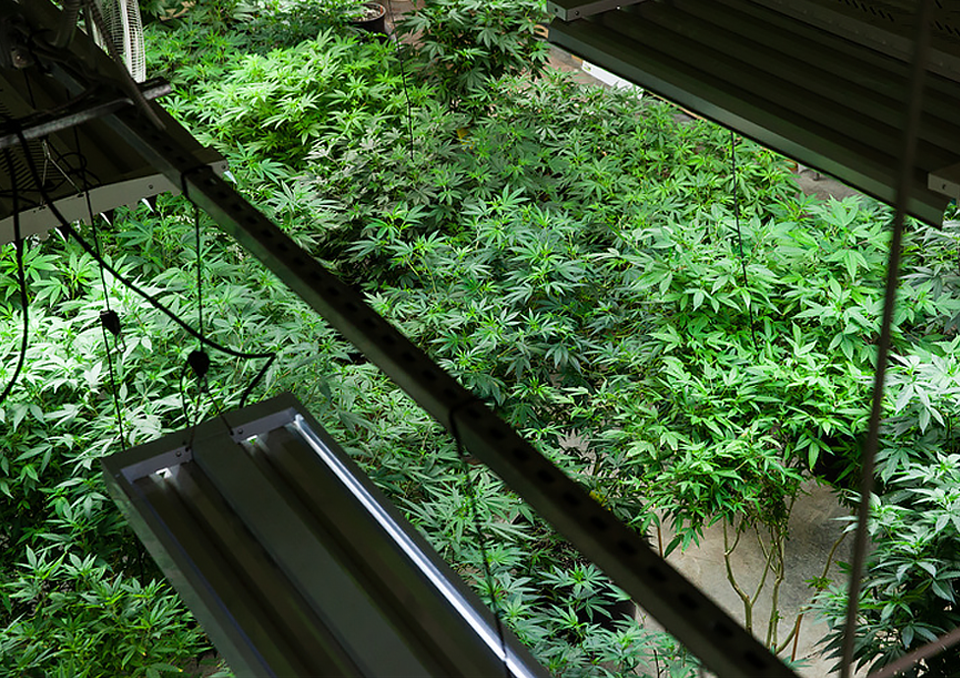 INVICTUS MD STRATEGIES CORP.'s (TSXV: IMH; OTC: IVITF; FRA: 8IS1) is pleased to provide an update on a series of accomplishments since January 2017 that put the company and its subsidiaries on strong footing for full cannabis production across 2018.

"We began this historic year full of ambition and a strategic plan for executing milestone goals as Canada marches towards full cannabis legalization. We are thrilled to announce that progress on all fronts is on schedule and we are fulfilling our aggressive goals," said Dan Kriznic, Chairman and CEO of Invictus. "Thanks to exceptional teamwork, singular business discipline and savvy, and deep passion for this industry, Invictus is on track for meeting expanding consumer demand for high-quality cannabis and cannabis products during this extraordinary year and beyond."
Invictus' Acreage Pharms Ltd. (Acreage Pharms) in west-central Alberta, AB Laboratories Inc. (AB Labs) near Hamilton, Ontario and AB Ventures Inc. (AB Ventures) also near Hamilton, Ontario, all are experiencing progress in terms of regulatory steps, construction landmarks, staff expansions, investment momentum, science achievements and other key business goals.
Acreage Pharms
Acreage Pharms Phase 2 facility is nearly complete, putting Acreage Pharms on track for 4,400 kg of annual cannabis production capacity. The timely construction also keeps Phase 3 construction plans on schedule which is expected to be completed in 2018.
Both the Phase 1 and Phase 2 facilities at Acreage Pharms have a total of approximately 40,000 square feet with expected 4,400 kg of capacity beginning in March 2018, along with a further planned 80,000 square foot Phase 3 expansion for total combined production capacity of 18,400 kg in 2018. Invictus further expects its Acreage Pharms to receive its sales license in the first quarter of 2018, as it has already harvested multiple successful crops and the product has already been tested.
In addition, Acreage Pharms has embarked on an ambitious extraction program to serve Canada's expanding need for high-quality cannabis oils. To that end, Acreage Pharms acquired innovative C02 oil extraction technologies and hired key professionals to launch the program. Acreage Pharms will apply for an oil license from Health Canada as soon as it receives its anticipated sales licenses.
The acquisition of a closed-loop C02 extraction system is essential for Acreage Pharms' market strategy. The system performs Subcritical and Supercritical Fluid Extraction utilizing high-pressure carbon dioxide to extract essential oils from botanicals, using specific temperatures and pressures to withdraw different components from plants. The innovative process produces very high-quality cannabis oils.
Supercritical C02 extraction offers the blossoming cannabis industry the promise of understanding the myriad medical benefits of cannabis. By giving concentrate makers so much control over the process, it gains them access to cannabinoids within the plant beside THC and CBD, which some researchers believe will be vital components of ongoing cannabis research and development.
The new technology program requires the guidance, oversight and scientific savvy of seasoned professionals, and Acreage Pharms is thrilled to add Chris Kooner, RPh and Dr. Dejun Cui to the team. Both of these pharmacy and agriculture veterans have been with Acreage for six months, but now are pivoting their responsibilities towards the new oils extraction program.
As Canada moves closer to the anticipated July launch of recreational cannabis sales, consumer demand for strain diversity continues to expand. Acreage Pharms has taken steps to satisfy consumer desires for strain variety by acquiring 23 new strains.
"The acquisition of these strains broadens Acreage Pharms strain variety in preparation for the recreational market," said Kriznic. "The timing is ideal, as our Phase 2 expansion includes 11 new flowering rooms and Phase 3 is expected to have 38 new flowering rooms, all of which will be needed to accommodate this welcome and dramatic expansion of strains."
The collaboration allows Acreage Pharms to import genetics, including seed and starting material. As a result, Acreage Pharms' already innovative and ambitious genetics breeding program is better able to offer a variety of strains that fully reflect the genetic diversity of cannabis, including its many health-enhancing properties.
AB Labs
Invictus this month completed the previously announced further strategic investment in the licensed production facility under the Access to Cannabis for Medical Purposes Regulations ("ACMPR"), AB Labs located near Hamilton, Ontario, from its 33.3% ownership interest to 50%.
Dan Kriznic, Chairman and CEO commented, "This is another significant milestone for Invictus. When we started this company in 2014 it was with the intention of becoming Canada's Cannabis Company. AB Labs produces high quality strains, which will meet the increasing demand in the Canadian marketplace."
The terms of the investment include a direct cash investment in AB Labs of $10 million to be used for the expansion of AB Labs' existing facility, acquisition of the land and building at the existing facility from the landlord, and for the acquisition of adjacent land and building as well as the retrofitting costs for that existing building (the "Secondary Facility"), for a combined production space of approximately 56,000 square feet. Invictus will make available to AB Labs a $2 million line of credit in the event costs exceed budget during the construction period.
The timeline for full production at AB Labs remains firmly in place, as Phase 2 property consolidation is nearly complete. The closing for the Phase 2 building acquisition and consolidation of properties at the facility is set for February 28, 2018.
In addition, AB Labs this month also announced the sale of its first 120 kg of dried flower to Canopy Growth Corporation (TSX:WEED). AB Lab's products will be used in Canopy Growth Corporation's curated CraftGrow line on Tweed Main Street's online store. Tweed Main Street features only high-quality cannabis by an elite group of producers, and AB Labs is thrilled that consumers will find its product as part of the Tweed Main Street's carefully curated selections.
"Patients routinely get in touch with AB Labs inquiring about our high-quality product. Now, they can take advantage of Canopy Growth's Tweed Main Street to gain immediate and detailed information about our artisan cannabis. The effort gives us immediate access to the largest customer base in the rapidly expanding medical cannabis market," said Dan Kriznic, Chairman and CEO of Invictus. "Our collaboration with Canopy Growth demonstrates our commitment to making the sector strong and helping to expose medical cannabis patients visiting Tweed Main Street, to another high quality, unique brand."
AB Ventures
AB Venture's development permit on 100 acres of land for the Phase 1 construction is fully funded, and its license application to Health Canada is currently in-progress.
Once AB Ventures receives its Access to Cannabis for Medical Purposes Regulation (ACMPR) license, the entire property has the potential for cannabis cultivation. In the near term, AB Ventures' funded Phase 1 development plans include a 21,000 square foot facility for cultivation and production, which this month received conditional approval from authorities. Phase 2 plans include facilities totaling 84,000 square foot.
Invictus MD Strategies
The increase in Invictus' ownership of AB Labs and the different on-track expansion plans dramatically increases Invictus' timeline for increasing expected annual run-rate production capacity at the facilities.
Invictus' license holders' total annual kilogram capacity after various phases of expansion in 2018 and 2019, complete and in progress, is expected to be approximately 76,400 kg, based on expanding facilities in 2019 to approximately 520,000 square feet. The expected net production capacity to Invictus is approximately 67,000 kg after giving effect to Invictus' increased ownership of AB Labs to 50 percent. With the recent exercise of warrants and options, Invictus' funded capacity today is approximately 27,200 kg.
About Invictus MD Strategies Corp.
Invictus MD Strategies Corp. is focused on two main verticals within the Canadian cannabis sector, namely the Licensed Producers under the ACMPR, being its 100% investment in Acreage Pharms Ltd., located in West-Central Alberta, and 50% investment in AB Laboratories Inc., located near Hamilton, Ontario which has both its cultivation and sales license under ACMPR. Combined the two licenses and an expected third license under AB Ventures Inc. are expected to have an approximate annual run-rate production capacity of 76,400 kg by 2019. In addition to ACMPR licenses the Company has an 82.5% investment in Future Harvest Development Ltd. a Fertilizer and Nutrients manufacturer based in Kelowna, British Columbia.
In the interest of full disclosure, we call the reader's attention to the fact that Equities.com, Inc. is compensated by the companies profiled in the Spotlight Companies section. The purpose of these profiles is to provide awareness of these companies to investors in the micro, small-cap and growth equity community and should not in any way be considered as a recommendation to buy, sell or hold these securities. Equities.com is not a registered broker dealer, investment advisor, financial analyst, investment banker or other investment professional. We are a publisher of original and third party news and information. All profiles are based on information that is available to the public. The information contained herein should not be considered to be complete and is not guaranteed by Equities.com to be free from misstatement or errors. The views expressed are our own and not intended to be the basis for any investment decision. Readers are reminded to do their own due diligence when researching any companies mentioned on this website. Always bear in mind that investing in early-stage companies is risky and you are encouraged to only invest an amount that you can afford to lose completely without any change in your lifestyle. Equities has been compensated with cash, common shares and/or warrants for market awareness services provided.