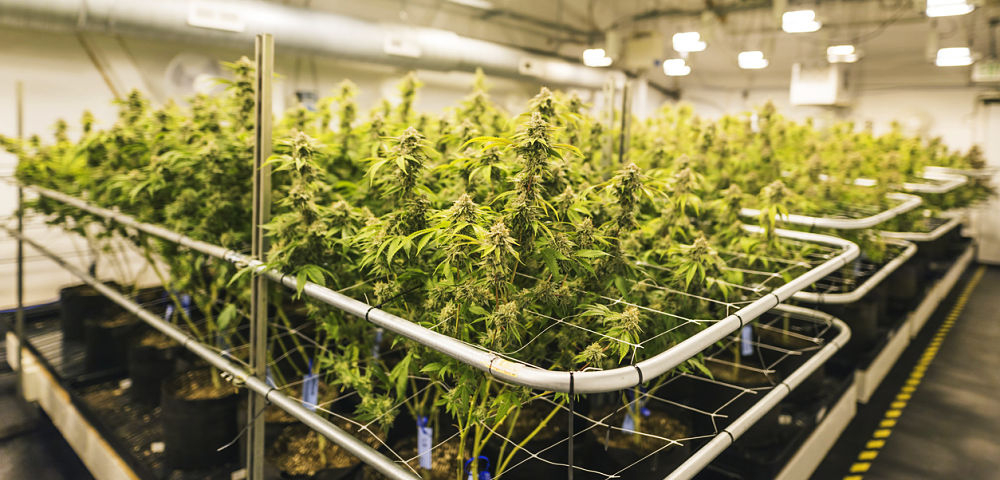 With Canada largely expected to legalize access to cannabis sometime within the next few months, the market has been champing at bit for this new multi-billion-dollar market. According to New Frontier Research, the Canadian legal cannabis market is projected to grow from CAD$1.7 billion (US$1.3 billion) in 2018 to CAD$7.7 billion (US$6.0 billion) by 2025. That market opportunity, along with clearer federal guidelines, has made Canada the epicenter of the global shift toward cannabis legalization.
To that point, Invictus MD Strategies Corp. (GENE:CA)(IVITF) is as well positioned as any company could hope to be ahead of such a landmark opportunity. While the recent appointment of rock legend and business mogul Gene Simmons of KISS to Chief Evangelist Officer attracted the most attention for Invictus, it's the company consistent strategic execution that's kept investors' attention.
Invictus already has two sales licenses from Health Canada under the Access to Cannabis for Medical Purposes Regulations (ACMPR) for its Acreage Pharms Ltd. and AB Laboratories Inc. subsidiaries. It's on track to meet its production capacity goals of approximately 330,200 square feet by January 31, 2019, and 820,200 square feet by January 31, 2020. The Company has launched a vertically-integrated retail strategy of its own to optimize profit potential and is readying its entrance into the cannabis extract and vaporization market.
With the Company looking like it's hitting all cylinders ahead of Canada's legalization, Equities.com had the opportunity to speak with Dylan Easterbrook, Chief Financial Officer of Invictus, to get a better gauge of the company's upcoming milestones, strategic focus, and targeted opportunities.
EQ: Invictus announced recently that its subsidiary Acreage Pharms received its sales license from Health Canada. This is a crowning milestone for Invictus. Obviously, it is a very significant development for the company, but can you put into words the impact this has on your strategic roadmap and growth trajectory going forward?
Easterbrook: Acreage Pharms is our 100% owned subsidiary and we have been looking forward to the receipt of the sales license since we made the acquisition back in April. The past year has been a culmination of events leading up to this. We've achieved that major milestone, and can now start selling our product to the medical market and start recording revenues from the sale of cannabis, which is what we hoped to do at the outset. So, here we are and we're excited to move forward. We did it a month or two before legalization, and we think we're positioned perfectly to serve that market in the coming months.
EQ: To that point, the license really does put you ahead of a large majority of the market in the cannabis space. Can you talk about the strategic advantage and how you can leverage that as legalization nears?
Easterbrook: As you said, it's about timing. We've received the sales license a couple months before legalization date, and that means we're recreational ready as of today. That is where our strategic advantage lies. We're on the short list of companies to have received their sales license and now we can move toward legalization in a very proactive way. We're happy with the timing and feel like we can capitalize on that over the next couple of months.
EQ: In March, rock legend Gene Simmons of KISS joined Invictus as Chief Evangelist Officer. What kind impact does his profile and business acumen bring to the company? Have you begun to see that impact yet?
Easterbrook: absolutely. Gene brings a lot of skills and expertise to the table. He's an entrepreneur in the truest sense of the word. He has a lot of experience dealing with brands and retail companies. He currently has a number of his own brands out there and brings a wealth of experience in that field. He has helped to open up to a lot of connections, both within the US and Canada, and even abroad. He was brought on to help round out our management team and has been a great addition so far. We're extremely happy to work with Gene going forward.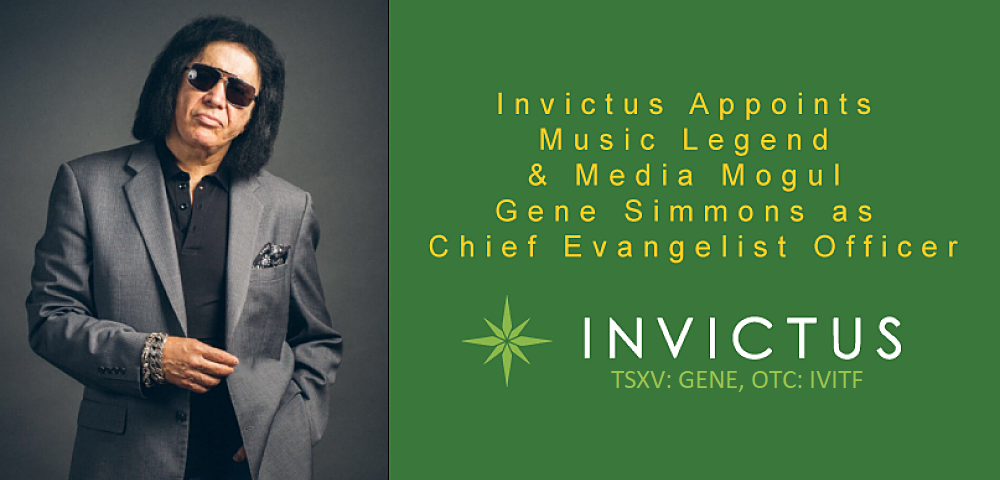 EQ: From a production standpoint, the company has said all along that it expects to have approximately 330,200 square feet of cannabis production capacity by January 31, 2019 and 820,200 square feet of cannabis production capacity by January 31, 2020. Phase 2 of Acreage Pharms has recently been completed. Can you give us a breakdown of the facilities and their status?
Easterbrook: Phase 2 of Acreage Pharms has recently been completed, and we expect to start Phase 3 within the month. Phase 3 is set for completion by January 31, 2019 and we plan to start Phase 4 by the end of this year or early 2019.
With regards to AB Labs, the Phase 1 facility is complete and the secondary Phase 2 facility is currently being retrofitted right now, with completion expected within the next few months. As for AB Ventures, also located in Ontario, we expect Phase 1 to be completed before the end of the year, and Phase 2 to be well underway.
Finally, we have our most recent news release regarding the binding letter of intent with OptionCo., which is based in British Columbia and is in the application phase to become a licensed producer under the ACMPR. They expect to receive their license within the next few months and will bring on a whole other level of cultivation capacity. Their Delta facility is approximately 4,000 square feet and the Mission location can be built-out to 250,000 to 300,000 square feet.
EQ: Looking at the Company's addressable markets, let's start with your strategy on the medical side of the cannabis industry. Can you tell us more about your approach?
Easterbrook: we have a multi-faceted sales and distribution strategy for Acreage Pharms. Obviously, we will continue to service the medical marijuana markets within Canada. We are, however, also pursuing supply agreements with various provincial governments. We have submitted applications and have been in negotiations with various provinces and territories, and we're also developing our own retail strategy.
We've founded a dispensary business with the intent of opening retail storefronts across Western Canada. We're looking to service the markets in BC, and Alberta. We currently have a team in place to move that forward and have been working on that for the past several months now.
EQ: regarding the retail strategy, Invictus has said it plans to open dispensaries of its own. Can you explain the decision and advantages of owning and operating your own dispensaries versus just selling to third-party ones?
Easterbrook: Acreage Pharms, from day one, has always wanted to implement a total vertically-integrated model from production of product through to sale to the end-customer, as this will allow us to achieve more profits on sale.
Trevor Dixon, the President and CEO of Acreage Pharms, has experience with previous franchise models. He's spearheading this initiative and has developed a team to help achieve this. That experience and the goal of gaining more market share why we have pursued this model for Acreage Pharms.
EQ: Invictus has also invested in a number of other key areas of the cannabis market, including extraction technology and Poda, which is a zero-cleaning vape system. So, in addition to the cannabis plant itself, the Company does have some diverse exposure to other areas of the market, particularly one that's gaining significant consumer interest. How do these segments play into the overall Invictus strategy and roadmap?
Easterbrook: the Poda vaporizer technology has been in development for some time now. It's something we've been developing quietly in order to get it right. We are now at the point where we can launch a product and we expect to do so this summer.
Poda has the ability to utilize not only on dried marijuana but also cannabis oils and extracts, which is going to be very important going forward. We're seeing the market interest in those products, and we're happy that the Poda technology can address both dried marijuana and oil extracts.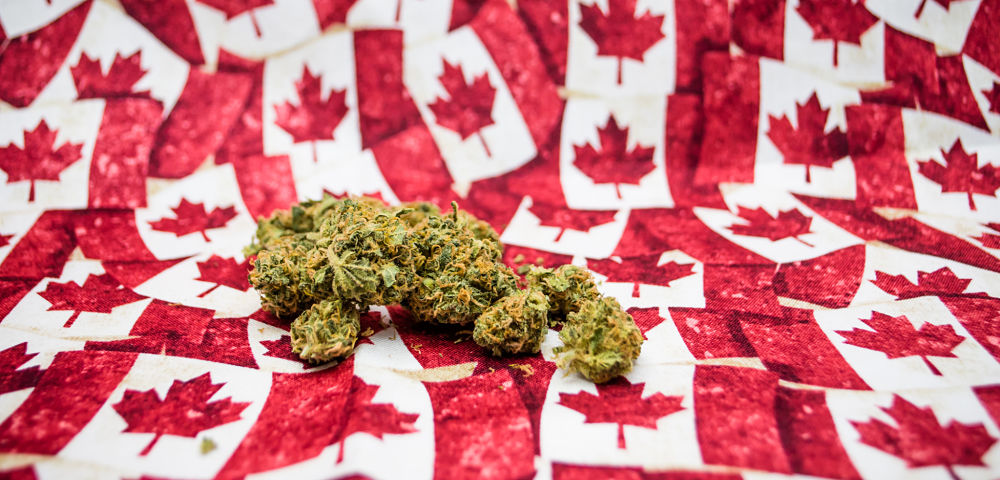 EQ: A major tailwind of the vape and extraction market's growth will likely come from legalization. Canada's precise timeline for legalization this year has been somewhat of a moving target, at least more so than originally expected. Does that impact your approach in execution?
Easterbrook: it hasn't change our model. Whether legalization comes late summer or early fall, our cash runway will bring us well beyond that. In terms of recreational sales, if we're behind a month or two, it's unfortunate but we dont think it will affect us significantly.
EQ: do you anticipate making any additional acquisitions or requiring any additional raises to execute from here?
Easterbrook: currently, no. OptionCo. is our main acquisition at this point in time. In terms of equity raises, we're happy with our capitalization structure and our cash runway. We have done a good job of funding the operations up to this point, and now that we're licensed and ready to service not just the medical market but the recreational market, we feel like we have positioned ourselves in a good place in terms of funding and operational costs.
EQ: The second half of 2018 looks to be a real inflection point for Invictus given how everything seems to be dovetailing with some major catalysts. What are some key milestones we should watch for in the coming six to 12 months?
Easterbrook: we have our sales licenses and we have the square footage. We'll continue to build out and work on our construction plans, but some of the key milestones will be the buildout of our distribution and sales network, and our retail strategy. Like we said, we're in discussions with a number of provinces and territories for product calls and supply agreements. We're continuing to work with provincial governments to obtain retail permits and leased storefronts for our retail dispensaries. We're also looking at international opportunities for supplying products to medical markets in the international community. I would say those three things are the key milestones for us.
EQ: Is there anything else that we might have missed, or do you have any closing comments for our readers to better understand the Invictus story?
Easterbrook: We're ahead of the curve compared to a lot of our competitors, and we think we're well positioned to go forward in the next few months. We're excited and we hope everyone is too.
---
In the interest of full disclosure, we call the reader's attention to the fact that Equities.com, Inc. is compensated by the companies profiled in the Spotlight Companies section. The purpose of these profiles is to provide awareness of these companies to investors in the micro, small-cap and growth equity community and should not in any way be considered as a recommendation to buy, sell or hold these securities. Equities.com is not a registered broker dealer, investment advisor, financial analyst, investment banker or other investment professional. We are a publisher of original and third party news and information. All profiles are based on information that is available to the public. The information contained herein should not be considered to be complete and is not guaranteed by Equities.com to be free from misstatement or errors. The views expressed are our own and not intended to be the basis for any investment decision. Readers are reminded to do their own due diligence when researching any companies mentioned on this website. Always bear in mind that investing in early-stage companies is risky and you are encouraged to only invest an amount that you can afford to lose completely without any change in your lifestyle. Equities has been compensated with cash, common shares and/or warrants for market awareness services provided.