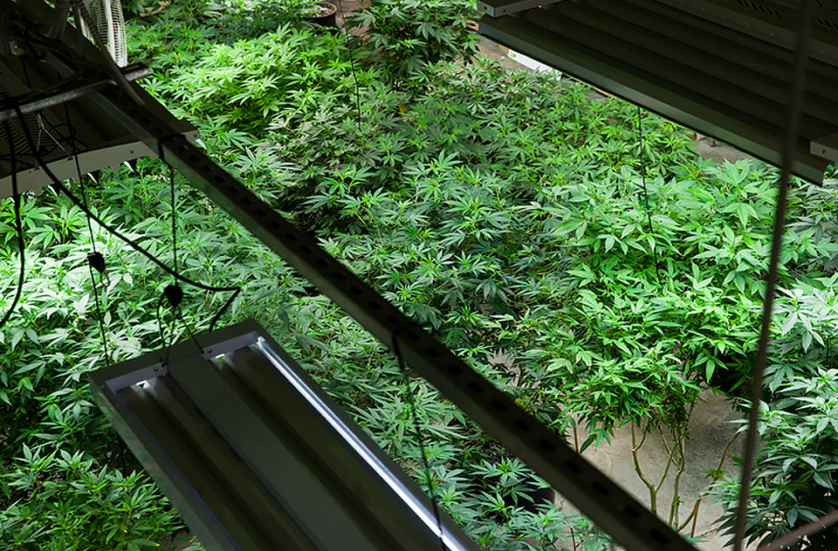 INVICTUS MD STRATEGIES CORP. GENE:CA IVITF announced today the purchase of an additional acre of neighboring land adjacent to AB Laboratories Inc. ("AB Labs") property, dedicated to future expansion opportunities at the facility. The acquisition represents significant progress in AB Labs' growth strategy which involves building a strong production profile in state-of-the-art cultivation spaces.
Construction of the Phase 2 expansion at AB Labs remains on-schedule. Phase 2 facility will add 40,000 square feet of operating space, while increasing total cultivation capacity to 56,000 square feet. Currently, AB Labs' 16,000 square foot Phase 1 facility is operating at full capacity, having completed its second transfer of 63 kg of dried cannabis to Canopy Growth Corporation's (TSX: WEED) Tweed's elite CraftGrow line.
AB Labs is also focused on expanding its strain profile to meet Invictus' dynamic and muscular approach to retail sales ahead of the upcoming recreational marketplace. AB Labs' latest selection, originating from a partner in Holland, offers a mix of strains including:
Blueberry (Indica Dominant)
Brainstorm (Indica Dominant)
Bubba Island Kush (Indica Dominant)
Californian Orange (Indica/Sativa)
CBD Compassion (Sativa Dominant)
CBD Kush (Indica/Sativa)
CBD Skunk Haze (Indica/Sativa)
Desfrán (Sativa Dominant)
Durban Poison (Sativa Dominant)
Euforia (Sativa Dominant)
Forest Dream (Sativa Dominant)
Freddy's Best (Sativa Dominant)
Frisian Dew (Indica/Sativa)
Frisian Duck (Indica/Sativa)
Glueberry O.G. (Indica/Sativa)
Hollands Hope (Indica Dominant)
Jorge's Diamonds #1 (Indica Dominant)
Lemon Zkittle (Indica/Sativa)
Master Kush (Indica Dominant)
Mazar (Indica Dominant)
Night Queen (Indica Dominant)

Orange Bud (Sativa Dominant)
Orange Hill Special (Indica/Sativa)
Outlaw Amnesia (Sativa Dominant)
Pamir Gold (Indica/Sativa)
Passion #1 (Indica/Sativa)
Passion Fruit (Indica/Sativa)
Power Plant (Sativa Dominant)
Purple #1 (Indica/Sativa)
Shaman (Sativa Dominant)
Skunk #1 (Sativa Dominant)
Skunk #11 (Sativa Dominant)
Snow Bud (Indica/Sativa)
Strawberry Cough (Sativa Dominant)
The Edge (Sativa Dominant)
The Ultimate (Indica/Sativa)
Think Fast (Sativa Dominant)
Twilight (Indica/Sativa)
Ultra Skunk (Indica/Sativa)
White Widow (Indica Dominant)
White Widow X The Ultimate (Indica/Sativa)
"Expanding both our cultivation space and strain selection is key to driving growth in a sector that will see increasing demand from both the public and private sector," said Invictus CEO Dan Kriznic. "By constructing state-of-the-art production and processing facilities, our team of award-winning horticulturalists can continue to innovate and deliver high-quality products that consumers can trust."
About Invictus
Invictus owns and operates two cannabis production facilities, both with sales licenses, under the ACMPR in Canada, with the vision of producing a variety of high quality and low-cost cannabis products to the global market, as regulations permit. The Company's wholly owned subsidiary, Acreage Pharms Ltd. ("Acreage Pharms"), is located in West-Central Alberta. The Company's 50% owned AB Laboratories Inc. ("AB Labs"), is located in Hamilton, Ontario. AB Ventures Inc. ("AB Ventures") owns 100 acres of land near Hamilton, Ontario, to be used for future cannabis cultivation. Recently, the Company announced that it has entered into a binding letter of intent for an option to acquire an applicant (the "OptionCo") under the ACMPR. Combined, the Company expects to have approximately 262,000 and 846,000 square feet of cannabis production capacity by the end of 2018 and 2019, respectively.
Gene Simmons, music legend and media mogul, conveys the vision of Invictus as the Chief Evangelist Officer.
The Company's wholly owned subsidiary, Poda Technologies Ltd. ("Poda"), has developed the world's first zero-cleaning vaporizer system. Poda's fully biodegradable pods are self-contained, and do not contaminate the vaporizer with odor, flavor or residue.
Finally, the Company's 82.5% owned Future Harvest Development Ltd. ("Future Harvest") is a high-quality Fertilizer and Nutrients manufacturer, based in Kelowna, British Columbia. Future Harvest has been in operation for over 20 years under the brand Plant Life Products and Holland Secret.
In the interest of full disclosure, we call the reader's attention to the fact that Equities.com, Inc. is compensated by the companies profiled in the Spotlight Companies section. The purpose of these profiles is to provide awareness of these companies to investors in the micro, small-cap and growth equity community and should not in any way be considered as a recommendation to buy, sell or hold these securities. Equities.com is not a registered broker dealer, investment advisor, financial analyst, investment banker or other investment professional. We are a publisher of original and third party news and information. All profiles are based on information that is available to the public. The information contained herein should not be considered to be complete and is not guaranteed by Equities.com to be free from misstatement or errors. The views expressed are our own and not intended to be the basis for any investment decision. Readers are reminded to do their own due diligence when researching any companies mentioned on this website. Always bear in mind that investing in early-stage companies is risky and you are encouraged to only invest an amount that you can afford to lose completely without any change in your lifestyle. Equities has been compensated with cash, common shares and/or warrants for market awareness services provided.