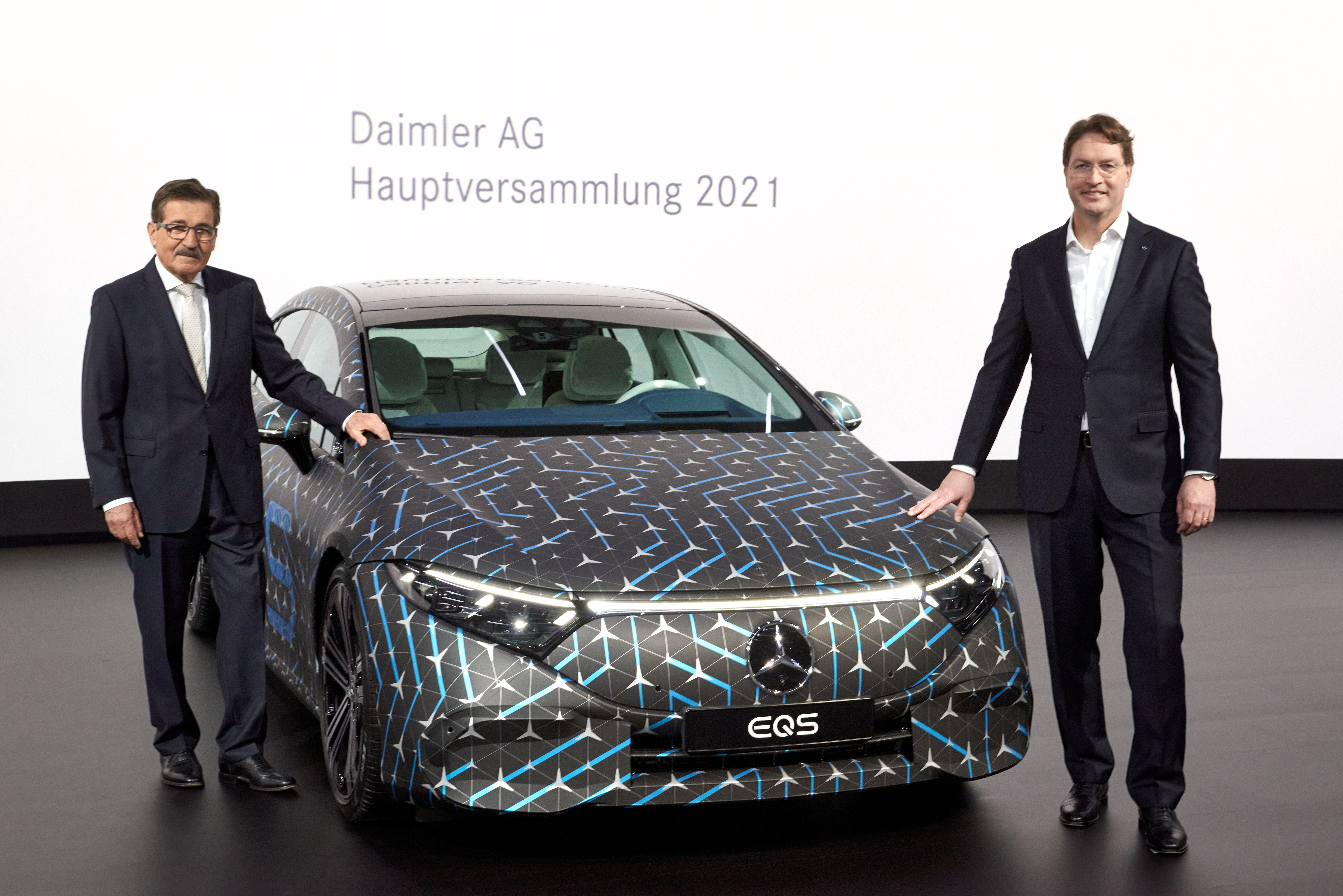 Netflix [NFLX] hit a peak price of over $391 in June 2018 and has been in a choppy downtrend ever since, and as of this writing has lost nearly a quarter of its peak value.
Netflix has grown its revenue by 27% annually over the past decade and continued that trend with more than 27% annual growth over the past 5 years as well, so it has sustained strong revenue momentum.
Back in October 2018, I wrote here about why I am long The Walt Disney Company [DIS] and am avoiding Netflix. Since then, Disney stock is up over 23% and Netflix is down nearly 12%, resulting in a 35% relative performance differential in 11 months. So, should I change course at this point? Does this mean Netflix might be a bargain now?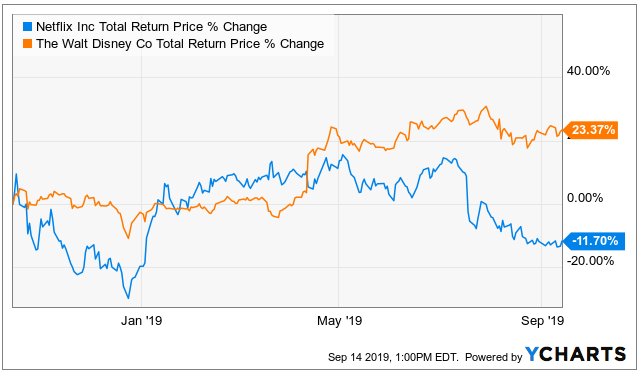 Source: YCharts
I still think the answer is no. I'm a bit less bullish on Disney now that we've unlocked some of the upside value so quickly, but I maintain a bearish view towards Netflix at current price levels for reasons this article will outline.
Negative Free Cash Flow and Growing Debts
Netflix regularly reports positive earnings, but its actual free cash flow is consistently negative. In addition, every year it reports a larger magnitude of negative free cash flow than the year prior: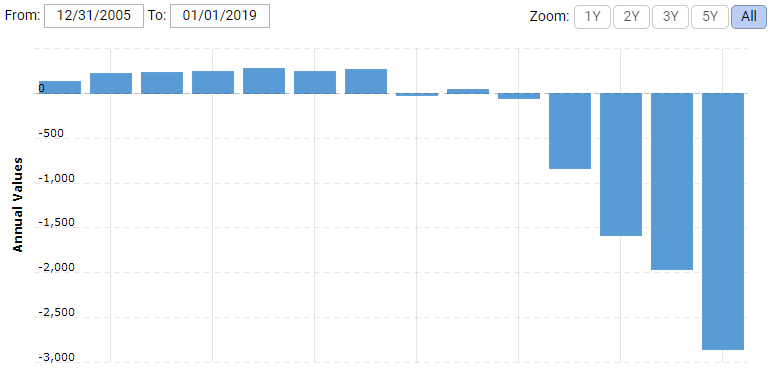 Source: Macro Trends
Over the past four quarters, Netflix reported free cash flow of approximately negative $3 billion. The company has to spend huge amounts of money licensing and producing content so that it can acquire subscribers, with the hope that one day its content spending will level off and its subscriber base will keep growing.
In the meantime, the company is issuing high yield junk bonds to cover this hemorrhaging of free cash flow. Their debt has grown dramatically in recent years, and the company now has $13 billion in debt and $5 billion in cash: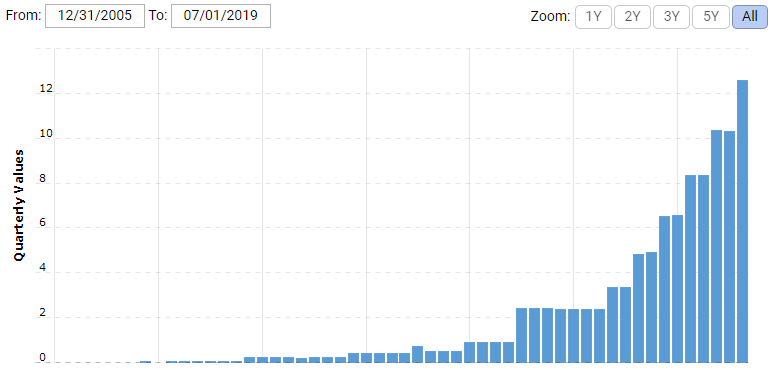 Source: Macro Trends
With a non-investment grade credit rating of Ba3/BB-, Netflix pays 5-6% per year or more on its debt, and is vulnerable during an economic downturn, because it is not self-funding and is therefore reliant on the optimism of creditors.
Increased Competition and Content Disadvantage
Disney is becoming a big streaming threat thanks to control over Hulu, ownership of ESPN+, and its upcoming service Disney+. AT&T [T] will launch HBO Max in 2020, which will consist of content from HBO, Warner Bros and the CW. Apple [AAPL], NBC Universal [CMCSA] and others are getting into the game too. All of these services are very competitively priced.
Defenders of Netflix often say, correctly, that consumers can and will have multiple streaming services. Cutting cable and shifting that money towards streaming services gives typical consumers the funds to spend on several streaming services.
However, that's not the main issue. All of those other streaming companies make profits, unlike Netflix. They re-purpose their content to squeeze as much value out of it as possible. Disney makes a movie, profits from it in theaters, then profits with DVD sales and digital downloads, and then can put it on its streaming service alongside streaming-only content, and later can show it on one of their free television networks.
Those other streaming services will put price pressure on Netflix because their parent companies make money through multiple avenues and can afford to use their streaming services as loss leaders. This will force Netflix to keep prices low and/or force them to keep spending more on content to be among the top most desirable services for consumers. Netflix has to run harder on the content treadmill to keep up, because it eventually has to make money on its streaming-only model.
In addition, some of Netflix's competitors have content with huge re-watchability, meaning that even many years later, the piece of content remains popular. For example, people still watch the Disney classic animated movies today, and show them to their children. Many of Netflix's competitors have also built or acquired franchises with significant sequel potential. Disney has Marvel, Pixar, Disney Animation, Star Wars, Avatar, National Geographic, and countless others. AT&T has DC, Harry Potter, the Matrix, and many more.
While Netflix does have its hit franchise Stranger Things, which has built its own sci-fi universe to work with, how many people today are going back to re-watch some of Netflix's early hits like House of Cards or Orange is the New Black? How many of today's shows will be watched five years from now? Many of Netflix's most popular evergreen shows have been ones that they have licensed from partners for high fees, like Friends and The Office, which are leaving Netflix in 2020 and 2021, respectively. Friends will have a new home on HBO Max, while The Office will be part of NBC Universal's new offering. Further, most of Netflix's content creation goes to timely shows rather than building up evergreen content.
Lastly, Netflix's domestic growth is slowing down, so the company is reliant on international growth to sustain its momentum. The problem is that popular international content is inherently local. While some content is a hit worldwide, the typical Indian viewer watches different content than the typical Norwegian viewer, for example, and requires a different content spending mix. This makes it unlikely that Netflix's fortunes will be saved by international growth, because the content spending required to maintain that growth will likely continue to be significant.
High Valuations
This would all be fine, to some extent, if Netflix was a value stock. Instead, it's trading with a price-to-sales ratio of over 7 (down from once being well over 10), and a price-to-book ratio of 21, although the latter ratio is less relevant for a tech/media company. The company's price-to-earnings ratio is over 100, to the extent that their earnings are meaningful, and their price-to-FCF is negative.
A lot of things need to go right for Netflix at these valuations to provide strong positive returns for investors. I outlined a potential optimistic scenario for Netflix in my Disney vs Netflix article, for example, although it's not my base case. At current levels, I think the market is stuck with high price levels for Netflix and hasn't yet fully adjusted them for its new reality with increased competition and lack of real profits.
Bad Technicals
Netflix is below its 200-day moving average, and during August its 50-day moving average moved lower than its 200-day moving average, which is called a "death cross":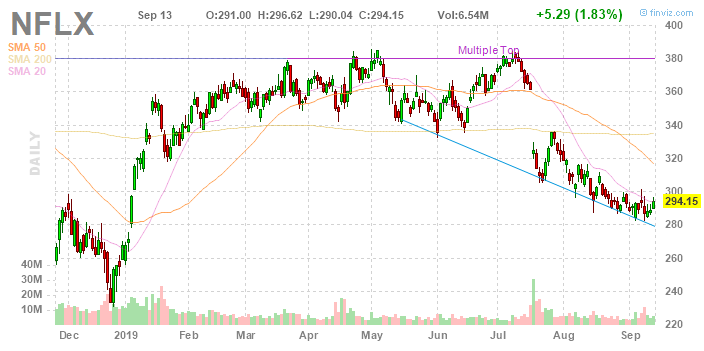 Source: Finviz
In addition, the markets have seen a recent reversal where value stocks sharply outperformed growth stocks within the past week. The iShares Value ETF [IVE], for example, has sharply improved compared to the iShares Momentum ETF [MTUM]: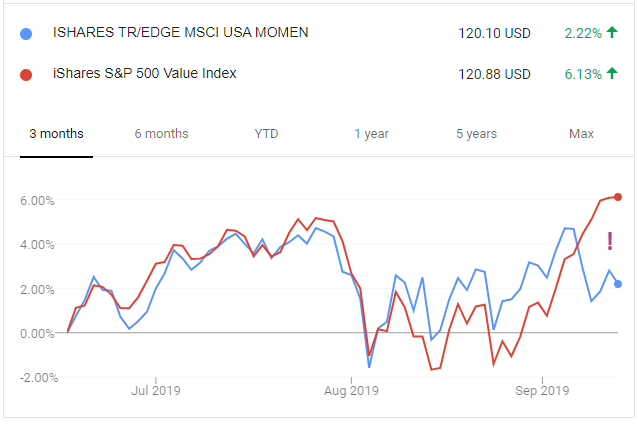 Source: Google Finance
For me, fundamentals are always more important than technicals. However, because Netflix burns free cash flow, has increasing amounts of junk-rated debt, operates in an industry with deep-pocketed competition, and is trading at high valuations, the fact that it's also currently under a death cross is not a good thing to see.
I am not shorting Netflix, and my husband I do subscribe to the service, but I will continue to avoid this stock as long as these issues remain. I'd rather own a solid value ETF, or a set of good individual stocks with a combination of value and quality that consistently make money, rather than Netflix at current price levels.
___
Equities Contributor: Lyn Alden
Source: Equities News