Monday looks to open the same way Friday closed, only worse. Fear, confusion combined with valuations in the upper quadrant create a toxic cocktail. Its true stocks don't live in a vacuum and compared to U.S. treasuries are the better asset class. However, fear authorities are losing their grip on controlling the coronavirus outbreak will continue to weigh on investor sentiment until we get more positive news.
S&P 500 1 Year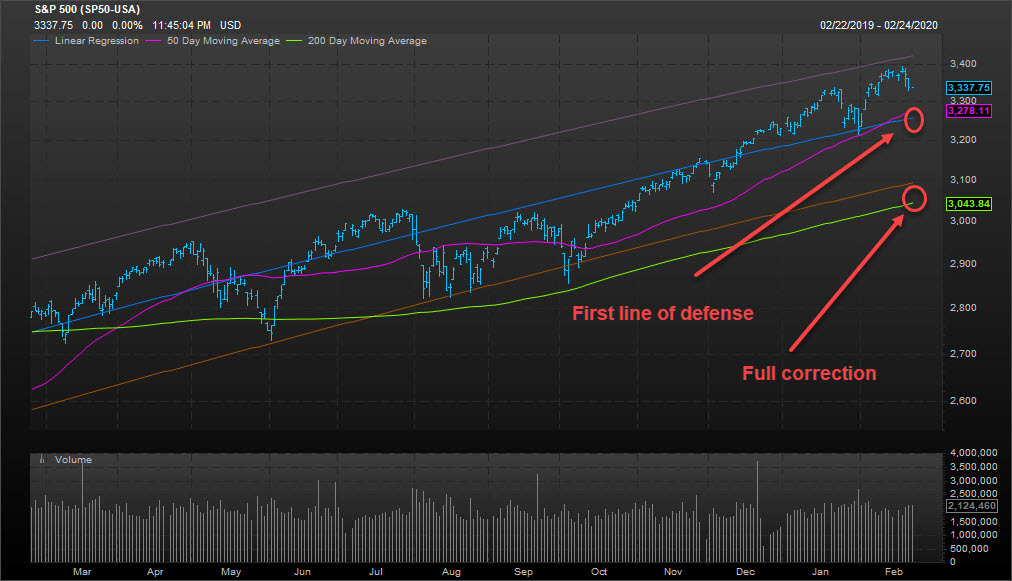 Over the weekend data suggests the virus has now made its way to every corner of the planet. The numbers are small certainly in comparison to anything in China but government officials from Italy to Pakistan are taking decisive action to halt the virus from spreading further. Pakistan has sealed off its border with Iran and Italy has now quarantined 11 towns in the northern part of the country. South Korean President Moon Jae-in on Sunday raised the country's virus alert system to the highest of four levels.
The only bright spot is a headline coming from the New York Times saying China is reporting fewer cases outside the epicenter. The data is coming from China so will likely be viewed with skepticism. The list of countries responding to the crisis continues to grow as government officials are forced to take action to keep the viral outbreak in check.
Politics always play a role during an election year and we must cover the news at least as it relates to our investment positioning. I understand full well we have advisors and clients on both sides of the political arena. Nevertheless, it was hard not to notice that profits were on trial during the last debate and Mr. Sanders convincing win on Saturday probably adds a measure of concern for some investors.
Supply Chain Disruption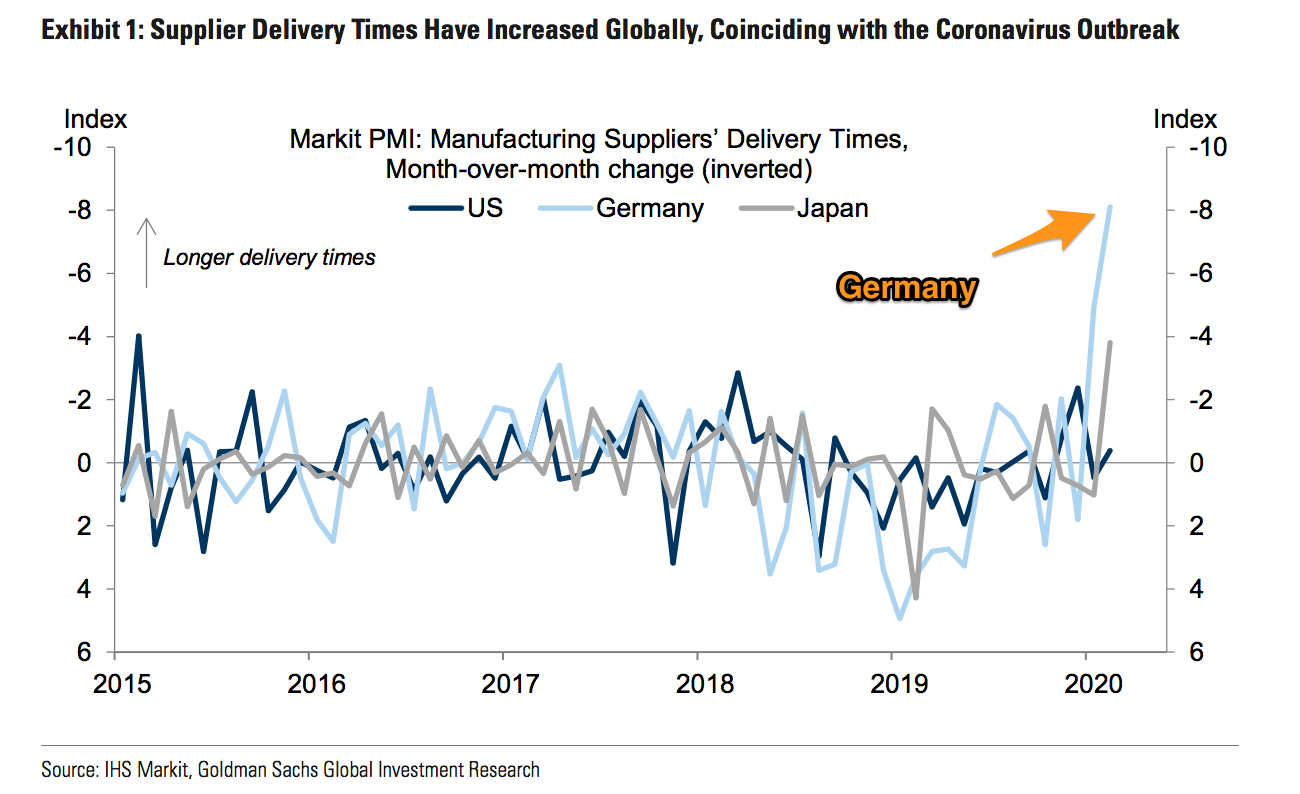 Until supply chains are working and back on schedule estimates across the board have to come in. Obviously, for some companies the business disruption is worse than others. As pointed out many times a lost seat on an airline or cruise ship is lost forever but an iPhone sale lost due to lack of supply is likely to be made up later in the year.
Lower numbers for the first quarter are a given with March just around the corner. Unless there is a dramatic change in the delta of this outbreak Q2 is at risk as well. The chart above comes from Goldman's Jan Hatzius measuring delivery times across supply chains. Delays here in the U.S. are well under other developed countries.
The Fed

So, what's the Fed's role if any regarding the market's most recent setback. For the moment I would expect nothing but with each passing day a Fed cut, maybe two, becomes more likely. Currently 36% of economists believe there will be at least one cut before year's end and over 30% are expecting 2. I started the year seeing no need for any change but increasingly find myself in the two camp.
The good news is that with inflation subdued the Fed can afford to keep monetary policy loose. The bad news is that we need it.
David Nelson is Chief Strategist for Belpointe Asset Management.
_____
Equities Contributor: David Nelson, CFA CMT
Source: Equities News