Investor Profile: Benjamin Large of Nutmeg Investments LLC
Equities Editors Desk Follow |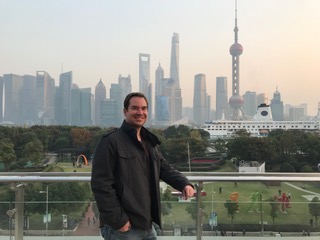 As Equities' active community of investors and traders continues to expand, we are always looking to help foster more meaningful connections and engagement between our members. As part of that effort, we want to profile some of the leading and emerging experts in the world of finance. This Equities column will be a regular segment in which we highlight individual investors and traders, hearing in their own words on how they approach the market, lessons learned along the way, and what strategies and mindset works best for them. We will highlight some of the investors who are using the free Equities.com trading platform and some individual investors who are using other brokerage services.
This week's Investor Profile is on Benjamin E. Large, who is currently the Managing Partner at Nutmeg Investments LLC, an investment company ("Nutmeg"). Ben has worked at Nutmeg since January 2012. The firm has a value-oriented approach to investing and works directly with the companies it invests in. He has worked directly with multinational healthcare and technology companies to improve their product development, business strategy and protect their intellectual property. His firm partners with hedge funds and companies to improve their value in public markets and improve corporate governance. Ben's engineering mindset and financial discipline guide his approach to maximizing value in companies.
He has been a member of the board of directors of The Stephan Company (SPCO), since December 2016. Mr. Large previously served as a member of the board of directors at CompuMed Inc. (CMPD), a medical informatics and software company, from December 2014 to October 2016. He has a M.S. in Electrical Engineering from the University of Southern California and a B.S. in Computer Engineering from Purdue University.
EQ: How would you describe your investment strategy?
Large: I am a value investor. When necessary, I've been involved in several activist situations to help improve shareholder value. I look at all types of interesting companies across different industries. For me, that's the fun of being an investor, it's a constant opportunity to learn about many types of businesses.
EQ: How do you approach valuation, and what type of returns do you target?
Large: I consider the owner earnings that Warren Buffett talks about. I like businesses that consistently execute on their business model. If it's a potential activist situation, I try to figure out where the company is doing the wrong things, and come up with some scenarios to unlock the value.
EQ: Do you trade microcaps? Why or why not?
Large: I particularly like the microcap world. There are a lot of interesting niche businesses, under-followed opportunities, and a great community. I've regularly attended the LD Micro conferences and it's great to see the same folks passionately discussing these small companies.
EQ: What is the typical time frame that you are thinking about when you look at an investment opportunity?
Large: Hopefully forever!
EQ: Do you short stocks or just go long?
Large: Just long.
EQ: How do you diversify your portfolio?
Large: I try to handicap the risk of the investment and allocate accordingly. It's the Kelly criterion that most of us try to use. I keep a small portfolio of names so it's manageable. I used to play a lot of blackjack when I was in college, so I got used to this approach of balancing risk.
Subscribe to get our Daily Fix delivered to your inbox 5 days a week
EQ: What is your advice for new investors?
Large: Don't get too excited about any one stock. It's very easy to convince yourself you've found the next 100-bagger. Buy a little, keep researching and try to consider all the ways you could be wrong.
EQ: What's your biggest success story?
Large: My strategy usually targets companies that are steady growth companies. Sometimes I look around to see what else is out there. At one point, I became interested in electronic cigarettes and there was only one public company. This was very early when they first came out. The longer-term effects were still unknown, so there were lots of regulation risk, etc. I saw friends spending a lot of money to buy the devices and knew the margins must be great. I bought a very small amount of Vapor Co. to follow it and it went up like crazy in a short time for no great reason.
I couldn't figure out how to justify the rise, so I took my gains. Not long after, the company fell apart. The market can be irrational and knowing when to recognize that time can be very rewarding.
If you'd like to be considered for Equities.com's Investor Profile, please email editor@equities.com and let us know why you'd be a great fit for this segment!
DISCLOSURE: The views and opinions expressed in this article are those of the authors, and do not necessarily represent the views of equities.com. Readers should not consider statements made by the author as formal recommendations and should consult their financial advisor before making any investment decisions. To read our full disclosure, please go to: http://www.equities.com/disclaimer.
Market Movers
Sponsored Financial Content