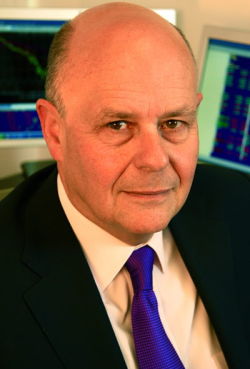 The collapse of the China's stock market has been a considerable concern for US investors, primarily because of a fear that the country's equity market could impact its economy, which has a more direct impact to the market here. While China's double-digit swings on its major index are certainly jaw-dropping for US investors, who have become more accustomed to a low-volatility market, the panic may be overdone.
Equities.com had an opportunity to catch up with global investor Monty Guild, Founder and CIO of Guild Investment Management, to discuss his thoughts on opportunities in the market right now. We separated the interview into a two-parter to focus on his views regarding China's outlook as well as prospects in the US market. See his thoughts on China below, and be sure to check out his thoughts in the US market here.
EQ: Let's start with China. What are your thoughts on the increasing signs of slowing growth there?
Guild: The decline in the Chinese market is not a terrible event. Our view is that China is actually growing at about 5%, and maybe not 7% as they state. Historically, the Chinese market commonly has big corrections, 27 of them that exceeded 20% in the last 25 years.
Chinais probably going to grow faster in the second half of the year than in the first half, perhaps at a 6% actual rate. The stock market breakdown could eventually affect the entire economy, because there is a lot of margin debt and the Chinese tend to be very big borrowers and speculators. So that could have some longer-term negative implications. Not destabilizing implications – rather they could create a lack of interest in Chinese stocks among some investors.
There are two points about the Chinese banking system. First, the banking system is not without its problems. It's overextended and many bad loans have been made; but second, it is also different than other banking systems. The Chinese banking system is basically under domestic control. There is no foreign money in that system. So foreigners can't go in and pull out their money from the banking system. Because of that, I'm not really worried about the Chinese banking system yet. The Chinese government frequently uses its reserves which total trillions to shore up the state owned banks. So there will be sufficient capital to correct banking problems that arise in the short term.
The real estate bubble, however, is something they've been trying to bring under control. Now the Chinese authorities have to pump it up again because they need to make money available to bail out the stock market. That's not a good thing, because it means that the real estate will eventually once again become overextended. The banking system is going to get overextended, and there could be a really serious banking or credit crisis in two or three years in China. I don't see it right now, but in two or three years we could start to see it. It will start with the unofficial banking sector, not with official banks: the so called shadow banking sector (bank-like institutions), not Government banks, will be the origin of any Chinese banking problems.
EQ: China's economy has some major concerns to deal with down the road, but its stock market is dealing with some major issues right now. What do you think about the extreme volatility that we've seen there?
Guild:The stock market is a separate thing from the economy. It fell 40% and rallied back over 20%. In other words, it rallied back half the decline. Now, it's starting to fall all over again. The minimum technical requirements have been met. After a crash, the market will usually rally back half of the decline. Once that half has been retested, we see it as probably a strong sign that the market is going to have to go lower in China. We basically are not bullish on Chinese stocks.
EQ: In our last interview towards the end of 2014, you did say that China was a trading opportunity. If you were trading in China, and not in it as a long-term holder, there's certainly a lot of volatility to take advantage of as a trader. Are you still looking to trade China now that you're not bullish there, or are you avoiding that market entirely?
Guild: We owned China. We made money in China. We rode it part of the way back down and gave up some of our profits. When it bottomed, we bought more and traded it again on the long side. Now, we're out entirely. We are not very bullish on China in general because we believe the industry sectors that we liked in China are going to be under pressure because of the Chinese market as a whole.
But if we look out to the future we can see that the consumer in China is a real opportunity. The Chinese economy is changing, and as we all know, it is challenging to transition from an export-driven economy to a domestic consumer economy. The transition will be very good for online retailers. The Chinese have really adapted to the online cyberworld and they basically have adapted online retailing as an important aspect of the consumer economy. In China, it's always a fight for control and power. The big competitors such as Baidu (BIDU), Vipshop (VIPS), Alibaba (BABA) and JD.com (JD) and many others are fighting for market share. The survivors are going to be extremely successful.
What we will be looking for is who will be the big survivors in the Chinese retail space. The Chinese retail opportunity will be B2B, offline-to-online, B2C, consumer to consumer. It will be people like Uber and their Chinese competitors, delivery services and major retailers like those mentioned above. There will be so many opportunities in China.
I don't know who the winners are going to be at this stage, so I can't really make any recommendations. We are staying out of that market until we get more visibility into the winners of this massive fight for market share.
EQ: What kind of implications does China's stock market vulnerability have for US investors? Is that the most significant headwind that the US is facing right now?
Guild: China's economy has been a typical industrial economy with infrastructure and industrial exports. That had been the focus of the economy until three or four years ago.
The government began to cut down on real estate speculation. It's been rumored that up to $2 trillion was stolen by officials and citizens from the government through taking loans they never intended to pay back in order to do real estate developments that they never intended to complete. They would begin the real estate development, take loans from the banks or from the government agencies and then failed to repay those loans and take off for United States, Australia and elsewhere with the money.
More recently President Xi Jinping has been trying to crack down on corruption. That is, of course, a serious long-term problem in China. The Communist Party has to get control of its members and control of the people who work with members in the party to engage in this type of corruption. Clearly corrupt individuals have stolen vast amounts of money from the country. The country is still a very wealthy country with many trillions of dollars in savings held in foreign currency bonds. If their banking system were to get in trouble, the Chinese government has more than enough money to go in and bail out their banking system. It would not be a problem. The problem would be the psychological effect from a weakening stock market in China, which could spread around the world and create a psychology of panic. We don't see this happening. We think everything will be fairly well contained in China. We just think it's going to have another one of its many violent corrections.
EQ: In a recent note from Guild Investment Management, you did say that major declines in the Chinese stock market is nothing new to its history. Is this just one of them?
Guild: The Chinese market has had corrections of 30%, 40%, 50% over and over again, and we think this is another one of them. We anticipate staying out of the Chinese market, but we're not worried that a contagion will sweep the world and bring other stock markets to their knees. Quite the opposite, any panic that is created in the rest of the world from the Chinese situation should be used as a buying opportunity in our view.
EQ: Are there other international markets that you like right now?
Guild:We have liked Japan. We think Japan is in a normal corrective phase, so stay away from it for a few months. We have liked India and we would continue to like India because we believe they're in the beginning of a multi-year resurgence, which is being delayed by a bad monsoon. It's not a terrible monsoon but it looks like they're getting a slightly below normal monsoon this year. If that persists and it turns out to be another slightly below normal monsoon, it's going to hurt the Modi administration's chance to really revolutionize things in India. So because of that, we're concerned about India.
We're standing aside right now until we see what is going on. For those of us in California where there is a drought, El Nino may be very useful this winter because it could bring excessive rains and solve part or all of the drought problem. On the other hand, El Nino in India usually means less-than-normal rains. If we're going to go into a two-or-three year El Nino cycle, this could be damaging to India where a huge percent of the population are farmers who have no irrigation and depend upon the monsoon. That's a concern.
But we do like Japan and India long term, but we have to wait until after the correction takes place in Japan, and after we find out how the India monsoon turns out.
Be sure to see the second part of Monty Guild's interview for his thoughts on the US market. Read other thoughts from Guild Investment Management on Equities.com here.
DISCLOSURE: The views and opinions expressed in this article are those of the authors, and do not represent the views of equities.com. Readers should not consider statements made by the author as formal recommendations and should consult their financial advisor before making any investment decisions. To read our full disclosure, please go to: http://www.equities.com/disclaimer