The movement for the legalization of cannabis is arguably stronger than it's ever been here in the US. With 23 states and the District of Columbia allowing for the medicinal use of cannabis and another four states that have legalized adult recreational use, it's overwhelmingly clear that wider adoption is on the horizon.
Usually, such favorable market developments would be driving a major boom in the capital markets. Yet, in the peculiar case of cannabis, inconsistency between federal and state laws has led to confusion in the capital markets and amongst financial service providers, creating a disjointed market. While this scenario presents certain obstacles to the development of the fledgling national cannabis industry, it has created a remarkable opportunity for battle-tested pioneers with an intrepid appetite for risk to establish themselves while the market sorts itself out.
It's the perfect situation for iAnthus Capital Management, which looks to help cannabis companies by leveraging its big-firm resources while dexterously cutting through red tape as only a startup can.
Equities.com had the opportunity to speak with Hadley Ford, Co-Founder and a Managing Director of iAnthus to learn more about how his firm looks to become a leader in this green-field market.
EQ: Can you provide us with a brief overview of iAnthus' business model and its operations?
Ford: iAnthus Capital Management is a company that was formed in 2014 to provide what we call value-added capital to licensed entities and applicants for licenses to distribute or grow cannabis here in the US. We have found there is a shortage of access to professional capital for these companies in the US. The usual providers–commercial banks, venture capital and private equity funds and the like–have by and large been on the sidelines.
Up until now most of the industry has been financed by friends, families, and wealthy individuals. That type of capital is sometimes enough and is sometimes stable, but it can be fickle and tough to come by. So our original thought was to try and help provide a stable base for investment into the industry.
Secondly, we noticed that within the US cannabis industry there's a dearth of professional management services. You won't find the big four accounting firms, traditional corporate law firms and consulting companies and the like here. The truth is a lot of cannabis entrepreneurs are out there on their own, both from a capital formation perspective and from an advice and counsel perspective.
Our company was formed to solve both those issues. The founding members are well-steeped in entrepreneurship and growing successful companies, and are able to work with our US and Canadian financial partners to provide the capital.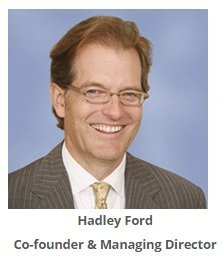 EQ: Looking at your market right now, I believe four states have legalized cannabis for recreational purposes, and about 23 states for medicinal purposes. The market is still opening up. What's the market opportunity here?
Ford: I think any time that there is a survey done in the United States, 60-70% of the people surveyed believe that there should be medical cannabis available for patients who are in need. The numbers skew a little lower when you put forth full-adult use, but it's still a very popular concept here in the United States. I think it's taken many decades for the politicians to catch up with popular sentiment, but I think we're seeing that occur today.
The overarching component to it is that it's still technically against the law from a federal perspective. Cannabis is still a Schedule 1 drug. Therefore, anyone who is participating in the industry is at least theoretically opening themselves up to liability under federal laws.
In reality, what's happened is that the federal government has taken a laissez-faire attitude on this issue and has deferred to the states to set the regulatory framework. So long as you are in strict compliance with your state regulations under a state regulatory structure that meets certain minimum federal criteria, the US Department of Justice has indicated that it has no intention of prosecuting you. The result: lots of scrappy market participants whose starting point to building a business is to stay in compliance with the state rules and regulations. But they are often missing the more sophisticated experience of building a business in general. And as I've said, they don't have access to the usual sources of this expertise or capital because the large, established management services companies and capital providers are still wary and are waiting for actual federal law to change before they risk their reputations and balance sheets.
EQ: So that wait-and-see attitude by the traditional players has created a window for you?
Ford: Correct. That's created a market opportunity for capital formation companies like iAnthus who aren't afraid of the federal risk. We think the opportunity is huge. There aren't a lot of people providing institutional capital across those 20-some odd states. We think the demand for that capital is actually quite high, and as long as it's a Schedule 1 offense here in the US, we think the supply for capital will be constrained. This creates a tremendous opportunity for iAnthus Capital Management as we've put in place the resources and people to provide that value-added capital to license holders and license applicants.
The overall US market opportunity on a retail basis is as high as $50 billion according to estimates I've seen. The capital required to support that size of a market is enormous.
EQ: With the federal government's hands-off approach, we've seen a lot of very legitimate businesses get stuck in limbo because they lack that support from risk-averse providers. That seems to have created a barrier to entry that allows you to capitalize.
Ford: Absolutely. The inconsistent and confusing federal and state regulatory environment provides a unique opportunity to iAnthus Capital Management. We offer a very unique set of skills and access to capital that doesn't widely exist in the market. We have a team of successful professionals with backgrounds in healthcare, technology, medicine, law and corporate finance combined with institutional money from Canada.
EQ: So this gives you a head start to corner this market. What are some more specific strategic initiatives that you've taken on to make sure that if/when this does become more accepted you're in a position to be one of the leaders in this space?
Ford: Well, there are two components to it. One, we need access to capital, and two, we need to pinpoint the transactions and deals in which folks actually need that capital.
To address the first, we've aligned ourselves with a premier merchant bank in Canada and we're fortunate enough to have them as a supporter and investor in iAnthus.
The second component is access to the right situations, which allows us to put that capital to work. We source deals and opportunities ourselves, but have also aligned ourselves with leaders in the industry who see and vet deals very early in the capital formation cycle.
So we work very closely with the leading law firms, application consultants, dispensary consultants, and grow facilities. These are the people who are out there every day actually running operations and providing advice and counsel across the US. We've established very close working relationships with firms like Vicente Sederberg LLC, 4Front Advisors, MJardin, and Bulbulyan Consulting Group, to name a few. These are companies that we think very highly of and so we work very closely with them.
EQ: You mentioned the team you've put together at iAnthus. Your respective backgrounds are very impressive. Can you tell us more about the management?
Ford: Absolutely. Both my brother and sister have been involved in the medical cannabis industry for a number of years in connection with non-profit licensed medical dispensaries. I've always had a passing interest in the business, and we would share stories around the kitchen table. Then, about a year ago, an old business partner of mine from back in the '90s called me up and said that he was interested in forming a startup to provide value-added capital in the medical cannabis industry. That was Randy Maslow, my co-founder.
---
---
Randy and I first became associated with each other when I was working at Goldman Sachs and he was the General Counsel and head of business development at one of the earliest national internet service providers, which became XO Communications. Randy and I were on the Board together as the company grew and headed toward its initial public offering in the late 1990s. Fast forward a few years, and Randy had co- founded one of the first virtual currency companies for interactive computer games. That company was very successful and Randy's interest was later purchased by several private equity funds. Then, fast forward again to today, and here we are – partners. It's Randy's third go-round of being on the ground floor of another burgeoning industry. He brings a lot of experience in company formation, capital formation, legal and regulatory expertise, and pure entrepreneurship to the table.
As for my own personal background, I left Goldman and ultimately started up Treatment Centers, which became the world's largest provider of advanced proton therapy for the treatment of certain cancers. We raised about $800 million in private capital. We built four centers here in the US, and treated thousands of patients. During that tenure, I was very proud that several of our patients were treated with such respect and dignity when they came to our centers that they actually had our logo tattooed on their bodies. In the end, it's all about the patient – what does the patient need? How do you ensure the patient gets the best possible treatment? If you do that, everything else basically takes care of itself.
Fortunately, John Henderson, my old COO from that company, decided to join us at iAnthus. Overseeing the development of our proton centers, he broke every record for time-to-market and amount of capital needed. Prior to building lifesaving cancer centers he ran a leading real estate company in the northeast, and built millions of square feet of healthcare and tech facilities. He brings that same world beating ability to the cannabis world.
We're also very fortunate to have Richard Boxer, M.D., one of my old friends and an advisor from our ProCure experience. Rick was a finalist for surgeon general in both the Clinton and Bush administrations. He represented the US at the World Health Organization and served on the Board of the National Cancer Institute and the National Institute of Diabetes, Digestive and Kidney Diseases. Dr. Boxer is a well-known, well-regarded public health advocate and physician, and believes that the medical use of cannabis should be available for patients who may derive benefit from it. He's had several friends who used medical cannabis to reduce their symptoms from cancers. He has a vision for improving the quality and reliability of the provision of medicinal cannabis.
We are also aligned with a number of advisors, including Dr. Chris Hudalla, one of the two co-founders along with Dorian A. Des Lauriers, of the pre-eminent cannabis testing and science consultancy, ProVerde Laboratories. Dr. Hudalla is recognized as one of the world's leaders in the analytical testing of cannabis. He actually was a chief scientist at Waters Corp., which is the world's leader in the manufacturing of analytical testing equipment. He brings his expertise from that company into the world of cannabis, and he helps us with the quality testing aspects, extraction, production, and all the technical knowhow needed to ensure the right medicine is produced and appropriately labeled.
And of course, my sister, Alex, has been invaluable in our efforts. She is one of four licensed operators in VT and brings her real world, everyday knowledge of how you turn a dream into reality in the cannabis market to our clients.
Another big thing that's recently happened with us is that Paul Rosen, who is one of the pre-eminent cannabis investors in Canada, has agreed to be on our Advisory Board. We're thrilled that an investor of his caliber has joined our team. I consider him to be a thought leader in the Canadian cannabis space, and I think our relationship with him going forward will create a lot of value.
So as you can see we've got a pretty good group of people. We bring a lot of expertise to the table, in addition to the capital. Not only do we write a check and help you achieve your entrepreneurial dreams of delivering medicine to patients, but we are very helpful from a medical, clinical, operational and scientific perspective as well.
EQ: What would you say is the biggest challenge that your clients are facing right now? How do you help them to overcome those obstacles?
Ford: Frequently, when talking with potential license applicants, or those who have actually won a license, we learn that they often receive term sheets from folks without the same level of professionalism and reliability that we strive for. In the absence of a mature market, it's sometimes hard for licensees or potential licensees to differentiate between what we bring to the table and someone else's promise of a deal that might be illusory or too good to be true. We offer extensive expertise and experience across multiple industries, and capital that will actually be there when we claim that it will be there.
We try to make this easier by spending a lot of time getting to know potential clients and also by aligning ourselves with other industry leaders. Being recommended by trusted entities in the space helps validate the fact that we're able to do what we say we're going to do. We are real with everyone, and make promises that we can keep.
EQ: Looking at cannabis companies, at least in terms of the limited sample of the publicly traded ones, there was a lot of excitement in this area early last year that course-corrected. Do you feel like that shakeout has helped clean up the industry and clear out some of the less-professional characters in this space?
Ford: Yes. Unfortunately, in any new industry, there's always going to be a gold rush effect. Whether you're in tech or healthcare, real estate or cannabis, anything that's a new hot spot is going to attract a lot of folks. But the people with professional backgrounds and real access to capital will typically push out the charlatans and pretenders very quickly. Those other industries, though, don't have this Schedule 1 overhang.
The trouble with the cannabis space is that you don't have the usual cadre of legitimate experts and capital providers, so instead we have scores of companies and would-be providers of that expertise who are claiming to be the best and brightest. The phrase caveat emptor really rings true here, cannabis entrepreneurs have to be very careful navigating the market. There's a lot of craziness out there, so any time there's a shakeout or a downdraft, I think it's probably good for the overall long-term formation of the industry.
EQ: How do the US markets differ from that of Canada when it comes to cannabis?
Ford: I do think from a public capital perspective, Canadian markets offer a very valid alternative to the US markets. Most of the public entities here in the US tend to be OTC or Pink Sheets, not the most highly regarded markets. I don't think they are regulated quite as well as they should be, and that can create extra levels of risk for investors.
When you compare that to the Canadian markets, where you have a long history of early stage companies going public and you have exchange rules that are very protective of the investors, I think that is probably a better marketplace if you're a public investor today looking for investment opportunities in the cannabis space.
The issue with the Canadian market is that there aren't a lot of US companies up there, and I think that is how iAnthus will be differentiated. Our longer-term capital plans are to be a public entity, most likely on one of the Canadian Exchanges, instead of being on the exchanges here in the US. As the federal-state regulatory environments become more consistent and the US markets become more hospitable to legitimate cannabis-industry companies, we might revisit that issue and consider a dual listing.
EQ: For people who are now following iAnthus and the industry in general, are there any major developments that you anticipate in the next 12-18 months that they should look out for?
Ford: We're currently investing in a medical grow facility and dispensary in Vermont. We're going to put some serious capital to work there on the expansion of one of the license holders. Our anticipation is that Vermont will ultimately move from a medical-only state to being a full adult-use state. As a matter of fact, one of the state legislators recently put forth a bill for a full adult use program in Vermont. It probably won't be taken up in this year's session, but will definitely be taken up in next year's session.
In the initial draft of the bill it lays out a path to full adult use that runs through the existing medical licensed operators. I think that's the right way to go. You don't want to make it a free-for-all on day one. You want to have experienced operators and state control over the transition from medical to adult-use. As a supplier of capital to one of the medical license holders, I think it positions us very well to have access to a full adult-use market in Vermont
EQ: That's very exciting. Do you have any final takeaways that we missed?
Ford: The one piece to think about from an investment perspective is that it always comes down to people. People are really the only long-term differentiators you have in any company. If you want to know more about iAnthus and what we're able to do, just look at the team that we've assembled and compare and contrast that against any other opportunity you might see out there in the marketplace. That's what it comes down to. We have health care experience, medical experience, science experience, entrepreneurial experience, legal experience and capital experience.
That's what's going to make the difference today, and that's what's going to make the difference long term at iAnthus.
For more information on iAnthus Capital Management, go to www.ianthuscapital.com.
DISCLOSURE: The views and opinions expressed in this article are those of the authors, and do not represent the views of equities.com. Readers should not consider statements made by the author as formal recommendations and should consult their financial advisor before making any investment decisions. To read our full disclosure, please go to: http://www.equities.com/disclaimer