Interesting Investments - Super-Luxury RVs
Avery-Taylor Phillips Follow |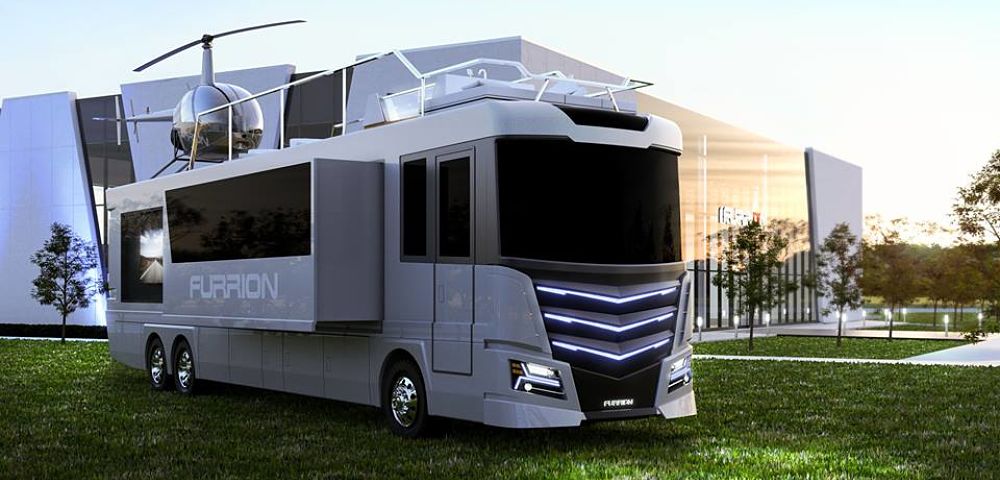 Image via Furrion/Facebook
We've looked at some bizarre — some would say interesting — investments in this column. Everything from weather and temperature, parking spaces, cell phone airtime, and even virtual real estate in a video game. While some could pay dividends, others were not great investments — but all have a fascinating history. Today's investment is more of a personal investment, but in theory, could be used as mobile real estate. We're looking at RVs that cost more than $1 million.
Not Your Parents' RV
At first blush, an RV seems like a terrible investment. Frankly, a normal RV would be, unless you intend on going on long road trips often.
Luxury RVs, however, are not targeting that audience. These RVs are meant for the rich and famous to go enjoy a national park for a few days away from their hectic lives in the city. Think of it this way: Luxury RVs are to glamping as regular RVs are to camping.
That RV Is Worth How Much?
Imagine an RV with smart home capabilities, a touchscreen control panel behind the wheel, plush leather seats, big screen TVs in the back, and the finest wood cabinets surrounding a full refrigerator. If it sounds like a high-end luxury apartment on wheels, it's because that's pretty much what it is.
But wait, there's more. At CES in 2017, the Furrion Elysium concept RV came with all the amenities of a penthouse apartment. It also comes with a small helicopter with a landing pad that retracts into the RV's bedroom during transit.
Glamping in Style
Remember the part where it's an RV and meant for camping out in the wilderness? Often, RVs are at their best when there are hookups, such as an RV park or camping area.
These expensive behemoths can "rough camp" with no problems, meaning no hookups are necessary. Solar power and diesel is all you need, thanks to the onboard generators and technology packed into the vehicles.
A word of caution: While mobile homes can be thought of as property (more on that in a bit), throwing a raging party in your super-lux RV should be met with caution. Wrecking your RV, even if there are no other vehicles involved, counts as a single-vehicle accident. That means, in some cases, all of your party goers/passengers can make a claim against your insurance. Much like going from simply owning to trafficking in counterfeit handbags and getting caught, it's suddenly not worth the investment as your insurance skyrockets, and you may be faced with civil suits. Here's a fun fact: In South Carolina alone, there were over a hundred more single-vehicle accident deaths in 2016 than multi-vehicle accident deaths. Be careful with your very expensive RV. With this PSA out of the way, we finally arrive at the most important part: what super-luxury RVs have to do with investing.
Investing
Who cares about glamping, and how great these RVs are if you can't make any money off of them? This column is about investments, after all.
Allow me to introduce you to The Heat, a one-of-a-kind mobile home. Owned by actor Will Smith and purchased for a cool $2.5 million, the model is used by other actors, including Ashton Kutcher, but Smith's has been customized for his needs. Smith's RV even has an office for his assistant, among a $25,000 bathroom and three TVs. It's decked out, to put it mildly.
But why is it an investment? It's the same concept as a rental property. Smith rents out The Heat for $9,000 a week. Sure, it'll take almost six years to see a profit if it's rented out every week, but Smith can also use it himself. While it may not be the best rough camper, it's a perfect home away from home. And unlike the house in the Hamptons that can't move when he feels the call of the wild (or at least a road trip to another city), an RV can provide a mobile base of operations in style.
DISCLOSURE: The views and opinions expressed in this article are those of the authors, and do not represent the views of equities.com. Readers should not consider statements made by the author as formal recommendations and should consult their financial advisor before making any investment decisions. To read our full disclosure, please go to: http://www.equities.com/disclaimer