Interesting Investments: Rare Comic Books
Avery-Taylor Phillips Follow |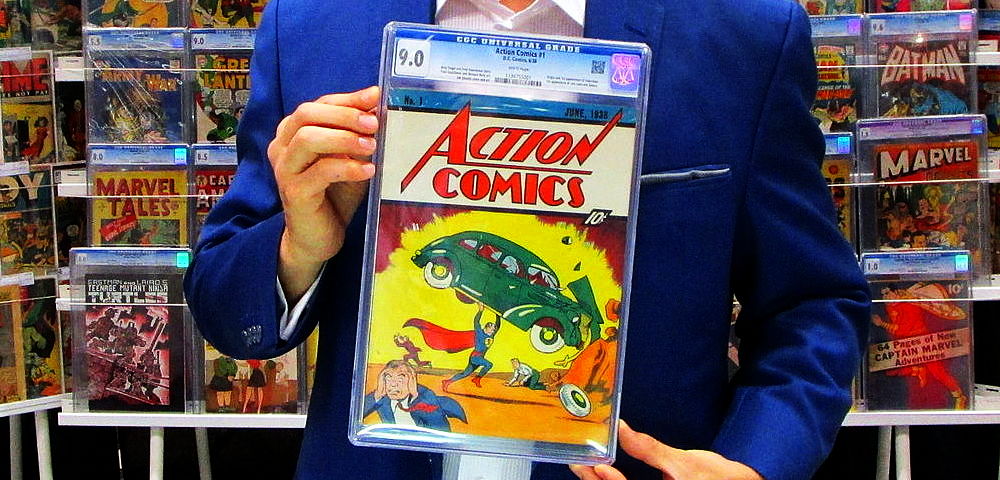 Image via Gary Dunaier/Wikimedia
Back in October, I wrote an article on collectibles that were gaining value faster than gold. I purposefully left one out: comic books. Now that "Avengers: Infinity War" has gone on to make more money than I care to mention, it's about time we circle back and talk comics.
Action Comics No. 1
Let's get this out of the way. If you know anything about comics, you've heard of Action Comics No. 1. Released in 1938, it's the first appearance of Superman. It cost only 10 cents then. In 2014, Darren Adams decided to part with his copy. It was graded at 9.0. The eBay auction started at 99 cents. It ended at more than $3.2 million.
It's believed that there's only between 50 and 100 copies left, and Adams' copy was said to have "pristine white pages." Before his copy, actor and noted Superman superfan Nicholas Cage sold a copy for about $2.11 million in 2011. In mid-2017, Action Comics No. 1 was valued at about $5.55 million. It is, without a doubt, the most valuable comic book available. But what are the reasons it's so valuable?
Characters
There's a few reasons specific issues become collectible, and thus valuable. One of the big reasons is the characters. Action Comics No. 1 was the debut of Superman, one of the biggest names in superheroes. Incredible Hulk No. 181, which features the first appearance of fan favorite Wolverine, is worth $18,000 at a 9.8 grade, while 9.0 grades can be $2,000 to $2,400. Speaking of the X-Men, the first copy of the flagship magazine at a 9.8 grade goes for more than $500,000. Even a meager 2.0 copy is worth at least $1,200. The main takeaway here is in perception and how much fans like a character. This can change between collectors.
For example, with a Captain Marvel movie on the horizon, starring Brie Larson, it might be wise to stock up on issues of the character's first appearance. But, before becoming Captain Marvel, Carol Danvers was Ms. Marvel, a moniker used now by Kamala Khan. The new Ms. Marvel has quickly gained a fan following, and there's speculation she might be appearing in Marvel movies down the line. Both characters could potentially see a rise in value.
Condition and Grading
A significant factor is the condition of the physical comic, which affects its grading. Third-party services can grade copies for you, on a scale of 0 (poor) to 10 (mint). They also seal them, to protect the comics from any damage. The main reason you should care about grading is the difference in price. As you saw above, it could be the difference between getting a few thousand dollars and more than a cool half-million. A 9.2 copy can sell for a 25 percent less than a 9.6, and only a tenth of a grade 10.
Movies
There's a bit of a story behind Batman Adventures No. 12 from 1993. It's the first appearance of Harley Quinn, who had first appeared in the Batman animated series the previous year. However, unlike Wolverine, she wasn't the most popular character. In 1993, the issue sold for $1.25. In 2008, it was only $3. But then, in 2009, DC announced they were making a Suicide Squad movie, prominently featuring Harley. In 2012, the issue was valued at $75. In 2016, the year the movie came out (to terrible reviews, no less), the comic skyrocketed to $800. That's a price gain of 26,567 percent. Not bad for an investment of $1.25.
On the Marvel side, Groot, a member of the Guardians of the Galaxy and featured in Infinity War, first appeared in a small comic, Tales to Astonish #13 in 1960. This was when Marvel was still Atlas Comics. In 2008, the issue was worth $535. In 2016, it was $4,000. Without three movies as a pedigree, the issue might not be worth nearly as much.
So how do you display or store your collectible comic book without ruining its condition? Glad you asked.
Storing or Displaying
It's important to know how to display or store your investment, as like most art, light can affect comics. For storage, it's a good idea to compare comics to old photos. When stored properly, photos from generations ago can still be crisp and clear. There are four key aspects to storage: ventilation, temperature, moisture, and lighting. A well-ventilated area will help combat mold. Assuming you are storing comics in a plastic bag, this should not be a large factor. Temperature can lead to discoloration of the chemicals and dyes used in comics. Moisture will warp comics, drastically lowering their value. Lighting can cause colors to fade, again harming the value.
Storing in a closet, cabinet or chest is best. Basements and attics are terrible ideas, as temperatures often fluctuate.
For displaying your investment (and let's face it, comic books these days are seen as cool, so why not display a rare copy?), your main concern is lighting. Much like lighting artwork, your best bet is to use LED lights to illuminate your comics. LED bulbs do not emit UV rays, nor do they get hot, which are both good for your comics.
Storing or displaying, if you intend on selling the comics, make sure they are kept in good condition. Prices are fickle, but character introductions tend to sell well. Scarcity, usually due to age, is also a large factor, but don't discount a collector's personal preferences.
Stock price data is provided by IEX Cloud on a 15-minute delayed basis. Chart price data is provided by TradingView on a 15-minute delayed basis.
DISCLOSURE: The views and opinions expressed in this article are those of the authors, and do not necessarily represent the views of equities.com. Readers should not consider statements made by the author as formal recommendations and should consult their financial advisor before making any investment decisions. To read our full disclosure, please go to: http://www.equities.com/disclaimer.
Trending Articles
Market Movers
Sponsored Financial Content