Interesting Investments: Medical Blockchains
Avery-Taylor Phillips Follow |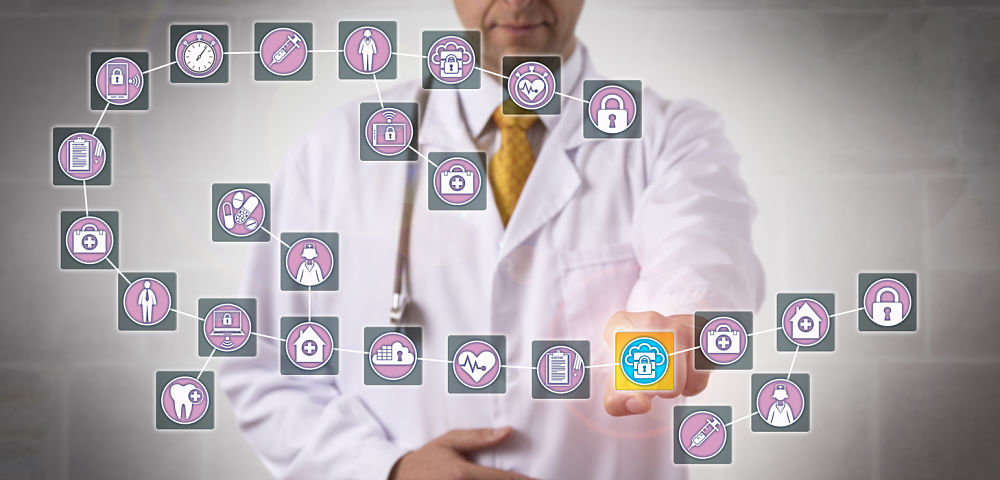 It's not easy to invest in the health of the populace unless you are investing in pharmaceuticals or medical equipment. But now there's a new option: the medical blockchain.
We've discussed how blockchains work before, and to put it simply, it's a digital ledger. But how does that apply to medicine, and how can you invest in it?
Telemedicine
One of the major ways the blockchain can be used is to decentralize and reduce healthcare costs. It cuts out the insurance middleman. Industries like finance, technology, and, of interest here, healthcare invested about $1.4 billion in blockchain technology in 2016. Part of this is payment bookkeeping and the other is "smart contracts." When both are used as part of telemedicine, things get interesting.
The entire process can be a bit complicated, but we'll try to make it as easy to understand as possible. We'll use an example: MedCredits, which claims to be the first medical blockchain, connects to Hippocrates, an app that connects dermatologists to their patients. The patient opens a case, sends information, including photos, via the app — that's the telemedicine part — and receives a diagnosis and treatment options. They pay using MEDX or ERC20 tokens, much like paying with Bitcoin, secured currently by the Ethereum blockchain.
The smart contract part automatically processes invoices, bank balances, and other accounts with absolute transparency, while the bookkeeping portion allows multiple companies to log transactions in the same joint registry, also with full transparency. This increases trust and security while reducing paperwork.
Cryptocurrency
While MedCredits might be the first blockchain in the medical industry, CoinHealth might be the first medical cryptocurrency. As of the time of this writing, there's still about a month and a half left to buy into the currency. It allows users to earn coins with smart wearables, with the idea being that living a healthy lifestyle should be rewarded. CoinHealth aims to not just be a currency but also provide blockchain functions as well.
Investing in Blockchains
Investing in blockchains is a simple matter of choosing the correct ETF. In January, investors poured a staggering $240 million into blockchain ETFs in a single week. That same week, Bitcoin fell 7 percent.
Bear in mind that some ETFs also invest in companies in the crypto sphere of influence. For example, both BLOK and KOIN ETFs contain Intel, Taiwan Superconductors and NVIDIA. The former two create CPUs, while NVIDIA creates graphics cards. Their 1080 line of graphics cards are highly sought after by cryptocurrency miners to offload computer power.
The Big Four investment firms are all starting to get into the crypto/blockchain game. Ernst & Young accept bitcoins, for example, while KPMG started blockchain initiatives.
You can invest in the two technologies independently. You don't need to invest in cryptocurrency to invest in a blockchain. Cryptocurrencies are just one application of blockchain technology. As we've seen, the distributed ledger system holds promise in the medical field, and while the market is volatile, people have made fortunes in just a few years
DISCLOSURE: The views and opinions expressed in this article are those of the authors, and do not necessarily represent the views of equities.com. Readers should not consider statements made by the author as formal recommendations and should consult their financial advisor before making any investment decisions. To read our full disclosure, please go to: http://www.equities.com/disclaimer.
---
Discover: Trending Events
---
You May Also Like
| Symbol | Last Price | Change | % Change |
| --- | --- | --- | --- |
| AAPL | | | |
| AMZN | | | |
| HD | | | |
| JPM | | | |
| IBM | | | |
| BA | | | |
| WMT | | | |
| DIS | | | |
| GOOG | | | |
| XOM | | | |
| BRK.A | | | |
| FB | | | |
| JNJ | | | |
| WFC | | | |
| T | | | |
| NFLX | | | |
| TSLA | | | |
| V | | | |
| UNH | | | |
| PG | | | |