Interesting Investments: Lladro
Avery-Taylor Phillips Follow |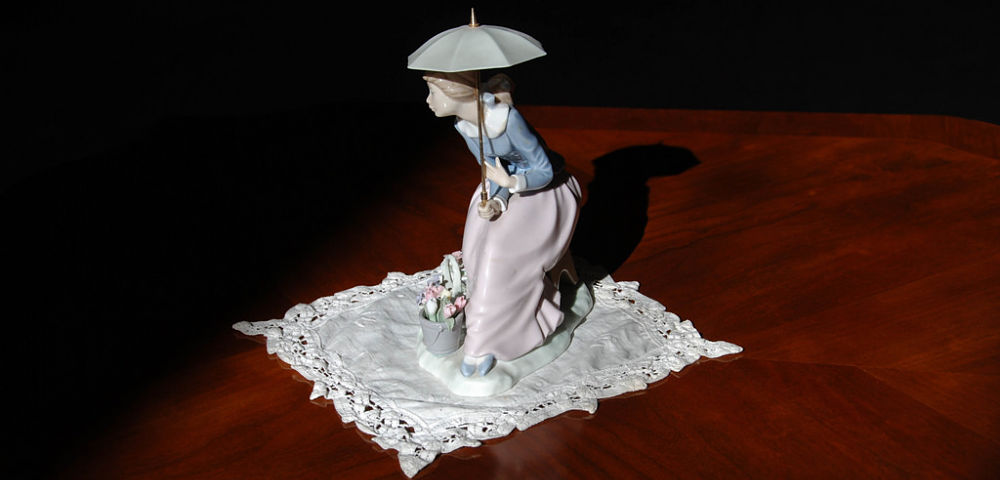 Normally, we look at investments that are worthwhile and true to the column name. Sometimes, though, we take a look at what people thought were going to be profitable, and turned out to be anything but. Today, we're talking about lladro, the porcelain collectibles my mom proudly displayed in my childhood living room.
History of Lladro
In 1953, brothers Juan, Jose, and Vicente Lladro began making ceramic figures, plates, and vases in their hometown of Almàssera, Spain. As their business grew, they were ruthless during production. If there was an imperfection in the product, it was destroyed. Other companies would sell the product at a reduced price, but not Lladro. The brothers also limited all of their works, "retiring" them after a set number of pieces.
This, of course, is where the investment opportunity comes in. After all, there are collectibles better than gold, and both stamps and cards for the game Magic: The Gathering can have amazing investment opportunities. This is, in part, because they are in limited quantities. Even your old Disney VHS tapes might be worth something to collectors.
In 2005, the San Diego Tribune noted there were 3,600 retired pieces, and many had collected value. Small pieces could go for less than $100, while the average was $700, and some larger pieces could go for $7,000.
Investing … or Not
This sounds great! Let's look at an example: the "Little Pals" set from 1985. It retailed then for $95, was retired the next year, and then settled into a fairly stable $3,000 price tag on the secondary market. In 1992, it sold for a high of $6,000. Not bad, right?
Take a look at that first link in the paragraph above again. The Lladro Database shows an average of around $525. It's a profit from the $95 retail from 30 years ago, but a far cry from $3,000 average it used to be.
"The collectibles market is not dead, but it has radically changed in the past 15 years," Mike Rivkin, owner of California-based Antique Galleries of Palm Springs, told Insurance News Net last year. "Young professionals are not accumulators, not collectors, and have no interest in mom and dad's collection of Lladro figurines." He added, "Those limited-edition markets are dead and will remain so."
The Street listed Lladro among its 15 collectibles that are worthless, along with Hummel statues, Thomas Kinkade paintings, and Precious Moments figures.
What Happened?
Millennials grew up, the economy crashed in 2008, and people stopped caring about collectibles. As with many collectibles that were painstakingly safely packed away in storage, values fell fast and hard.
Yes, you can also blame those dastardly millennials. My generation is rejecting collectibles, passing on all but the most important of heirlooms, and trying to live a minimalist life with fewer material items. As I mentioned, my own mom collected Lladro. Nuns adorned the mantle above the fireplace. At Christmas, out came Santa. I have no desire to inherit any of these. I did not ask for any when I moved out for college.
It's not just millennials, though — my parents recently moved, and there is no Lladro on display in their new home. While the height of the porcelain figures' popularity might have been in the 1990s, 20 years and a crash in the economy have seemingly killed off Lladro's value.
That's not to say there's not profit to be made. After all, in 2013, a Lladro Cinderella was found for $10 in a Sutter Creek, CA, gift shop. It was worth, at the time, about $200. Today, in 2018, the same Cinderella is on eBay for between $157 and $217.
Is there profit to be made? Potentially, yes. Is there a lot of profit? Not likely. It's definitely not worth buying new for investment purposes. If you find a hot deal in a thrift store or garage sale, then it might be worth it. Otherwise, take a pass and lament the decline of 1990s collectibles.
Image by Daniel Crookston
DISCLOSURE: N/A

---
The views and opinions expressed in this article are those of the authors, and do not represent the views of equities.com. Readers should not consider statements made by the author as formal recommendations and should consult their financial advisor before making any investment decisions. To read our full disclosure, please go to: http://www.equities.com/disclaimer