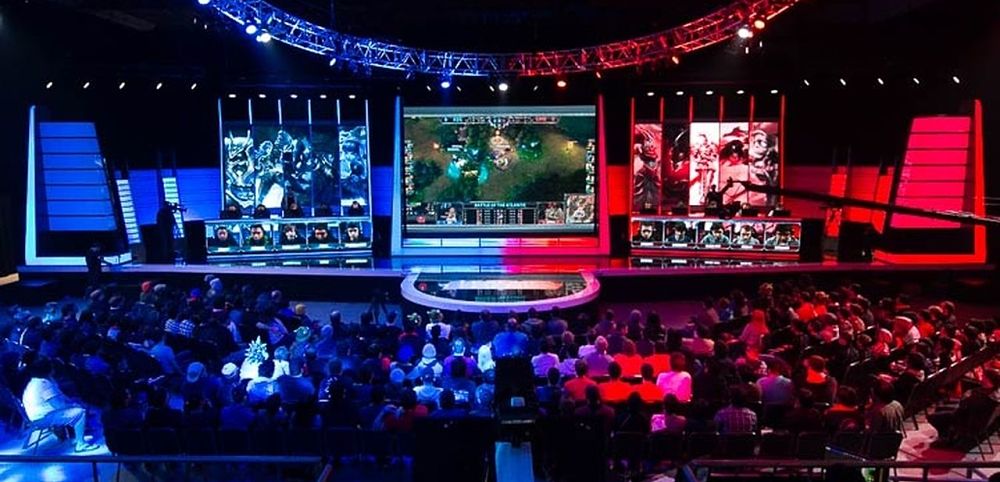 Image via Gabriel.gagne/Wikimedia
The internet has shaped quite a few industries. For example, playing the stock market. It used to be a game of needing to have someone on the floor of the stock exchange, involving a lot of yelling. Before the 1980s, when the internet became mainstream, the Dow Jones index high was around 3,000. Today, thanks to the internet, it's more than 26,000. Market growth doubled in the five years after 1992, when electronic trading began. In 2015, 80 percent of investors had made a trade online, and 64 percent said they needed the ability to invest via mobile methods. A third used their smartphone, while half of of those used an app three or more times a week.
In a similar way, the internet changed competitive video games. Once limited to arcades, tournaments that required you to show up in person, or simply battling it out on the couch, the internet now allows for streaming right to your TV or computer monitor. Tournaments are no longer small, with international prize pots in the millions of dollars. Traditional sports teams are sponsoring video game players, teams that fight while sitting down. Let's look at the interesting investment of eSports, and how you can get in on an industry that is just out of infancy.
What is eSports?
Your first inclination is to probably think of people playing basketball video games, or other sports-related games. While there are indeed competitions revolving around these types of games, they are surprisingly not the biggest draws Instead, games like Activision Blizzard's (ATVI) Overwatch and Starcraft 2, and Riot's League of Legends draw crowds to events. Some events are televised, while others are just streamed online.
Stadiums are created. Crowds gather. And the winners can win big. Even in 2016, when eSports was in its infancy, local competitions doled out $30,000 on average to the winner, while international competitions could net millions for a win.
Each of those three games has its own league, and is treated like a traditional professional sport. Business Insider estimates by 2020, eSports leagues, including those three, will pull in a combined 500 million viewers. Sports teams including the Miami Heat and Manchester City are partnering with eSports teams. Coca-Cola, Red Bull, and American Express are among the major companies breaking into the professional video game scene.
How Can I Invest?
First off, the two biggest games, DOTA 2 and Counter-Strike: Global Offensive, are owned by Valve Corp., which is privately held.
Next, though is Tencent Holdings (TCEHY), the parent company of Riot Games. As the Motley Fool points out, in 2016, they gave out more than $5 million in prizes for their 2016 League of Legends World Championship.
Activision Blizzard (ATVI) has leagues for many of its games. The latest, for Overwatch, had companies reportedly paying $20 million each for the rights to its 12 teams. There are more teams expected to be added to the roster, as well.
Finally, the National Basketball Association has teamed with Take-Two Interactive (TTWO), best known for its Grand Theft Auto franchise, to create an eSports league around an actual sports game: NBA 2K. The league is set to debut this year. So far, 17 teams are set to compete.
If you would rather invest in the companies making the technology possible, consider these two options.
Nvidia (NVDA) makes the most popular gaming graphics card, the GeForce GTX 1080 Ti, used in high-end gaming PCs. The 1080 is also popular among game streamers, who livestream themselves playing a game, often one of the above games.
For gaming equipment, the professional eSports scene usually turns to Logitech (LOGI). The company already sponsors multiple eSports teams, and sells their product to amatuer gamers, as well, to the tune of mice averaging $60 and keyboards from $60 to $180.
The eSports market is exploding. It's just out of its infancy but still finding its feet, meaning it's the perfect time to invest. It's solid enough to not disappear, and still has room for growth. Who knew the future of competitive sports would be measured in actions per minute or what class or character you play, and be played sitting down, staring at a monitor?