Interesting Investments: Automobiles
Avery-Taylor Phillips Follow |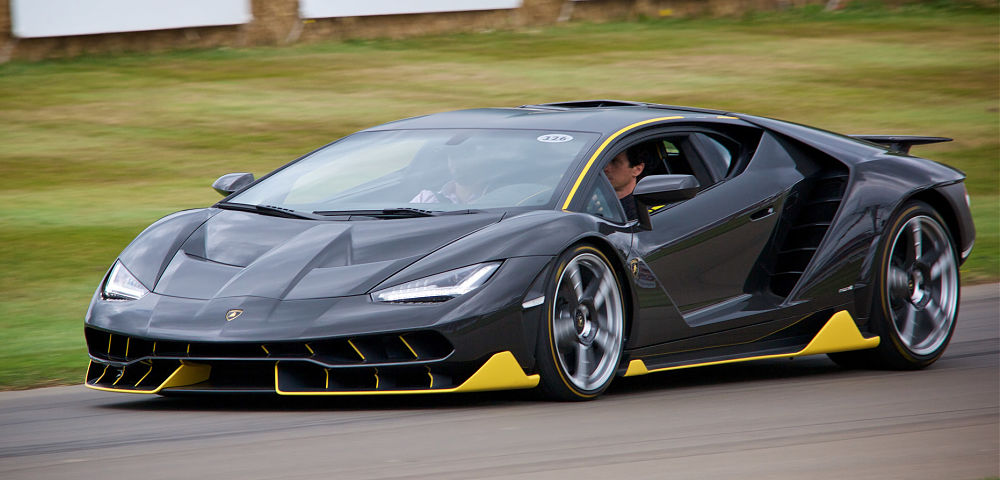 You drive a car off of a lot and it immediately decreases in value. It's an old adage, and in many cases it's true. Some cars, however, appreciate in value. Reasons are varied: rarity, nostalgia, even just a passion for a particular model. After all, one of the 70 skills a man should master is simply "drive." Buckle up; it's time to look at what makes automobiles a good investment.
Rarity
As a general rule of thumb, rare cars hold their value. Take, for instance, the 2017 Lamborghini Centenario, based on the Aventador and created in commemoration of what would be founder Ferruccio Lamborghini's 100th birthday. There was a total of 40 made: 20 coupes and 20 roadsters. They were sold for $1.9 and $2.4 million respectively. All of them were sold before the car was publicly unveiled. Just about a year after they were unveiled, in October 2017, a customized Centenario went up for sale, the first used sale of the car. The asking price was $3.475 million. It is likely the cheapest you will find a used Centenario.
The point is that rarity matters. If you can buy the car off a regular lot now, it likely isn't the best for investment purchases. There are, of course, exceptions to this rule.
Passion
The Nissan GT-R is what's known as a supercar (as opposed to the Centenario, which would be considered a hypercar). It's famous among petrolheads for not only being a fantastic all-around drive, but for drifting. Jeremy Clarkson, of Top Gear and Grand Tour fame, gave the 2014 edition 5 out of 5 stars. But until 2002, the GT-R brand was known as the Skyline GT-R, almost a completely different car from today's GT-R.
Unlike the GT-R, Skylines were exclusive to Japan. There was, at the time, a "gray market" for the cars if you wanted one in America, but it was not something you could buy in an American car lot. In 2002, Nissan, under its Infiniti brand, exported the G35, based on the Skyline and 350Z body. If you wanted a real Skyline, however, you had to jump through hoops, making it a bit of a rarity. The passion around importing it was thanks to video games, anime, and movies. For example, the late Paul Walker drove his personal R-34 model at the beginning of 2 Fast 2 Furious.
Skylines from the mid-1990s have held their value reasonably well, especially thanks to the modding scene. Most go for between $20,000 and $40,000. Newer GT-Rs, for comparison, start around the $100,000 mark, but these are also modern supercars.
Nostalgia
Nostalgia is a strong mental drug, and, like passion, can drive prices up on cars. Sports cars from the mid-20th century, especially from luxury dealers, can command high prices. Many of these were cars used in various races and gained world acclaim in the automobile world, and many also fall under the "rare" umbrella as well. While many of these are not driven — that's not the point; after all, it's predicted we'll all be in driverless cars by 2050. It's the nostalgia factor.
Looking at a list of the top 10 cars that have sold the for the most at auction the newest is from 1967. The most expensive, the 1962 Ferrari 250 GTO, sold in 2014 for $38.1 million, or about $39.4 million adjusted. It also falls into the rarity category, as only 39 were produced. Last year, at the largest car auction of the year, held in Scottsdale, AZ, a 1965 Ferrari 275 GTB Speciale Coupe sold for more than $8 million. Following that, a 1958 Porsche 550A Spyder sold for more than $5.1 million.
Investing
The route to investing is pretty obvious: buy a car. Buy multiple cars, if you can, as diversity is always a good plan. The main problem with this is you also have to store the cars. Proper storage is essential to keep the car in good condition, whether it's a classic car or a brand new hypercar. The Centenario that went up for sale had only 47 miles on the odometer.
Original vs. restored is also a consideration when deciding to invest in classic cars, as collectors are fickle and have differing opinions. Older versions of the same make and model are generally more valuable, but how many miles show on the odometer and provenance also affect price. The 250 GTO, for example, had the same owner for 50 years, with the paperwork to prove it.
One of the best ways to gauge prices is the K500 Index, created by classic car broker Simon Kidston. The index showed classic cars not only weathered the 2008 financial crisis but had a 10-year return from 2006 to 2016 of 404 percent. Wine, for comparison, saw a 256 percent return, while coins saw 182 percent.
As a side note, Kidston sold a 250 GTO in 2016 in a private deal. While the price has not been disclosed, rumors put the price around $60 million, a new record. In other words, he knows his collectible cars.
This isn't an investment for those without startup money. These cars tend to be expensive, and auctions quickly rocket in price. But, the returns, if given a few years, can often be worth the investment.
DISCLOSURE: The views and opinions expressed in this article are those of the authors, and do not represent the views of equities.com. Readers should not consider statements made by the author as formal recommendations and should consult their financial advisor before making any investment decisions. To read our full disclosure, please go to: http://www.equities.com/disclaimer