The FDA established the Limited Population Pathway for Antibacterial and Antifungal Drugs (LPAD pathway) as part of the 21st Century Cures Act that was signed into law in December 2016. The LPAD pathway is designed to facilitate the development and approval of antibacterial and antifungal drugs to treat serious or life-threatening infections in a limited population of patients with unmet need. The key feature of this pathway is that approval may be supported by a streamlined clinical development program involving smaller, shorter or fewer clinical trials. This critical express lane for drug development in the most serious conditions had yet to be used by any company… until now.
Bridgewater, New Jersey, based Insmed INSM announced Friday after the close that it has received FDA approval of Arikayce (amikacin liposome inhalation suspension) for Mycobacterium avium complex (MAC) lung disease as part of a combination antibacterial drug regimen for adults with limited or no alternative treatment options. Arikayce is the first drug approved in the US specifically for patients with MAC lung disease and the first product approved via the LPAD pathway.
Arikayce is a once-daily inhaled formulation of amikacin, an established intravenous antibiotic that has historically been associated with severe toxicity to hearing, balance and kidney function. Insmed's proprietary Pulmovance liposomal drug delivery technology enables Arikayce to be delivered directly to the lungs, where it is taken up by lung macrophages where the infection resides. This approach prolongs the release of amikacin in the lungs while limiting systemic exposure.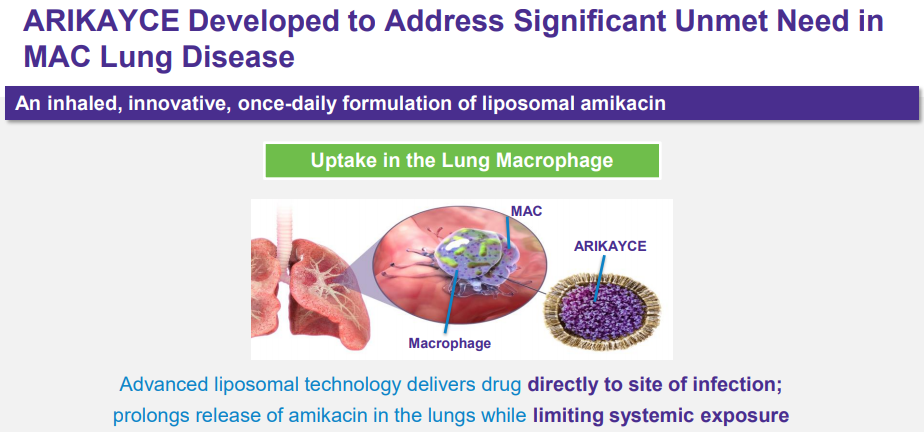 Source: Insmed
MAC lung disease is a rare and serious disorder caused by two types of bacteria—Mycobacteriumavium and Mycobacterium intracellulare—found commonly in fresh and salt water, household dust and soil, according to the Genetic and Rare Diseases Information Center division of the NIH. These bacteria are the most common disease-causing organisms of the group commonly referred to as nontuberculous mycobacteria (NTM). MAC lung disease is usually spread when the bacteria are inhaled or ingested, and it primarily affects people with compromised immune systems or underlying lung disease. Patients with MAC lung disease can experience a range of worsening symptoms including chronic cough, dyspnea, fatigue, fever, weight loss and chest pain. In some cases, MAC lung disease can cause severe, even permanent damage to the lungs and can be fatal.
Source: University of Texas Health Science Center at Tyler

According to Insmed, there are 60,000 to 85,000 total diagnosed MAC patients in the US, of whom 10,000 to 15,000 are refractory, or resistant to standard treatment. The FDA approval should pave the way for additional approvals in the EU and Japan, which have about 140,000 to 160,000 MAC patients combined, of whom about 16,000 to 20,000 are refractory. The current standard of care for MAC lung disease involves the use of multi-drug regimens that are not specifically approved for the condition. The course of treatment is often two years or more and is inadequate in treating the disease in many patients.
Today's approval is a momentous occasion for all of us living with and advocating for people with MAC lung disease. Arikayce provides a much-needed treatment for patients with this chronic and life-threatening disease who have not responded to the current standard of care. Many of these patients have been suffering for years and face significant challenges in their day-to-day lives, and we are excited to finally have an approved treatment for them.

– Philip Leitman, President of Nontuberculous Mycobacteria Info & Research
In September 2018, data from Insmed's Phase 3 "CONVERT" study of Arikayce showed that its addition to guideline-based therapy eliminated evidence of NTM lung disease caused by MAC in sputum cultures in 29.0% of patients (65 out of 224) after six months of treatment, compared to 8.9% (10 out of 112) on guidance-based therapy alone.
Patients suffering from MAC lung disease who have not responded to available guideline-based therapies face a restricted quality of life due to this debilitating and progressive illness. As a physician and Principal Investigator in the CONVERT study, I am extremely pleased that there is now a therapy specifically studied in and approved for patients with MAC lung disease who currently have limited or no treatment options. Arikayce has the potential to address the significant unmet needs in this difficult-to-treat population.

– David Griffith, MD, Professor of Medicine, WA and EB Moncrief Distinguished Professor, The University of Texas Health Science Center
Arikayce also was approved under the FDA's Accelerated Approval pathway, by which the agency may approve drugs for serious or life-threatening diseases or conditions where the drug is shown to have an effect on a surrogate endpoint that is reasonably likely to predict a clinical benefit to patients. The approval of Arikayce was based on achieving three consecutive negative monthly sputum cultures by month six of treatment. As a condition of accelerated approval, Insmed is collaborating with the FDA on the design of an additional clinical study to support full approval.
We note that the FDA's approval of Arikayce comes with a boxed warning regarding the increased risk of respiratory conditions including hypersensitivity pneumonitis (inflamed lungs), bronchospasm (tightening of the airway), exacerbation of underlying lung disease and hemoptysis (spitting up blood) that have led to hospitalizations in some cases.
As bacteria continue to grow impervious to currently available antibiotics, we need to encourage the development of drugs that can treat resistant infections. That means utilizing novel tools intended to streamline development and encourage investment into these important endeavors. This approval is the first time a drug is being approved under the Limited Population Pathway for Antibacterial and Antifungal Drugs, and it marks an important policy milestone. This pathway, advanced by Congress, aims to spur development of drugs targeting infections that lack effective therapies. We're seeing a lot of early interest among sponsors in using this new pathway, and it's our hope that it'll spur more development and approval of antibacterial drugs for treating serious or life-threatening infections in limited populations of patients with unmet medical needs.


– Scott Gottlieb, MD, Commissioner, FDA.
Insmed stock is trading at a 52-week low today in the wake of the news. It may be that investors have concerns about the limited market size, the conditions of the accelerated approval or perhaps the boxed warning for Arikayce, but we believe such concerns are overdone. On the conference call Friday night to discuss the approval (a recording of which is available on the company's website), Insmed President and CEO William H. Lewis affirmed, "This [FDA] label that we've received aligns perfectly with the patient population we studied, and all of our preparation assumed this outcome."
The fact that this is Insmed's first drug approval, and the first drug to be approved via the FDA's LPAD pathway, is no small thing, and there is a clear road to approvals in expanded markets. Moreover, Arikayce will be a welcome option for patients who had no other alternative for treatment. Further, Insmed is unusually cash-rich for a company at this stage of development, with $634 million in the bank as of the June 30, 2018, Form 10-Q. Earlier this year, the company raised $450 million in 1.75% convertible senior notes via Goldman Sachs, Morgan Stanley and Leerink.
We commend Insmed for its successful preparation ahead of this anticipated launch as well as for the approval itself, and we once again salute the FDA for making critical drugs available in a streamlined manner for serious indications.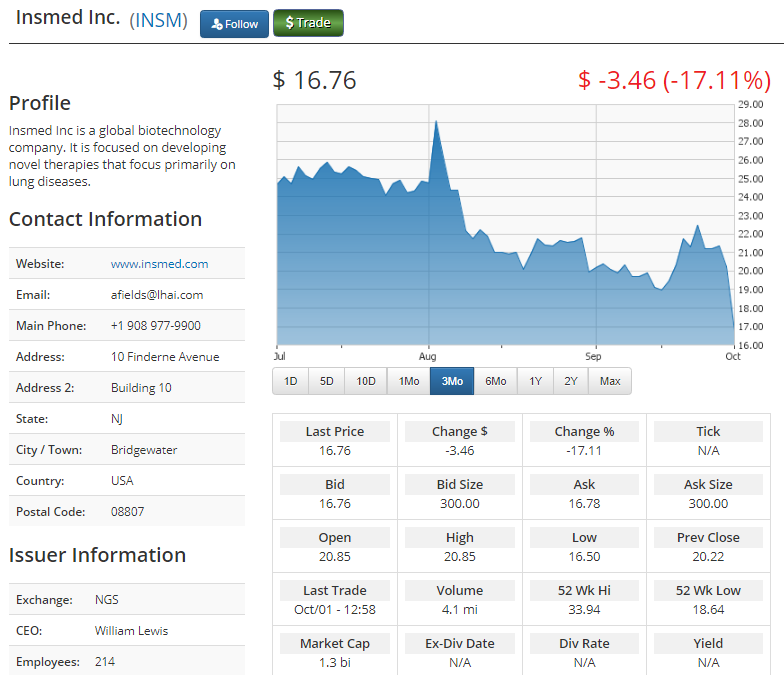 Please email us at [email protected] to see our Case Studies and Testimonials.
Please click here for information on our new trading platform.
Please click here to see our daily newsletter.