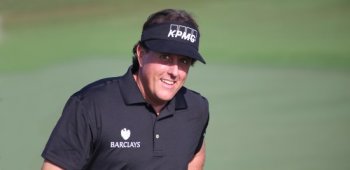 The FBI showed up at a PGA event (which was the equivalent of a perp walk with media around) and asked Phil Mickelson a bunch of questions about his relationship with a well known Las Vegas Gambler and a board member of Dean Foods Co (DF) back in 2012. Wait…2012?
Hey, SEC/FBI: What the hell are you thinking, showing up at the Masters Tourney with reporters everywhere, tweaking a PGA hero with a sick wife and beautiful kids walking barefoot through grass?
"Hey Daddy - what does that guy with the badge want with you?"
"Nothing, honey he just wants to know why I hang around with unsavory characters and take their money on the golf course during Pro-Ams. Don't worry, just hide your face from the cameras."
SEC Asks Phil to Return Money
The Securities and Exchange Commission has filed a civil suit naming Phil Mickelson as a "relief defendant," accusing the five-time major winner of insider trading. The suit claims Mickelson made approximately $931,000 on Dean Foods stock because of an insider tip from famous sports bettor Billy Walters.
Walters and former Dean Foods board chair Thomas Davis are were arrested Wednesday on charges of securities fraud stemming from a multi-year investigation. As part of that investigation, the SEC alleges Walters and Mickelson, who plays golf with Walters, profited in August 2012 from an insider tip that Dean Foods would be announcing a profitable subsidiary, The WhiteWaves Food Company.
Mickelson was not named in the criminal charges. The SEC is suing him to pay back the money he made on his trade of the stock.
DISCLOSURE: The views and opinions expressed in this article are those of the authors, and do not represent the views of equities.com. Readers should not consider statements made by the author as formal recommendations and should consult their financial advisor before making any investment decisions. To read our full disclosure, please go to: http://www.equities.com/disclaimer