Since 2018, global cloud data center IP traffic has grown significantly. Statista estimates traffic will reach almost 19,509 exabytes in 2021, which means traffic would nearly double in three years.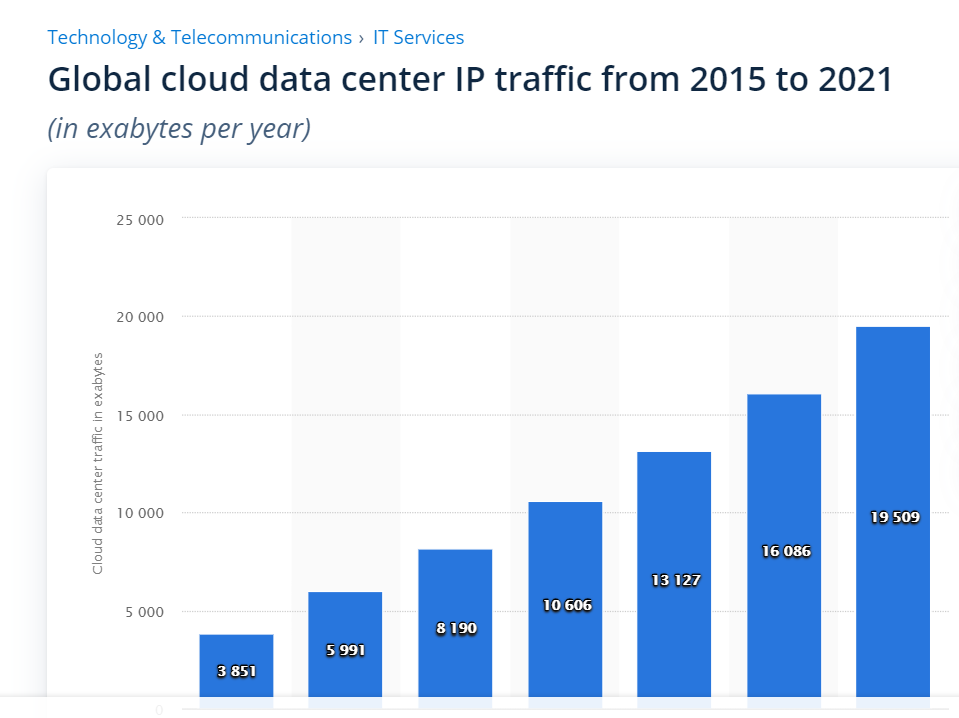 Image source: Statista
Fueling this exponential growth is the rise of IoT, public cloud stack infrastructure, virtual reality innovation and other mega-technological trends. Operators like Amazon Web Services, Google and Microsoft are spending one in every three dollars on data center hardware and software, according to data compiled by CRN.
Growth of hyperscale data centers
The above companies use hyperscale data centers to provide cloud services, which generally host the infrastructure of most businesses around the globe. According to ZDNet, a hyper-scale data center is equivalent to a distribution center, whereas a regular data center is more like a retail storefront. In January 2019, there were a total of 430 hyper-scale facilities, and 40 percent are located in the U.S.
"There is an ever-increasing number of hyperscale data centers, many of which continue to be expanded. Those huge data centers are crammed full of servers and other hardware which are on a frequent refresh cycle," John Dinsdale, a chief analyst at Synergy Research Group, told CRN.
Hyperscale data center spending is even outpacing that of enterprise data centers that support single organizations. The former has increased threefold over the last five years, while the latter has only risen a modest 6 percent.
Investment in these high-performance data centers is driving demand for Inphi Corporation's data movement interconnects. The company sells semiconductor components and optical interconnects to cloud and telecom service providers, and its physical layer product offerings are becoming some of the best in the industry.
Inphi Corporation's role in expanding the cloud
With the increase in video streaming platforms and the upcoming transition to 5G, providers are continuously updating the scale and speed at hyperscale data centers. Many "tier-one" clients have already purchased Inphi's products, and leadership foresees continued demand in 2020.
In Q4 [2019], and so far in Q1 [2020], we're seeing a continuous ramp of demand from top U.S. cloud vendors for our PAM [Pulse Amplitude Modulation] products…We again expect demand for each of these platform solutions to remain strong for the duration of this year. The operating characteristics and production maturity of these products was our first mover advantage, and they are the primary reasons for the high adoption rate of Inphi Solution with our customers.
– President and CEO Ford Tamer
Last year, the company's catalog of cloud products saw an increase in sales. These products improved sequentially 26% in Q4 2019 and 43% year-over-year. "Together, they [cloud products] comprise 65% of total revenues in Q4 '19. Our cloud growth was primarily led by our 400-gig and 200-gig PAM business, aided by some additional growth in COLORZ," John Edmunds, Inphi's Chief Financial Officer, stated in the Q4 earnings call.
In the same quarter, revenues were $102.9 million, up 18.9% year-over-year. Gross margins increased slightly in Q4 2019 to 59.9% compared to 57.2% in the same quarter of 2018.
In the Q4 2019 earnings call, the company noted the coronavirus had slowed down some Chinese partners, but assured that its supply chain would only see minimal impact.
2020 should be a strong year for Inphi
Investors have recognized the company's important role in growing data center capacity. Over the last year, Inphi's share price has increased by 105.4% compared to the S&P 500's 22.3%. Additionally, on January 13, 2020, the company closed its acquisition of most of the assets of eSilicon, a complex application-specific integrated circuit (ASIC) provider, for a total of $216 million in cash and the assumption of debt. The deal excludes eSilicon's embedded memory and interface IP, which were sold to Synopsys.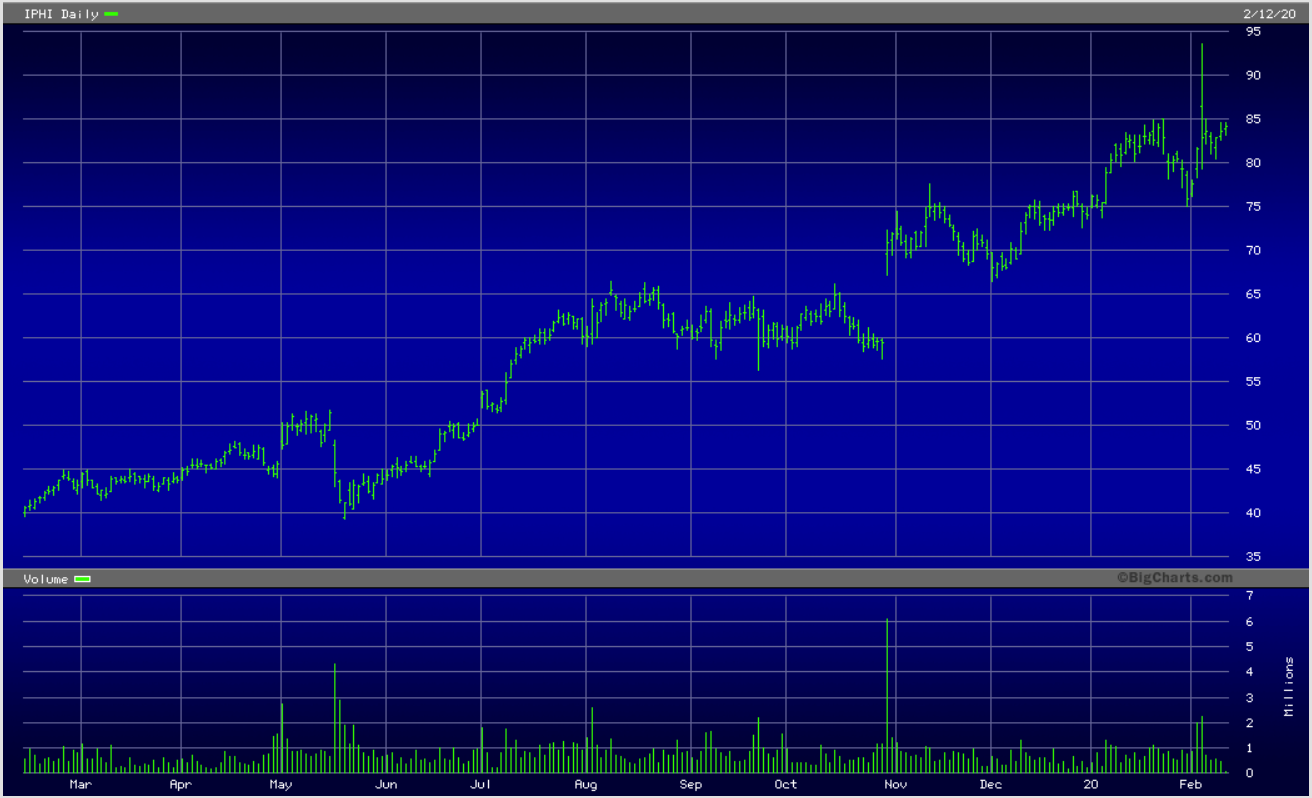 Image source: Big Charts
"We enter 2020 with the close of the eSilicon acquisition and a strong product offering to serve our customers' growth and support their success. We expect our organic revenue momentum to continue in Q1 and through the balance of the year," Dr. Tamer said.
In conclusion, cloud computing platforms and apps, as the IT infrastructure that runs new digital enterprises, are expected to continue to proliferate. According to ReportLinker, the global cloud computing market size will grow to $623.3 billion by 2023, at a CAGR of 18.0%.
These numbers are notable and demonstrate how cloud computing is the preferred architecture of most businesses looking to scale operations. Inphi Corp. is a crucial provider for the sustained growth of cloud computing, and an important supplier for companies like Amazon, Google and Microsoft who are moving more and more workloads into the cloud.
_____
Equities Contributor: Stephen L. Kanaval
Source: Equities News