Urothelial carcinoma is the predominant form of bladder cancer, according to the American Cancer Society (ACS). This cancer starts in the urothelial cells that line the inside of the bladder, urethra, ureters, renal pelvis and some other organs. The ACS estimates there will be about 81,190 new cases of bladder cancer diagnosed this year, and about 17,240 deaths due to bladder cancer. Bladder cancer is the fourth most common cancer in men, but it is less common in women. About 90% of people with bladder cancer are over the age of 55, and the average age at time of diagnosis is 73.
Cambridge, Massachusetts, based Infinity Pharmaceuticals INFI is developing immuno-oncology therapies targeting a broad range of cancers. All of the company's efforts are focused on the development of its IPI-549 candidate, an oral, selective inhibitor of phosphoinositide-3-kinase gamma (PI3K-gamma). PI3Ks are a family enzymes that are known to mediate key cellular functions in cancer and immunity. PI3K-gamma is highly expressed in tumor-associated macrophages and plays an important role in the pro-tumor function of these cells. Inhibition of PI3K-gamma appears to reprogram these cells to an anti-tumor state, enabling the immune system to unleash an anti-tumor response. IPI-549 is the only investigational PI3K-gamma inhibitor in clinical development.
Infinity announced today that it was expanding its clinical relationship with Bristol-Myers Squibb BMY to investigate IPI-549 in combination with Bristol-Myers' Opdivo (nivolumab) in patients with advanced urothelial cancer. Opdivo was the first PD-1 immune checkpoint inhibitor to receive regulatory approval anywhere in the world in 2014, and currently has regulatory approval in 54 countries including the US, Japan and in the European Union in multiple cancer indications. The blockbuster drug generated nearly $6.3 billion in revenue for Bristol-Myers in the trailing 12 months ended Sept. 30, 2018. Infinity and Bristol-Myers began their collaboration in 2016 to study the combination therapy in advanced solid tumors and have since expanded the deal to encompass numerous other cancers.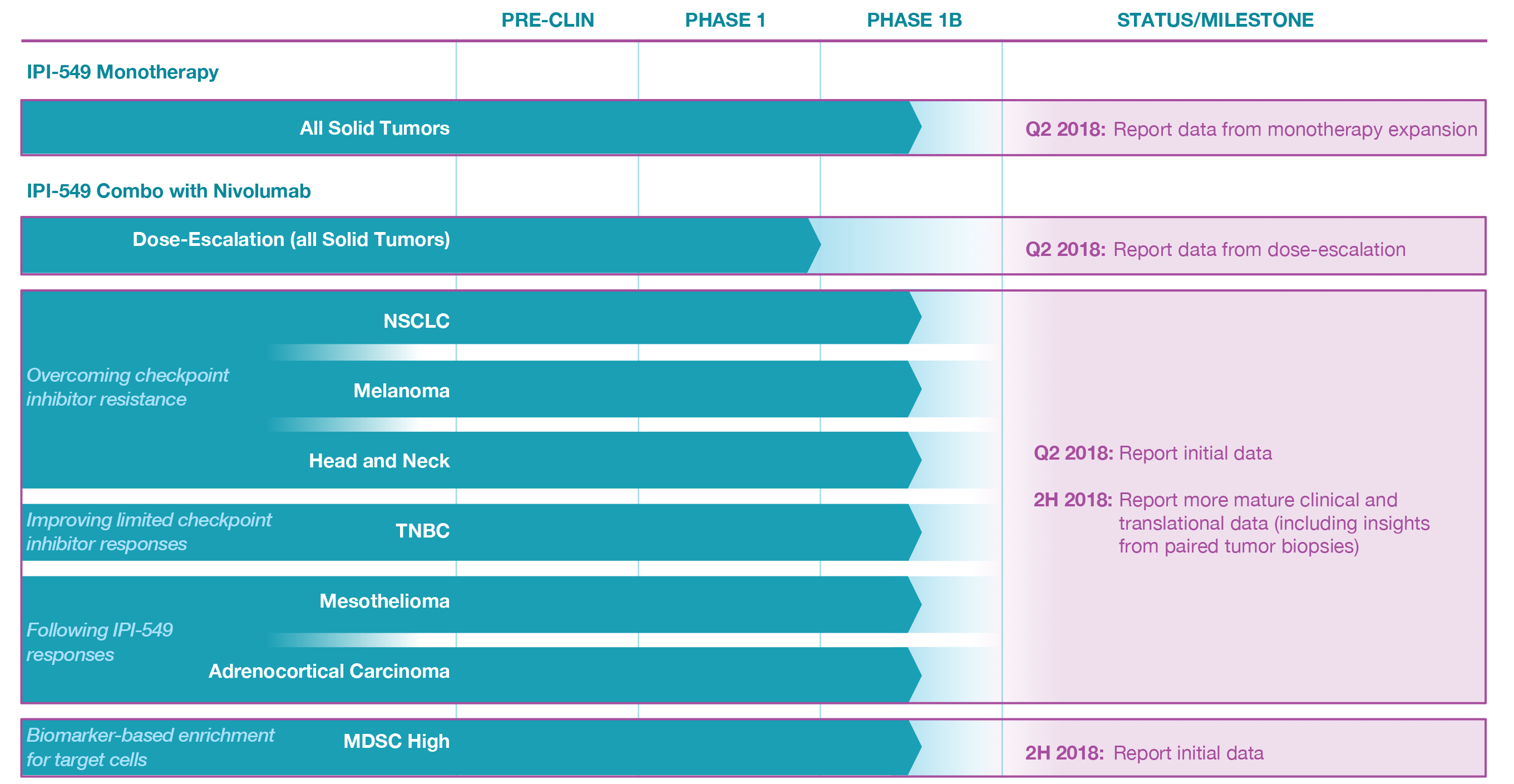 Source: Infinity Pharmaceuticals
Infinity will begin a global Phase 2 study to evaluate the effect of adding IPI-549 to Opdivo in about 150 checkpoint-naïve advanced urothelial cancer patients who have progressed or recurred following treatment with platinum-based chemotherapy. The primary endpoint of the trial will be overall response rate, which will be assessed in the overall population as well as in subsets of patients with different baseline levels of myeloid derived suppressor cells (MDSCs). Opdivo is FDA-approved as monotherapy in patients with locally advanced or metastatic urothelial cancer who have progressed or recurred following treatment with platinum-based chemotherapy or who have disease progression within 12 months of neoadjuvant or adjuvant treatment with platinum-containing chemotherapy.
High levels of MDSCs were associated with shorter overall survival in patients treated with Opdivo in Bristol-Myers' clinical trials. In Infinity Pharmaceuticals' Phase 1 study, MDSCs were reduced in the majority of patients treated with IPI-549 monotherapy. IPI-549 in combination with Opdivo has been administered so far to over 80 patients and has demonstrated early evidence of clinical activity with translational studies demonstrating evidence of on-mechanism IPI-549-mediated effects.
The expansion of our relationship with Infinity underscores our efforts to follow the science and support potential novel combination therapies in immuno-oncology for cancer patients with limited treatment options. Our goal is to determine whether targeting the tumor microenvironment with IPI-549 will enhance the activity of Opdivo for people with urothelial cancer and potentially in other tumor types where MDSCs suppress the immune response.

– Fouad Namouni, M.D., Head of Oncology Development, Bristol-Myers Squibb.
Readers who have followed Infinity Pharmaceuticals for several years may recall the stock flirting with $50 per share in 2013, when the company had promising early data with an investigational candidate in blood cancer. The rally was short-lived, however, as further data revealed toxicity issues with that compound, and the bottom fell out of the stock. Today, at $2.45 per share and a market cap of just $138 million, the stock doesn't generate nearly as much interest as it once did, but we're encouraged by the expanding collaboration with Bristol-Myers Squibb. The stock's modest valuation is akin to a call option on the effectiveness of IPI-549 as a combination therapy with Opdivo, and we believe the company is worth watching for continued clinical news.
We are excited to advance the development of IPI-549 further into the checkpoint inhibitor treatment-naïve setting with this randomized study in collaboration with the team at Bristol-Myers Squibb. There continues to be a significant unmet need for additional treatment options for people living with urothelial cancer, and we are excited to evaluate the potential of this combination.

-Dr. Sam Agresta, Chief Medical Officer, Infinity Pharmaceuticals.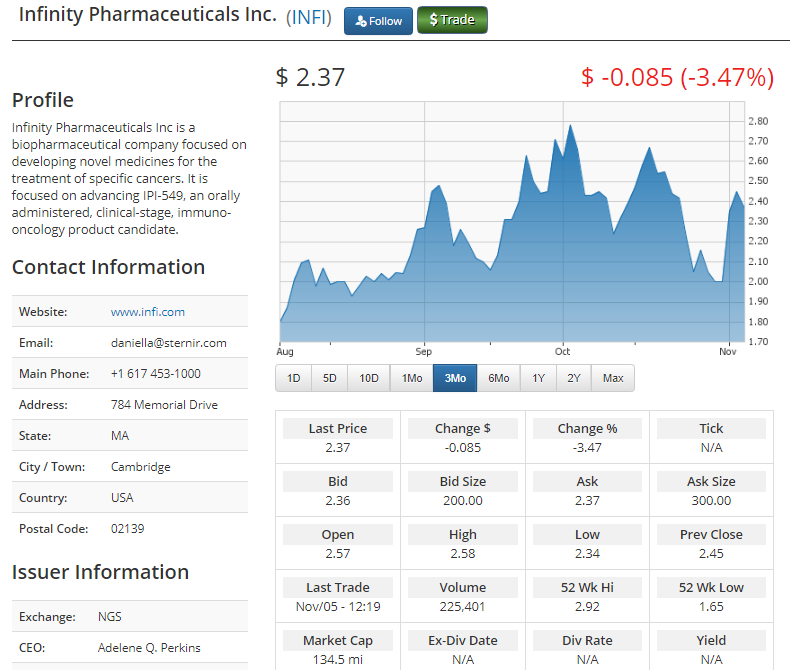 Please email us at [email protected] to see our Case Studies and Testimonials.
Please click here for information on our new trading platform.
Please click here to receive our free daily newsletter.