The National Institute of Mental Health estimates that the prevalence of schizophrenia and related psychotic disorders in the US ranges between 0.25% and 0.64% of the population, or between about 800,000 and 2.1 million people. This range is likely to be low, as an estimated 40% percent of individuals with the condition are untreated in any given year, according to the Treatment Advocacy Center. Although the course of schizophrenia varies among individuals, the disorder is typically persistent and can be both severe and disabling.
Schizophrenia is characterized by disruptions in thought processes, perceptions, emotional responsiveness and social interactions. It can be a serious, persistent and disabling condition whose symptoms typically start in late adolescence or early adulthood. Schizophrenia is often viewed from a developmental perspective, with cognitive impairment and unusual behaviors sometimes appearing in childhood, while persistent presence of multiple symptoms may represent a later stage of the disorder.
Source: Life Noggin
Indivior INVVY, the UK-based pharmaceutical company with a focus on addiction treatment, received FDA approval for Perseris, the first once-monthly subcutaneous long-acting injectable for the treatment of schizophrenia in adults. Perseris contains risperidone, a well-established treatment for schizophrenia marketed by Johnson & Johnson's JNJ Janssen unit, and uses an extended-release delivery system to form a subcutaneous depot that provides sustained levels of risperidone over one month.
Treatment adherence is a major challenge in schizophrenia due to the complexity of the disease. It is important to have additional treatment options available to physicians to help them improve their patients' symptom severity. The studies carried out by Indivior suggest that Perseris may offer patients, caregivers and physicians a new once-monthly subcutaneous medication option to treat adults with schizophrenia.
– Maurizio Fava, Executive Vice Chair of the Massachusetts General Hospital (MGH) Department of Psychiatry and Indivior clinical research consultant.
People with schizophrenia face a complex patient journey that can be hindered by ignorance, apathy and stigma. Indivior is committed to working with stakeholders to reduce the stigma of schizophrenia and expand access to evidence-based treatment.
– Shaun Thaxter, CEO, Indivior.
The efficacy of Perseris was evaluated in a 354-patient Phase 3 study by an improvement in the primary clinical endpoint, Positive and Negative Syndrome Scale (PANSS) total score at day 57. The improvement in Clinical Global Impression Severity of Illness (CGI-S) was also statistically significant at day 57. The safety of Perseris was evaluated in 814 adults with schizophrenia who received at least one dose of Perseris during clinical trials. The systemic safety profile was consistent with the known safety profile of oral risperidone.
Black box warning
The FDA's approval does come with a black box warning, however, which states that "elderly patients with dementia-related psychosis treated with antipsychotic drugs are at an increased risk of death." Accordingly, Perseris is not approved for use in patients with dementia-related psychosis.
Suboxone uncertainty
A current corporate development to consider with regard to Indivior is the shadow of Dr. Reddy's Laboratories RDY as that company continues to pursue the marketing of a generic version of Suboxone, Indivior's cornerstone opioid addiction treatment. On July 13, 2018, the Indivior was granted a preliminary injunction by the US District Court for the District of New Jersey, prohibiting Dr. Reddy's from using, importing, selling or offering to sell its generic buprenorphine/naloxone sublingual film product. Dr. Reddy's appealed this ruling, filing emergency motions seeking to expedite the appeal of the preliminary injunction and to stay the preliminary injunction pending a ruling on appeal. While the US Court of Appeals for the Federal Circuit has not yet ruled on the motion to stay the preliminary injunction, it did grant today an expedited schedule for the appeal, which will now be held during the first week of October 2018.
Indivior announced previously that the ongoing battle with Dr. Reddy will impact the launch timing for Perseris. With today's announcement of the expedited appeal, Indivior stated that it "commits to providing a launch timing as soon as reasonably practicable, but no later than its Q3 2018 results currently scheduled for November 1st."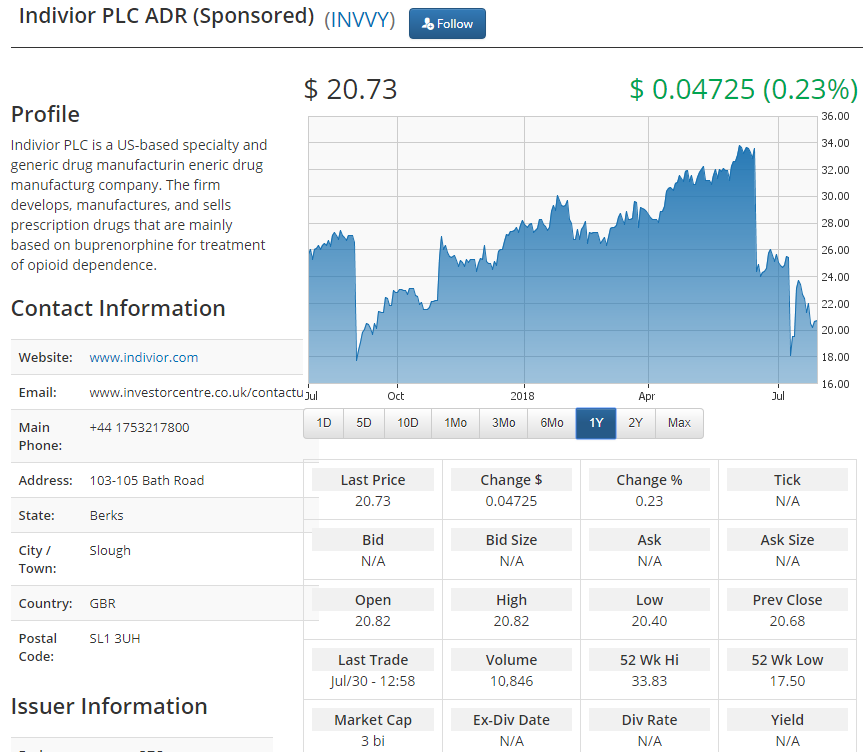 Please email us at [email protected] to see our Case Studies and Testimonials.
Please click here for information on our new trading platform.
Please click here to see our weekly newsletter.