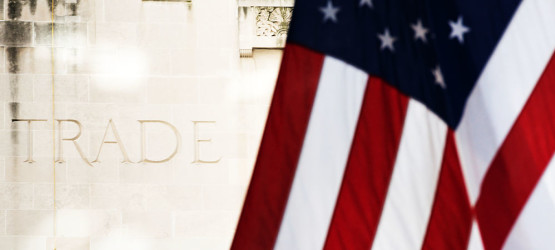 In the 1980s, President Reagan said the most terrifying words in the English language are "I'm from the government and I'm here to help." There was no need for explanation. The Wall Street Journal reported July 5 the sad story of Cree Inc. CREE, writes Jon Markman.
Starting July 6, government efforts to rejigger the Chinese trade imbalance will result in the maker of light-emitting diodes, or LEDs, paying a 25% duty on parts it makes in China.
That's the government "helping." Investors should beware, and consider buying homegrown stocks that tariffs can't touch.
The irony is American industry does need help. China is not playing fair.
Like many companies, Cree embraced the global supply chain. It makes 5.5 billion LED microchips at its state-of-the art facility in Durham, N.C.
Those pieces are shipped to a jointly owned plant in Huizhou, China, where housings are added.
Finally, the parts return to the U.S., where American workers make everything from inexpensive flashlights to high-end stadium lighting.
The company employs 4,000 American workers, scattered across North Carolina, Wisconsin and Arkansas.
But Cree managers have been necessarily careful.
They won't build the microchips in China. That's because they fear losing their intellectual property (IP) to pirates.
Plus, the Chinese government will not let American companies own local manufacturing facilities outright. Everything is a joint venture.
For years, American and European companies have alleged that Chinese businesses benefit from blatant state-sponsored corporate espionage.
Made in China 2025. But Learned from America 10 Years Earlier

In July, The New York Times ran a story about the heist of Micron Technology MU intellectual property. This Idaho company is a leading maker of the memory chips found in smartphones, cameras and computers.
In July 2015, it got a $23 billion buyout offer from Tsinghua Unigroup, a state-backed Chinese company. Micron managers flatly refused the overture.
But the story didn't end there …
Five months later, Fujian Jinhua Integrated Circuit, another company backed by the Chinese government, began construction on a $5.7 billion chip factory in Fujian province. The company recruited a Taiwanese company called UMC to develop chip designs.
Progress was slow … until UMC began hiring former Micron engineers based in Taiwan.
That's when Micron alleges its IP was stolen.
While on a U.S. recruiting junket, UMC headhunters discussed future processors based on Micron chip designs. They even showed PowerPoint slides with Micron internal code names.
That is exactly the kind of thing the Trump administration says it wants to fight.
In April, CNBC reported on a recent study that showed how much China's purported IP theft costs the U.S. economy. That figure is a staggering $225 billion to $600 billion each year. And it is worth fighting for.
Unfortunately, it's a battle that is not easily won.
The Trouble with Tariffs

July 6 marks Tariffs Day. At 12:01 a.m. Eastern, U.S. tariffs on $34 billion worth of Chinese exports took effect.
The trouble with tariffs is that companies source vital parts from partners all over the world. China, despite its unfair trade practices, has become a hub.
And it has the power to fight back.
In response to the U.S. tariffs, China's State Council said it applied tariffs on 545 U.S. items ranging from agricultural products to vehicles.
But this Tariffs Day could just be the warning shot. There's a proposed list of more U.S. tariffs on Chinese goods to the tune of $16 billion, which the government stands ready to implement. And the president has asked for a list of $200 billion more.
Unfortunately, well-meaning tariffs could ultimately mean the loss of thousands of American manufacturing jobs.
Cree managers believe the new 25% duties will drive its customers to lower-cost manufacturers in Germany and Japan.
Investors are probably looking past these realities. They see the tariffs, and escalating trade rhetoric as a negotiation tactic. That is hopeful, but perhaps not realistic. Maybe investors should take Trump administration negotiators seriously. Perhaps they really do want to undo globalism.
Lately, I have been pointing investors toward small, fast-growing domestic businesses.
Olli's: A Homegrown Growth Stock
A company like Olli's Bargain Outlet Holdings OLLI is the quintessential American success story. It was born in 1982 when four Mechanicsburg, Penn., businessmen decided to get into the surplus trade.
They focused on buying merchandise at pennies on the dollar, and moving it quickly to the store shelves. It was an immediate hit with price-conscious treasure-seekers.
Since 2011, the company has been focused on growing stores and distribution networks. At the ICR conference in January 2018, CEO Mark Butler said Ollie's has the potential to grow to 950 stores nationwide. This would also bring enormous scale.
The company would be in a better position to buy closeouts and inventory from failing merchants.
The stock trades at 34x trailing earnings, and the market capitalization has swollen to $4.5 billion after two years of spectacular stock performance. The shares have recently retreated to the 50-day moving average near $70. The weakness is a buying opportunity.
There is another reason to own Ollie's: Shareholders do not have to worry about someone from the government showing up to help.
Best wishes,
Jon D. Markman
Subscribe to Jon Markman's Power Elite newsletter here
Subscribe to Jon Markman's Tech Trend Trader here
Subscribe to Jon Markman's Strategic Advantage here
John Markman is making three presentations at MoneyShow San Francisco August 24-25.
This article was originally published by MoneyShow.com: Founded in 1981, MoneyShow is a privately held financial media company headquartered in Sarasota, Florida. As a global network of investing and trading education, MoneyShow presents an extensive agenda of live and online events that attract over 75,000 investors, traders and financial advisors around the world.