​In Self-Driving Vehicle Field, Skip Tesla, Buy Aptiv into Weakness
MoneyShow Follow |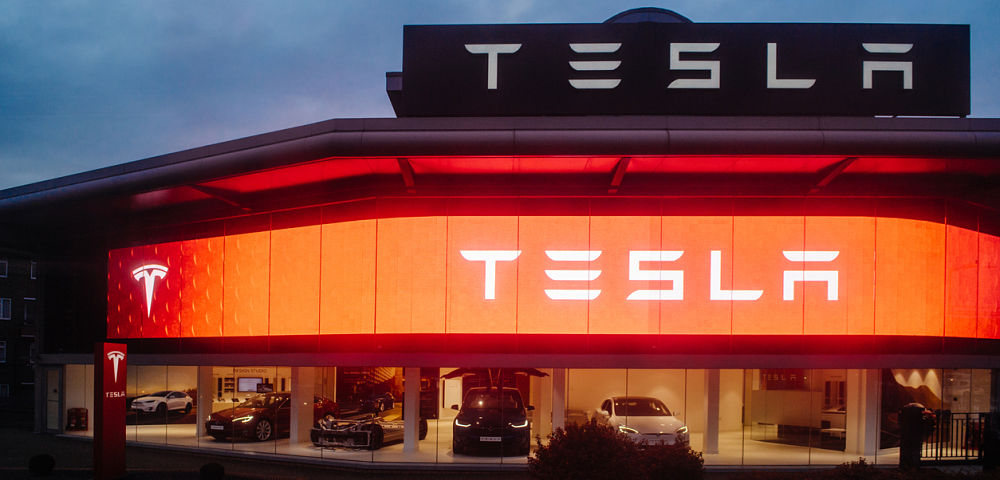 Aptiv's (APTV) current business is firing on all cylinders. Q1 sales surged 8% to $3.6 billion. Shares hit a record high June 15 at $102.93. That is the high end of similar companies, yet not expensive given the race to full autonomy. Skip Tesla, but buy Aptiv into weakness.

Tesla (TSLA) is set to lay off 9% of its 40,000 employees. But Elon Musk doesn't seem to be worried about the 425,000 orders that are currently backlogged. That's because there's an even more ambitious goal he wants to hit.
Musk says existing Teslas will begin the transition to full, self-driving vehicles in August.
This evolution should not surprise to Musk followers. He has been teasing full-blown autonomy for years.
But it should be a lesson for stock traders. Don't bet against smart people. And learn to see the bigger picture.
However, when it comes to Musk's historically lofty ambitions, the usual disclaimers apply …
There is no guarantee Musk will meet his summer deadline. In his storied career, one of the unfortunate mainstays of the South African-born billionaire is his penchant for missing targets.
He dreams big … fiddles with details … and often comes up short on promises.
Bearish investors have seized on this shortcoming.
They characterize him as a charlatan, an "all hat, no cattle" figure who has duped the investing class with wide-eyed dreams. Missed deadlines and production targets aside, the naysayers could not be more wrong on this front.
Musk is both a gifted storyteller and an engineer. The two are not mutually exclusive.
He was an early CEO of PayPal (PYPL), the secure online payment system, at the vanguard of the ecommerce movement. In 2002, he founded the aerospace company SpaceX. In 2003, he brought Tesla to life, a revolutionary electric car company. In 2006, he was instrumental in the creation of Solar City, a leading solar panel and battery development company.
In his spare time, Musk came up with an idea for Hyperloop, a vacuum-sealed tube capable of carrying passengers in magnetic levitating pods at 760 mph … a rocket system that would reduce travel time to one hour between any major city in world … and a plan to colonize Mars.
These are all really big ideas. They are easy to dismiss as impossible.
Except, SpaceX already has rockets that land vertically after carrying their payload to space. And Richard Branson, the British billionaire behind the Virgin companies, has a Hyperloop project ready for testing.
Musk's ideas are not impossible. They're visionary.
Getting cars to full-on autonomy will happen. And Teslas have already demonstrated advanced self-driving capabilities. It's just that most people assumed this was years — perhaps decades — away.
I'm not suggesting that investors buy Tesla stock …
On the contrary, I believe Musk's history of unfulfilled promises is a detriment to shareholders. Misses, even for big ideas, bring untenable volatility.
However, betting against Musk is short-sighted.
Tesla stock has record short interest. Those shares have been borrowed. Eventually they must be returned.
At current share prices, most bearish traders are losing money. And further good news from the company will spark more short-covering — which will bring the bears even more pain.
Musk knows this. He's smart.
Also, investors should not lose sight of the bigger picture …
Self-driving cars are much closer than most people suspect. It is a game-changing development. It also a big opportunity for investors.
Aptiv PLC is an offshoot of Delphi Automotive, the former General Motors subsidiary. The company now holds all the autonomous car bits and pieces that have been acquired throughout the years.
In 2015, Delphi bought Ottomatika, a self-driving car software startup. That business was spun out from Carnegie Mellon, a Pittsburgh school considered to be one of the premier robotics engineering institutions in the world.
In October 2017, Delphi acquired nuTonomy, another maker of self-driving software. It's also the manager of a fleet of Singapore autonomous taxis.
Aptiv is building a significant advantage over its competition.
In addition to its software prowess, and the data the Singapore taxi fleet brings, the company has longstanding relationships with automakers.
It's a foot in the door that should lead to new deals as traditional car companies play catch-up with Tesla.
In the interim, Aptiv's current business is firing on all cylinders. In May, first-quarter sales surged 8% to $3.6 billion. Kevin Clark, the chief executive officer, noted strong gains in active safety, infotainment and vehicle electrification.
Shares reached a record high June 15 at $102.93. The price-to-earnings ratio is only 20.5x, and the market capitalization is $27 billion.
While that is the high end of similar companies, it is not expensive given the race toward full autonomy.
Skip Tesla, but buy Aptiv into weakness.
Best wishes,
Jon D. Markman
Jon Markman is a veteran money manager, journalist and editor of numerous newsletters.

Subscribe to Jon Markman's Power Elite newsletter here
Subscribe to Jon Markman's Tech Trend Trader here
Subscribe to Jon Markman's Strategic Advantage here
About MoneyShow.com: Founded in 1981, MoneyShow is a privately held financial media company headquartered in Sarasota, Florida. As a global network of investing and trading education, MoneyShow presents an extensive agenda of live and online events that attract over 75,000 investors, traders and financial advisors around the world.
DISCLOSURE: The views and opinions expressed in this article are those of the authors, and do not necessarily represent the views of equities.com. Readers should not consider statements made by the author as formal recommendations and should consult their financial advisor before making any investment decisions. To read our full disclosure, please go to: http://www.equities.com/disclaimer.
Market Movers
Sponsored Financial Content