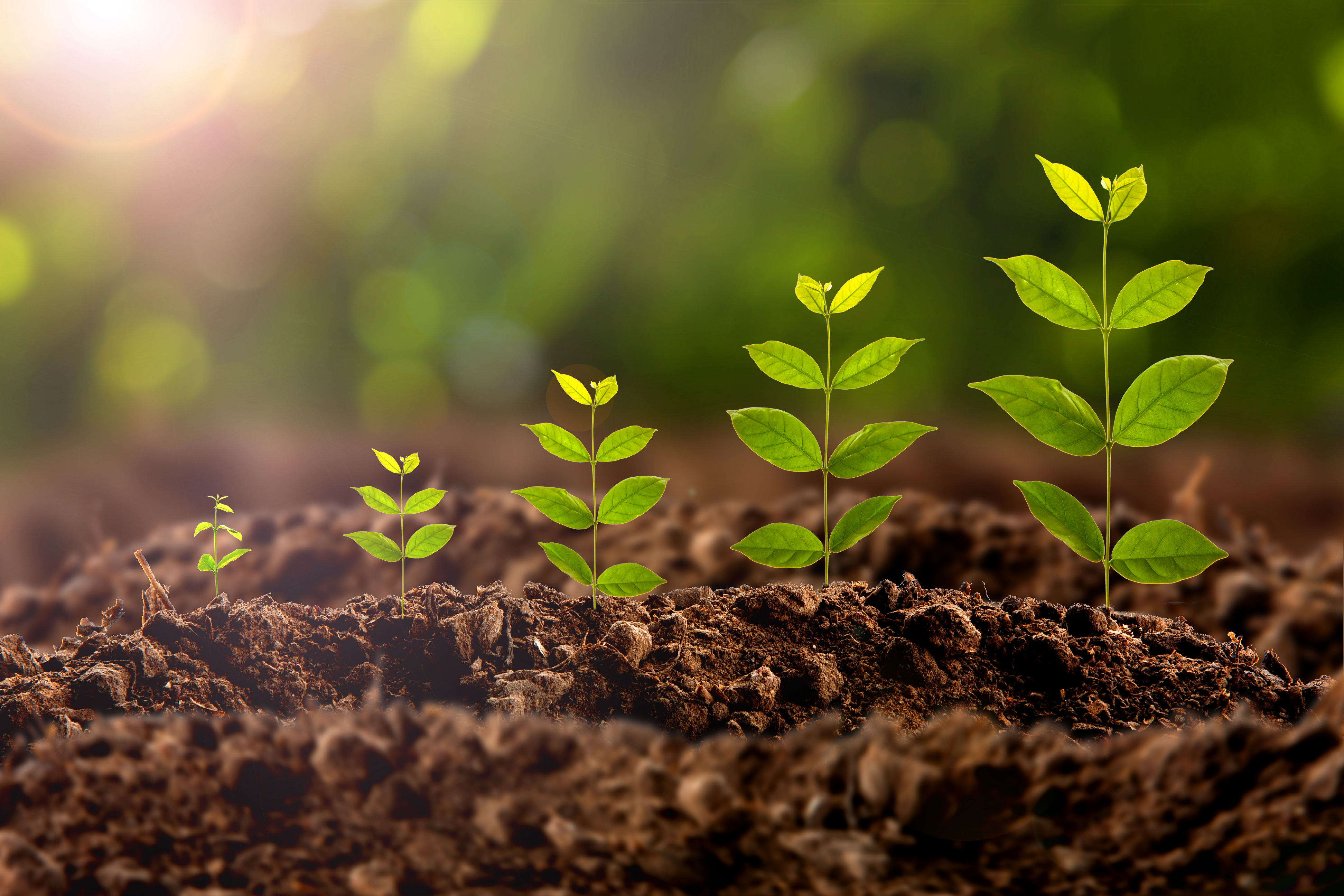 "Within the rapidly growing legal cannabis industry, we see enormous opportunity in – and demand for – improved plant quality, productivity, consistency and resilience," said Raj Ketkar, president and CEO of Arcadia Biosciences, Inc. RKDA.
This announcement triggered a serious increase in the stock of this agricultural biotech microcap. RKDA has seen an 80% increase tacked onto their share price since entering the cannabis space, and the excitement is legitimate.
As an example of what Arcadia can do, let's look at what they have been doing with wheat.
GoodWheat and Good Farmer Economics
The company recently launched their GoodWheat™ portfolio, which includes a naturally-produced wheat flours including high-fiber resistant starch. The latter acts like fiber in the body not releasing glucose as it passes through the digestive tract and feeds healthy bacteria in the gut. In addition, RKDA was granted a patent for extended shelf life, which will be a separate product under the GoodWheat name. Through all their work on wheat, Arcadia was able to add anywhere from 2 to 6 time the amount of fiber, reduce allergenic gluten by 65% and increase lysine by 30%.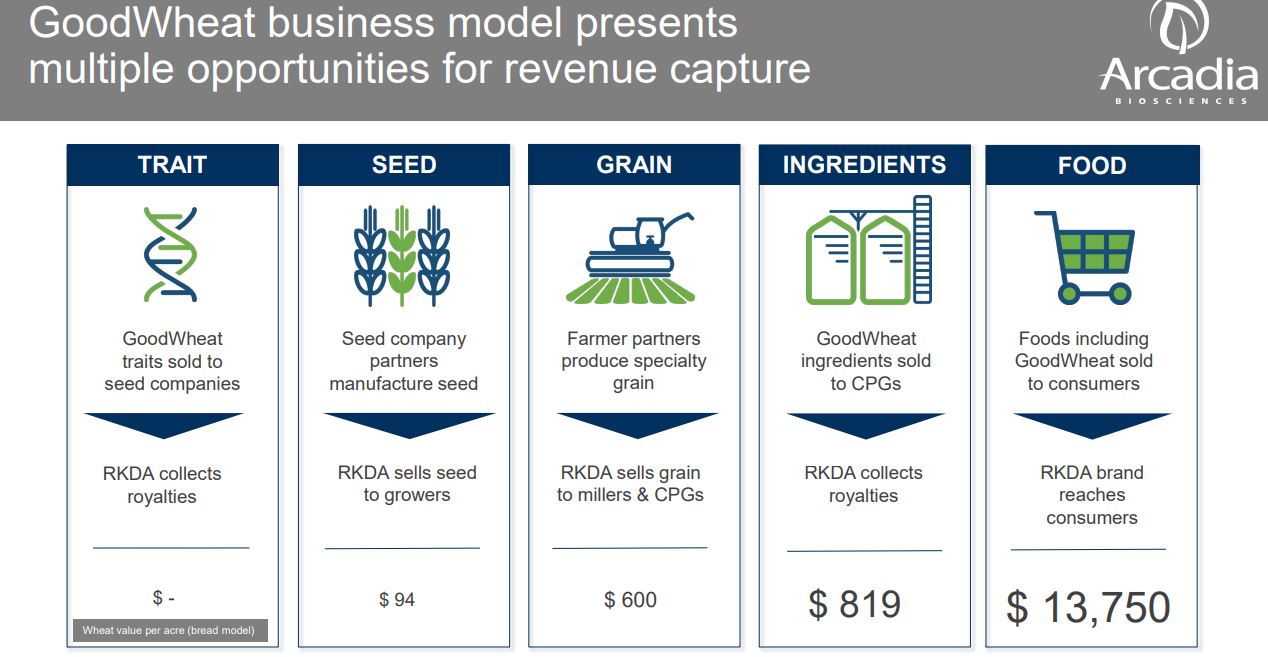 Besides formulating advanced and multiple wheat products for consumers, RKDA is also using its genome-modifying technology to help farmer economics by increasing yields.
"Another aspect of our business is improving farmer productivity through the development of more robust crop varieties, by developing specific crop traits designed to counteract the detrimental impact of environmental stresses on harvest yields. … biotic stresses, drought, heat, nutrient deficiency, water scarcity, and soil salinity, and remains largely unpenetrated by the GM seed industry today. For example, industry estimates indicate greater than 80 percent of wheat yield loss and 65 percent of corn yield loss globally are lost due to abiotic factors…Through out-licensing arrangements with our commercialization partners, many of our traits have been bred into several global crops, including rice, wheat, and soybeans, and we have demonstrated significant yield improvements in multiple years of field testing. Upon commercialization, we share in the trait fees ranging between 10% and 50%, depending upon the geography, crop and specific trait."
RKDA is able to do all this by establishing a vast library of plants rich in genetic diversity as well as partnerships with various agronomic institutions and other leading agritech companies around the world. Now, Arcadia is going to take this same high level of agritech – with proven results – to the cannabis market.
Entering the Cannabis Space
This space is ripe for Arcadia as the cannabis plant and even the hemp plant have not been fully legalized to allow for legitimate study and scientific development. The company will leverage their expertise toward cannabis through their Arcadia Specialty Genomics unit. The unit will only operate where it is legal to study cannabis, but will immediately start to investigate ways to optimize the cannabis plant for quality, resiliency and yield. The company plans to target cultivators to even those working in the food and nutraceutical spaces.
"With this new operating unit, Arcadia Specialty Genomics, we are uniquely qualified as a proven crop improvement company equipped to address the legacy challenges facing a plant that until recently was largely grown unlawfully," Ketkar added.
Matt Plavan has been tapped to lead the unit, and he immediately outlined what he sees as the potential way Arcadia can impact the space:
"As we've evolved from an agricultural trait provider to a functional ingredient seller, we've developed capabilities and partnerships which will drive innovation and growth in hemp-derived oils such as CBD and other functional plant properties. As with our wheat and soybean products, we will create hemp-based solutions that allow farmers to be more productive and enable consumer packaged goods companies to differentiate their brands in the marketplace."
Immediately following this announcement, Arcadia and Plavan announced a pilot hemp farm in Hawaii. The industrial hemp pilot program is licensed by the state's Department of Agriculture and also allow Arcadia to sell byproducts gleaned at the project essentially taking their agritech and hitting the ground running.
The company is a nanotech with big technology. It is entering the cannabis market and could represent an interesting buyout candidate for some of the bigger fish in the space looking to add competitive advantage in their yield quotient.