According to the American Cancer Society, in 2018, about 22,240 women will receive a new diagnosis of ovarian cancer, and 14,070 women will die from it. Ovarian cancer ranks fifth in cancer deaths among women, accounting for more deaths than any other cancer of the female reproductive system. A woman's risk of getting ovarian cancer during her lifetime is about 1 in 79. Her lifetime chance of dying from ovarian cancer is about 1 in 108.
ImmunoGen (Nasdaq: IMGN), announced over the weekend encouraging efficacy and favorable tolerability data from the Phase 1b/2 FORWARD II cohort assessing mirvetuximab soravtansine, one of ImmunoGen's antibody drug conjugates, in combination with Merck's (MRK) anti-PD-1 therapy pembrolizumab in patients with platinum-resistant epithelial ovarian cancer. The data are being presented at the Society of Gynecologic Oncology Annual Meeting, concluding tomorrow in New Orleans, LA.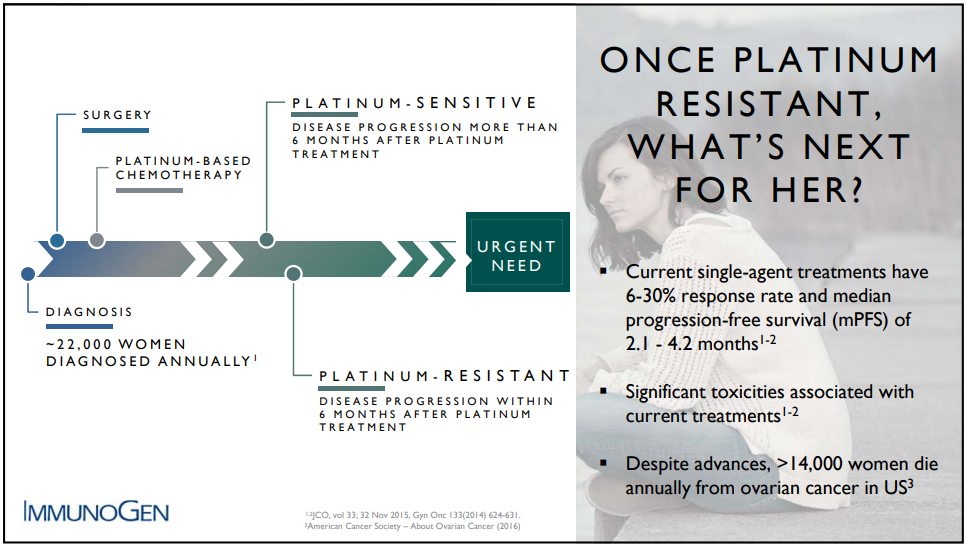 Mirvetuximab soravtansine (IMGN853) is a potential new treatment for patients with folate receptor alpha (FR?)-positive cancer. These include many ovarian cancers, as well as other types of solid tumors. Mirvetuximab soravtansine is ImmunoGen's lead program and is in clinical testing in the Phase 3 FORWARD I trial as a single agent for the treatment of platinum-resistant ovarian cancer. The candidate is also being assessed in combination regimens for both platinum-resistant and platinum-sensitive disease in the Phase 1b/2 FORWARD II trial.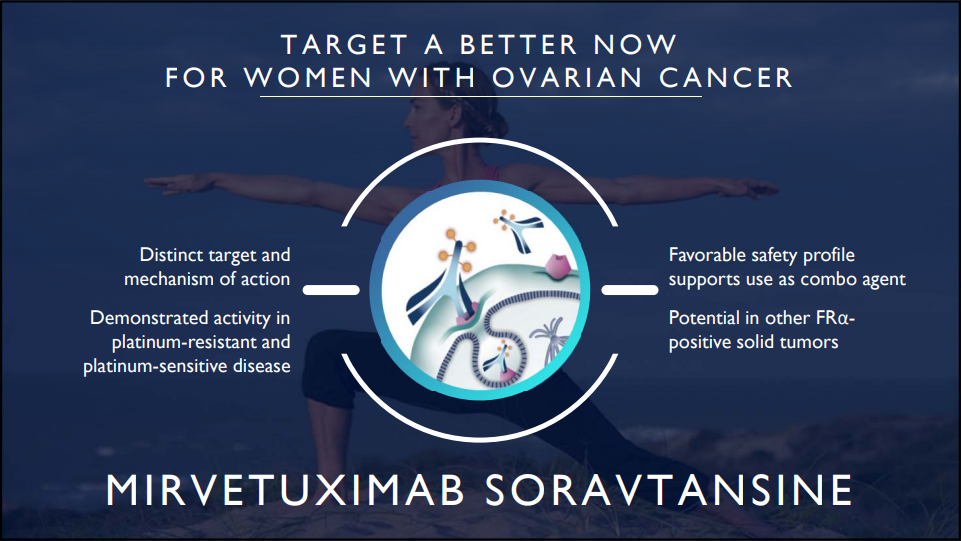 Source: Immunogen, March 1, 2018
Key findings in 14 heavily pre-treated patients are as follows:
In the subset of 8 patients with medium or high FR? expression levels, the confirmed overall response rate (ORR) was 63% (95% confidence interval [CI] 25, 92), with a median progression-free survival (PFS) of 8.6 months (95% CI 1.6, upper bound not yet reached).
For all patients, the confirmed ORR was 43% (95% CI 18, 71), with a median PFS of 5.2 months (95% CI 1.6, 9.5); patients in this cohort had received a median of 4.5 prior lines of systemic therapy, with 64% of patients receiving 4 or more prior lines.
As previously reported, at full dosing, the combination of mirvetuximab (6 mg/kg) and pembrolizumab (200 mg, supplied by Merck) demonstrates favorable tolerability, consistent with the known safety profiles of each agent, with primarily mild to moderate (? grade 2) adverse events observed.
Based on these data, ImmunoGen is enrolling an additional 35 patients with medium or high FR? expression levels in an expansion cohort in the FORWARD II study.
We are encouraged by the early evidence of anti-tumor activity with durable responses and the tolerability profile of mirvetuximab in combination with pembrolizumab, particularly among the subset of patients with medium or high folate receptor alpha expression where we saw the greatest benefit. Across multiple combinations, we've demonstrated that our Phase 3 single agent dose level for mirvetuximab combines readily with other therapies. The consistency of these findings further underscore the potential of mirvetuximab for ovarian cancer – both as monotherapy, and in combination with other therapies in earlier lines of treatment.
– Anna Berkenblit, MD, Vice President and Chief Medical Officer, ImmunoGen.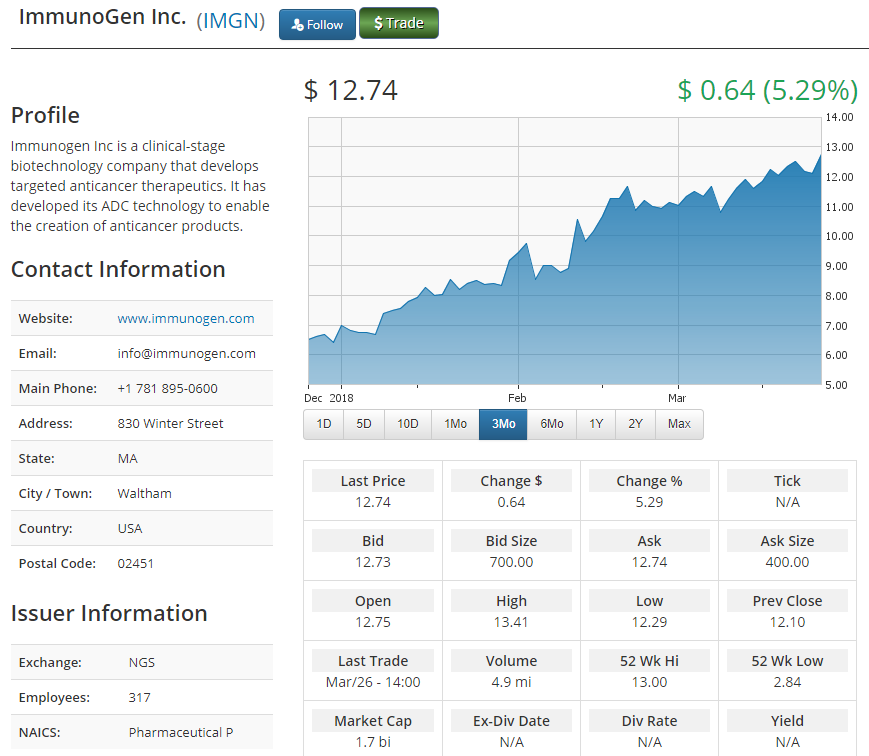 Please email us at [email protected] to see our Case Studies and Testimonials.
Please click here for information on our new trading platform.