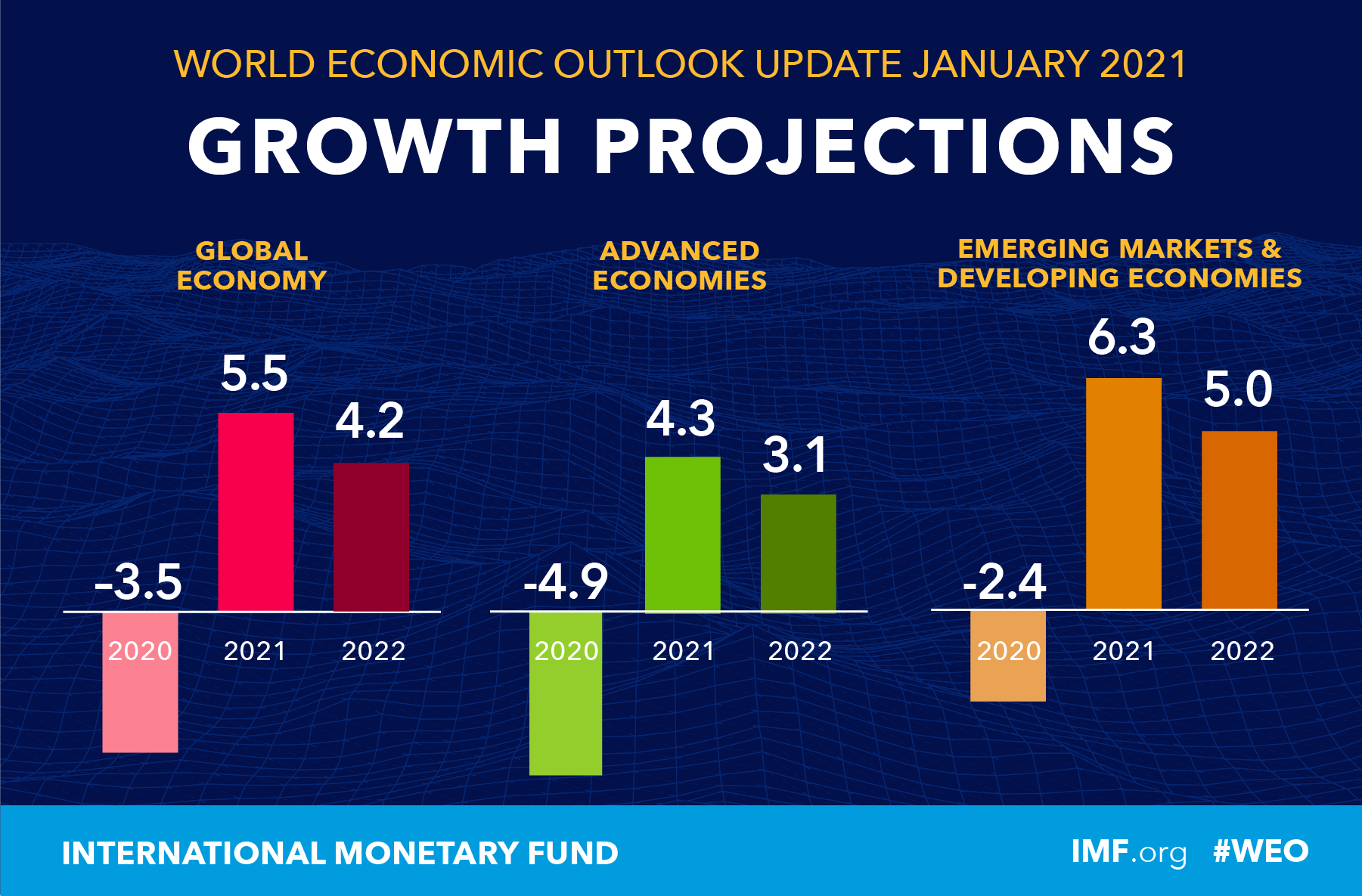 Image: World Economic Outlook Update January 2021. Source: IMF
The International Monetary Fund (IMF) revised its forecast for global growth this year, expressing hope that COVID-19 vaccines will accelerate economic recovery over the next two years.
According to its latest World Economic Outlook released Tuesday, the IMF now anticipates the global economy to grow 5.5% in 2021, a 0.3% increase from its previous forecast in October. For 2022, the IMF expects global growth of 4.2%.
The more upbeat outlook, the IMF said, is based on "expectations of a vaccine-powered strengthening of activity later in the year and additional policy support in a few large economies."
In the United States, the IMF projects economic growth of 5.1% in 2021 and 2.5% in 2022, based on federal relief measures, such as a $900 billion stimulus package approved last month by the U.S. Congress and President Joe Biden's proposed $1.9 trillion rescue package.
Recovery of the Euro Area, a region hit hard by the pandemic, was downgraded 1 percentage point by the IMF to 4.2%. France, Italy, Germany and Spain – the four largest economies in the Euro Area – also saw their growth expectations for 2021 cut.
The area's economy isn't expected to return to pre-pandemic levels before the end of 2022, according to the report.
According to the forecast for emerging markets, India leads in expected 2021 growth – 11.5% – followed by China – 8.1%. In 2021, those economies are projected to grow 6.8% and 5.6%, respectively.
"China returned to its pre-pandemic projected level in the fourth quarter of 2020, ahead of all large economies. The United States is projected to surpass its pre-COVID levels this year, well ahead of the euro area," IMF's Chief Economist Gita Gopinath said.
Gopinath stressed the importance of continued support from governments through stimulus aid and public safety measures.
"We are in a race between a mutating virus and vaccinations. And a lot depends on the outcome of this race," she said. "So, if we have better news on vaccinations, faster rollout, then things could improve much better."
Gopinath added, however, "A lot depends upon how much policy support stays in place. If things go bad and financial conditions worsen, that will have a big knock-on effect because we are living at the time with very high levels of death in the world."
Since the onset of the pandemic in early 2020, there have been 100 million confirmed COVID-19 cases worldwide and 2.15 million virus-related deaths reported.
_____
Source: Equities News