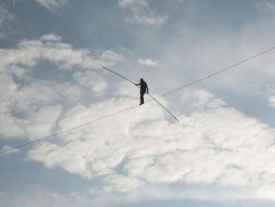 The S&P 500 looks to be back on track to establish new all-time highs, but as aways, traders and investors need to recognize what their downside risk may be. In our latest interview with Toni Turner of TrendStar Trading Group, we discuss possible support and resistance levels for the near and intermediate term.
EQ: The S&P 500 seems be straddling the 2000 range since breaking through that threshold. What are some significant support and resistance levels that you're watching?
Turner: For resistance, I'm watching the closing high that took place on Sept. 5 at 2007 on the S&P 500. If we want to nitpick, we also have an Aug. 4 intraday high of 2011. But after that, it is pretty much blue skies. But there's 2020 and 2030 as potential levels to watch for as well.
In terms of support, the major levels I'm looking at right now is 1909 or just above 1900 because that's the pivot point that came down when it was established on Aug. 7. Nearby support for where we are right now resides at 1980 and 1960. Of course, we also have the 50-day moving average in there, which is right in between at 1974. So we actually have a lot of potential support levels on the S&P 500 should it start to move lower.
EQ: Last week, you said that you're noticing a lot of double-tops potentially forming on a sector and industry basis within the market. Does this have implications for the broader market?
Turner: A double-top is a chart formation that indicates an uptrend reversal. The double-tops that I saw were from my habit of going through sector and industry group index charts the old fashioned way, one at a time. So when I see one pattern start to repeat itself, then it tells me that I there's a larger dynamic involved, in this case, potential weakness in the market. That analysis doesn't mean that I'm going to run out and sell all my positions, but it tells me that I have something to pay attention to.
Last week, there were a few I looked that at that had potential—not complete—double-top formations. One of them was the S&P 400 MidCap index (MDY) and although a double top has not yet formed, t I can see that the price went up and it tried to match and move above its June high, but it could not, and has headed lower. I've seen this inability to establish a new higher high quite a few times for a few indices or sectors.
Now, that reminds me that most bull markets last about five years, and we are quite a bit over the five-year mark now. And, we need to remember that industrialized economies and their capital markets move in cycles, and cycles of course, move in waves. Therefore, I think it's wise to be conservative here.
EQ: Alibaba ($BABA) is expected to IPO this week. When a new major player is introduced into the market as it will be in this case, could it potentially draw attention and investors away from the other tech giants?
Turner: I imagine thatthis particular IPO, which is the largest IPO that's ever been introduced, could pull capital and attention away from some of the bigger players. I suspect that there are a number of dynamics going into the NASDAQ's pullback and distribution day earlier this week.
Investors may be thinking they've got a few overvalued stocks in the big-momentum Tech space. When you couple those factors with broader headwinds such as weak economic data out of China, jitters about the potential Scottish independence, and the Fed's rate tightening timeline, they may be considering taking profits in some of the big momentum stocks and move that money toward a brand new player.
EQ: What other industry groups or sectors are interesting to you right now?
Turner: Yes, and I can tell you that with everything going on this week, I've been more conservative than usual.
I'm watching the PowerShares Dynamic Media ETF (PBS) . It's consolidating along its 200-day moving average and I think media can continue to attract investors, but I will only keep an eye on this as long as it remains above $25.
I think that Health Care is going to continue to be a longer-term winner, even if the market pulls back in the short-term. I'm sure Health Care will take a hit if that happens, but I will be focusing on Health Care Select Sector SPDR ETF (XLV) and individual components of XLV for the longer term. Right now in Toni's Market Club, we're watching Pfizer (PFE) .
EQ: Are you also watching PowerShares Water Resources ETF (PHO) right now with the drought?
Turner: The problem with water right now is that Utilities are getting hit, and most of the water shares have to do with Utilities. They're getting hit because investors were anticipating higher interest rates, so they moved out of high dividend Utilities stocks. So I'm watching water and I may see be a good entry in the next couple of weeks. I'm watching for an entry on the PHO potentially above $25.20.
DISCLOSURE: The views and opinions expressed in this article are those of the authors, and do not represent the views of equities.com. Readers should not consider statements made by the author as formal recommendations and should consult their financial advisor before making any investment decisions. To read our full disclosure, please go to: http://www.equities.com/disclaimer