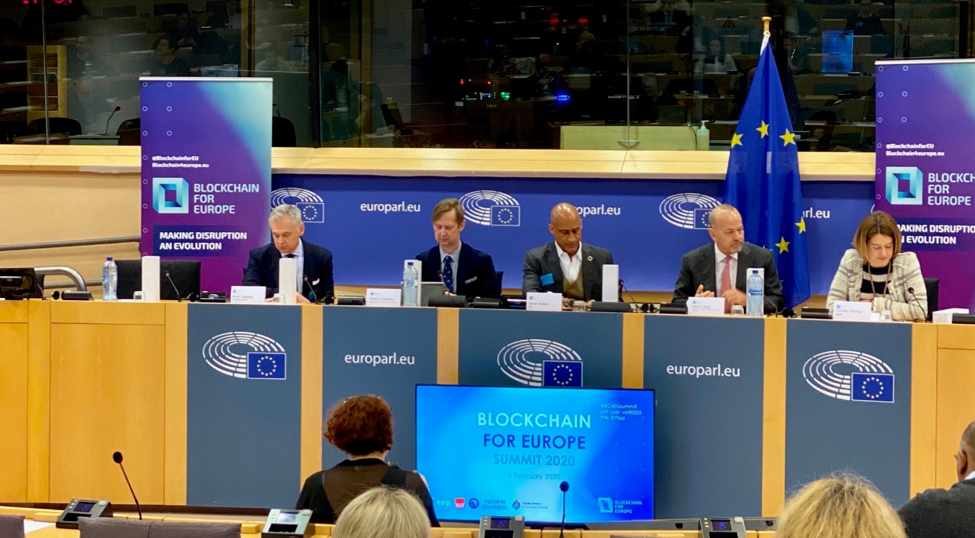 Image: (From left) Brad Staples, Peteris Zilgalvis, Jason Kelley, Albert Isola and MEP Claudia Gamon.
Blockchain for Europe Summit, EU Parliament, Brussels.
Equities News is live in Brussels at the EU Parliament, providing exclusive coverage of the 2020 Blockchain for Europe Summit. The Summit assembles legislators, innovators and business leaders from the distributed ledger technology (DLT) and blockchain technology ecosystem. Stay tuned for videos of the panel discussions.
IBM is the top-ranked provider of blockchain for business services, as ranked by both Juniper Research and HFS Research. The multinational information technology has over 1,600 employees dedicated to blockchain services with over 500 client engagements to date.
Jason Kelley, General Manager of Blockchain Services at IBM, was part of a panel discussion on Feb. 5, 2020, at the Blockchain for Europe Summit entitled, "Governments on Blockchain: Security – Infrastructure – Taxation."
The panel comprised:
Brad Staples, CEO, APCO Worldwide
Peteris Zilgavis, Head of Unit, Start-ups & Blockchain (Co-Head of FinTech Taskforce), DG CONNECT, European Commission
Jason Kelley, General Manager, Blockchain Services, IBM
Albert Isola, Minister for Digital and Financial Services, Gibraltar
Claudia Gamon, Member of the European Parliament, Member of the National Council of Austria, Member of Renew Europe Group.
Stay tuned for more from Equities News' exclusive coverage of the 2020 Blockchain for Europe Summit.
_____
Source: Equities News