As consumer demand grows for CBD, the substance has the potential to be just as ubiquitous as other vitamins and supplements. According to one estimate, the industry has doubled in size and science is in the process of racing to keep up with the bottles on shelves. A study out of the University of Sao Paulo published in the Academic Press presented evidence that CBD can give anxiolytic- like effects in both animals and patients. Not to mention, a number of studies are already providing evidence of CBD's anti-inflammatory properties as well. And, as more and more studies appear, it is possible CBD will grow into a more common therapy for a number of ailments.
Pura Vida Vitamins is a company, which is actually a subsidiary of Golden Developing Solutions, Inc. DVLP, that is already blending these health and wellness products together. On the Pura Vida website, vitamins, supplements and super foods and CBD edibles are all under the same roof.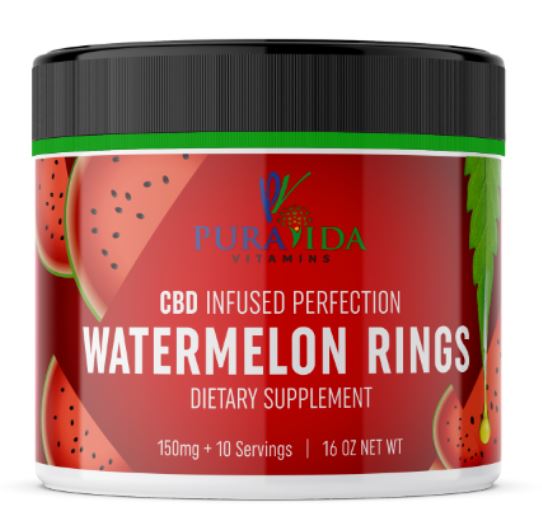 Image via the company website.
"We believe this market is just beginning its meteoric rise, and that launching Pura Vida Vitamins' website is just the first step toward our bright future within this expanding and maturing industry," stated DVLP CEO Stavros Triant in the company's press release earlier this year.
Organic watermelon rings, peach rings, cherry hearts and fruit slices are all available for purchase made with high-quality hemp containing less than 0.03% THC. According to the company, the CBD dietary edibles support improving one's mood, reduce stress and aid in healthy sleep. Besides this selection of edibles, the company sells tinctures, vapes and softgels. All of these CBD products are embedded alongside multi-vitamins and anti-aging formulas. It is possible that this setup may be the standard for the online CBD retail market in the future and DVLP is ahead of the game.
Golden Developing clearly sees value in this segment like many other businesses because they recently purchased wheresweed.com, an online cannabis service hub. The company just announced some numbers on the newly acquired app citing a 76,000 orders worth an estimated $12,600,000. According to the company, these number for Where's Weed vastly exceeded expectation of user growth with 80,000 downloads and 3 million pageviews per month. Since the app has become a sleeper hit for DVLP, the company announced plans to expand the network and grow the dynamic.
"This has become a win-win for both consumer and vendor," Triant added in the presser. "It's a hit. And we fully expect it will continue to be an unequivocal success because it simplifies life for cannabis consumers through a highly effective and intuitive One-Stop-Shop shopping experience. We have big plans for monetizing this traffic, which is really just one minor component of the diverse and thriving Where's Weed website, community, and network. The results thus far powerfully underscore our convictions in approaching this asset as a strategic target."
Where's Weed is a nice industry-specific service multiple for the microcap company along with a their vitamin and CBD offerings. DVLP has a number of high sales growth opportunities ahead of it that might see increased demand as legalization commences across Canada.