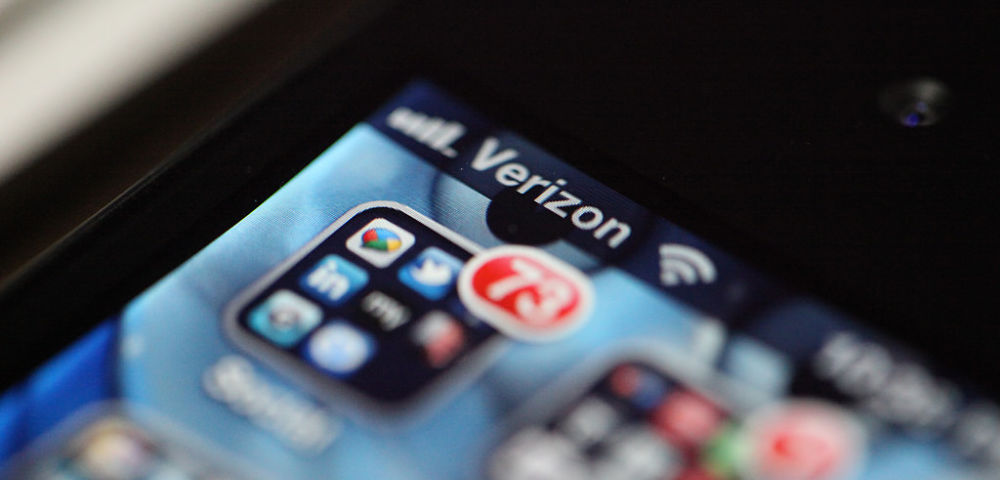 Image via Robert Scoble/Flickr CC
Last week, Hans Vestberg the new CEO of Verizon VZ had a live interview with David Faber on CNBC. This was a great interview giving us a glimpse of the man, his dreams and vision for both the future of Verizon and the future of the entire communications industry. Let me share a few thoughts with you for investors, workers and executives.
The big question I have is this. Will Vestberg awaken the sleeping giant once again like a decade ago, or will Verizon continue to be too quiet for its own good? Direct competitor AT&T T continues to roar like a tiger, both innovating and reinventing every space they are in with AT&T Mobility, DirecTV NOW, wireless TV, WarnerMedia and so much more.
Vestberg appears to be a very different man than previous CEO's Lowell McAdam and Ivan Seidenberg. I believe that means we should expect a very different approach to the way Verizon will grow going forward. What I heard said, at least initially he will continue on the same path, but with his own personal style.
How Hans Vestberg Verizon Strategy Is Similar and Different
On one hand, the good news is Verizon has grown to be a very large and very strong company under the leadership of McAdam and Seidenberg. On the other hand, in recent years there has been very little in the way of front-page excitement and innovation over the last several years.
Verizon was a leader but has become a follower in the industry transformation. This timid approach always had me scratching my head. Why would an industry leader take such a quiet and mellow approach?
In recent years, Verizon seemed kind of sleepy compared with other new and existing very aggressive players in the space like AT&T, Apple AAPL, Amazon AMZN, Google GOOGL, Facebook FB and many others.
With that said, Verizon has continued to be a strong competitor that has rewarded both shareholders and workers. So, being quiet doesn't seem to have hurt them at all. That gap is where I think Vestberg has a unique opportunity.
Hans Vestberg Verizon Opportunity

Going forward under Vestberg, things may be different. His strategy does not seem to be changing dramatically. However, the language he uses says to me that the company will have a much higher profile going head to head with their large competitors in many different spaces.
They are still focused on Oath and wireless leading the way. That means with the Yahoo and AOL assets, they will still pursue the Amazon.com type growth strategy.
So, when Tim Armstrong departs, he won't be taking Oath with him. The path Verizon is taking is acquiring users rather than building them over time. This is a very different path from Amazon. It may be quicker, but will it be as successful? We'll have to wait and see.
So far, I like what I hear from Vestberg. He is not going to rock the ship and take it in new directions. Although, there may be some new areas he should consider taking the company. After all innovation is one key to growth.
The Vestberg opportunity may be to continue to move the company in the same direction it has moved over the last several years. But I believe he may indeed give Verizon a more aggressive marketing attitude and leadership going forward.
Verizon Still Focused on 5G Wireless and Oath Under Vestberg

Something AT&T, AT&T Mobility, DirecTV NOW with wireless TV or mobile TV, 5g and much more have owned in the last decade.
However, with Vestberg at the helm, Verizon may have a higher profile and that could help them both grow the company and grow and change the industry.
The core Verizon business is changing. That means new competitors are going to enter and put increasing competitive pressure on the company.
As we move into 5G over the next several years, we will see it both transform the wireless industry and see new technologies and new competitors enter and change everything, virtually overnight.
The coming transformation of the wireless industry will be very similar to what the iPhone and Android smartphones did over the last decade. Except, not only will wireless change, but so will other industries as well.
How 5G Will Change Wireless Industry and Beyond

Example, the sleepy cable television industry is being re-invented in recent years. Now AT&T DirecTV NOW leads the national pay TV space. Comcast Xfinity is also a very successful leader in this new pay TV world. Others are still trying like Charter Spectrum and Altice.
However, 5G will let new competitors enter the pay TV space, wirelessly. Expect to see new competition from AT&T Mobility, T-Mobile and Sprint. This is a world where Verizon Wireless needs to enter quickly and successfully. Expect other new competitors to join in and compete as well in this new and changing space.
Wireless TV will not only transform the space for existing pay TV providers, but it will expand with new competitors and new ideas. It will be very exciting to watch this new world grow and change the existing industry.
Will Vestberg Transform Verizon into a Leader or Stay a Follower?

That's the kind of growth opportunity Verizon has under Vestberg. He is talking about this in the right way. Now we have to wait and see if he steers Verizon in the right direction going forward.
So, this is my big question. Will Hans Vestberg awaken the sleeping giant called Verizon or will it continue to be too quiet for its own good? Will the company be an active thought leader and innovator in the transforming industry, or will they continue to be too quiet for their own good as the world transforms around them?
Will Verizon be a leader like AT&T or a fast follower like they have been? That's the big question investors, customers and workers all want an answer to.
Jeff Kagan is an Equities.com columnist. Kagan is a Wireless Analyst, Telecom Analyst, Industry Analyst, speaker and consultant. He follows wireless, wire line, telecom, Internet, cable TV, IPTV, Cloud, Mobile Pay, FinTech and communications technology. Email him at [email protected]. His web site is www.jeffKAGAN.com. Follow him on Twitter @jeffkagan.