They are known as the Coca-Cola millionaires.
In the early 1920s, a Florida banker named Pat Munroe convinced his clients to buy shares of Coca-Cola KO.
He saw that even in tough times, people would still have a few nickels to buy Coca-Cola.
Those who followed Munroe's urgings made fortunes. His advice minted 67 Coca-Cola millionaires.
While investors reaped giant profits as the stock price climbed higher, the dividends they earned are even more impressive.
Coca-Cola Millionaires Would Earn a 2000% Dividend Yield Today…
A Coca-Cola millionaire who hung onto his shares would be earning dividends miles higher today than he had been originally.
If you had bought 50 shares of Coca-Cola in 1920, you'd be raking in $150,000 in dividends… every quarter!
That's an unbelievable yield of over 2000%.
That's remarkable given that the yield in 1920 was just 1.9%.
I know, few people live to be 100 years old, let alone hold shares that long. Still, this story teaches an important investing lesson.
Here's How It's Done…
You don't have to wait 100 years to earn massive dividend yields.
Let's say, it's January 1994, and you have some money that you want to invest.
You decide to buy 2,000 shares of Coca-Cola for $5.80 per share.
At the time, the stock paid a yearly dividend of $0.10 a share for a yield of 1.7%. So you earned $200 in dividends per year.
Fast forward to 2019. You still own those 2,000 shares of Coca-Cola.
But Coca-Cola has raised its dividend an average of 2.1% per year.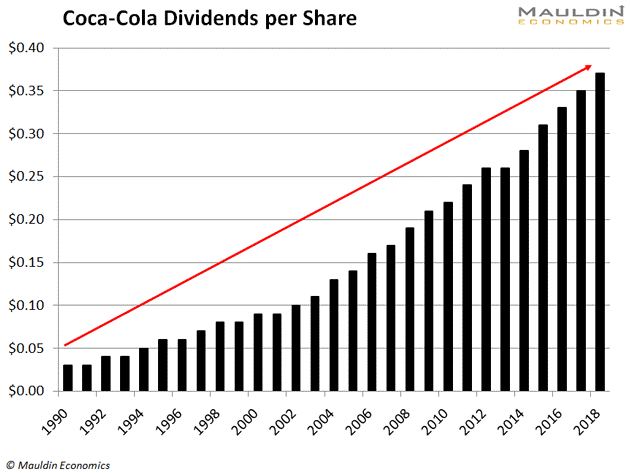 In 2019, Coca-Cola pays a $1.56 dividend per year.
Since you bought shares at $5.80, that hikes your dividend yield to 26.9%!
You are now banking $3,120 per year in dividends.
There are two reasons why Coca-Cola investors were rewarded with such impressive dividend yields:
They invested in a solid company with a growing base of consumers
The company regularly raises its dividend
And I've found a few other companies that act like Coca-Cola.
Picking the Right Companies…
In my brand-new special report, I revealed three companies that are in growing markets. And they have a long history of boosting dividends.
They all have safe dividend yields over 5%. And if you hold them for 10 years, I think your dividend yield could easily hit 25% or higher.
Claim your free copy here and learn about these companies.
While I'm a big fan of those three companies, there is one more company I think is the best of breed.
It sports a 7.0% dividend yield, so you probably won't have to wait 10 years to enjoy a 25%+ dividend yield.
It all comes down to knowing what people will buy no matter what's going on in the economy.
Smartphones: The Opium of the Masses
The Coca-Cola of today's generation is mobile data.
People can't live without their phones, and the numbers prove it.
The global mobile data market is set to more than double from 2018 to 2020: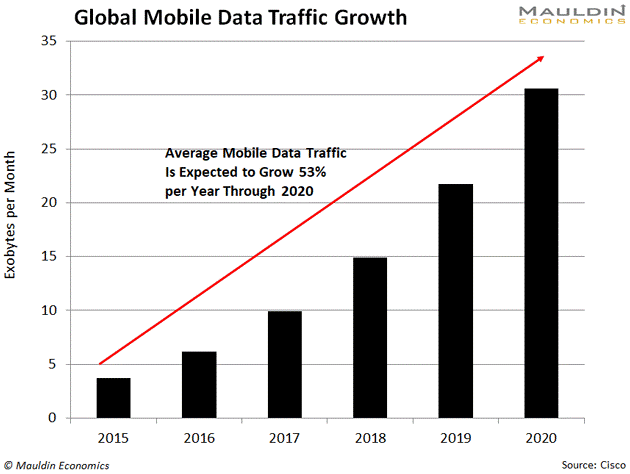 There's no reason why this fast pace of growth will slow any time soon.
And companies that provide people with mobile internet access will keep profiting—even in a bear market.
There's only one company in this industry that pays a safe big dividend.
That company is AT&T Inc. T.
AT&T Gives the People What they Crave…
AT&T is the second-largest wireless carrier in the US.
The company services more than 100 million devices, including over 80 million prepaid phones.
The company gets 43% of its income from its wireless business.
This gives the company a steady stream of cash that will grow as mobile data usage grows.
AT&T is also set to be the first provider to roll out 5G technology. This next generation of wireless networks will be 1000x faster than today's 4G.
But what I really like about AT&T is its dividend.
A Huge—and Safe—Dividend for Any Environment
My goal is to find safe and stable income investments for my readers.
Just because a company pays a high dividend doesn't mean the company is financially sound. Too many investors make this dangerous assumption.
That's not the case with AT&T and its 7.0% dividend yield.
AT&T has raised its dividend for 35 straight years by an average of 4.6% per year.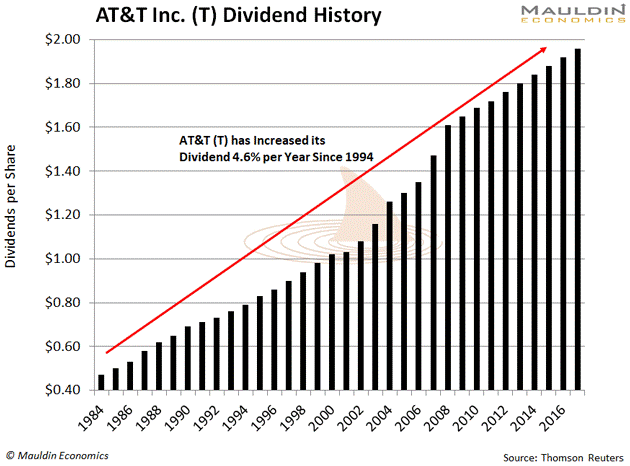 AT&T has a ton of cash and its dividend is only a small fraction of its earnings. Those two things tell me that AT&T will pay huge dividends for decades.
If you buy AT&T shares today—and the company hikes the dividend 5% a year—your dividend yield will be 11.4% in 10 years.
In 20 years, it would jump to 18.5%.
And after 30 years, your dividend yield would soar to 30.2%!
Think of it like planting an apple tree. The tree only yields a few, small apples when it's first planted.
But as the tree grows over time, the more apples—or dividends—it will produce.
So plant your dividend tree today.