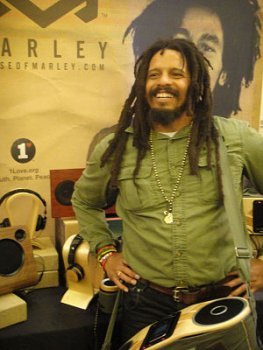 I recently had the opportunity to speak with Rohan Marley of Marley Coffee about his calling to the coffee industry.
Last month, I had the pleasure of having Marley Coffee present at our inaugural Innovations Conference, which took place in Miami on February 9th. The Innovations Conference provided an intimate, exclusive platform to bring experts, investors, and companies together to help identify strategic partnerships.I wanted to include Rohan's Company because they are a main player when it comes to sustainably grown, ethically farmed and artisan roasted gourmet coffee beans. Marley Coffee is also a huge influence in the communities it surrounds and is able create positive opportunities for the rural populations, as well as globally, through the 1Love.org movement, Kicks For Cause initiative, and Waterwise campaign.
Marley Coffee has flourished since its 1999 inception, how did you discover your calling for the coffee industry?
When we bought the farm in Jamaica in 1999, I knew that I wanted to produce something special – top quality, organically grown coffee from the Jamaica Blue Mountains. It was something no one had done before. The more I learned about coffee, the more I knew we had the means to source coffee from farms around the world to create exciting flavor profiles in our coffee line. I had a vision for the business to become a global brand, and since then we have stayed true to that vision, and it has allowed our company to flourish.
Your father has a legacy of "powerful means towards incredibly powerful ends" and "One Love", how do you keep those legacies alive in your endeavor?
We are able to make a tremendous impact in the community right outside the farm in Jamaica in many ways through our coffee business, and we hope to expand those efforts worldwide. We improved the school down the road from the farm and built a computer lab and soccer field for the kids. We give employment opportunities both on the farm and the coffee-processing plant in Trench Town. That was just the beginning. Now in Ethiopia, through our sustainability initiative WaterWise, we are improving the water quality of the Kolla River in the Sidama region, where we source coffee. We do so by donating 1 cent of every RealCup™ single serve capsule sold to WaterWise. This provides a better quality of life for the people who use the river for everyday activities like cooking and cleaning. When people buy our coffee, they are joining a movement that aims to improve coffee growing communities around the world, and we hope to continue to make powerful change through our actions.
Marley Coffee is able to contribute to a great number of jobs to those in the rural poverty of Jamaica, teach young people to become baristas, and has given over 300 women employment, how does this influence how you choose to farm as well as run the company?
It's always been important to me that whatever we do as a company, it gives back and contributes to a better world. I grew up in Trench Town, so it was important for me to create jobs for that community. We have the ability to create great change in the world through our practices, and that inspires how we do business.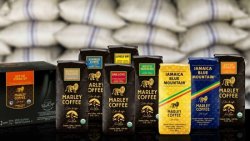 Was it a struggle deciding to begin your own business where you had no experience, knowing that your family name has held its place in the music industry? and did you find being the son of a music legend to be helpful or harmful to starting the company?
Starting any company or business, there will be challenges in the beginning and learning curves that come with embarking on a new business venture. But I had a vision for the direction of the company and faith in myself as a businessman and entrepreneur. Though my family name is strongly associated with music, my brothers and sister and I have always had multiple ventures: clothing lines, food products, accessories, and more. The name is helpful in getting the word out, but at the end of the day it has to be a quality product to be embraced by the people.
In the last year, Marley Coffee has seen great growth in the U.S., what are the next steps for continuing The Company's growth in 2015?
We hope to continue to grow globally. We're seeing a lot of growth in Korea and Chile and hope to continue that worldwide. I'm also excited to launch EcoCup™ later this year, the industry's first easily recyclable single serve cup – it's going to make a big impact in reducing waste and excite a lot of people who've been looking for a better way to use single serve coffee.
How is Marley Coffee handling and/or pushing forward through the recent coffee industry challenge of leaf rust (la roya)? and how do you see your USDA Organic Rainforest Alliance Certification helping you through the recent commodity pricing performances of other coffee companies?

We are in a good position in terms of supply and we've not passed on the rising commodity price of coffee to our consumers. Our sales are growing every quarter and we believe it is due in part to our certifications. Consumers trust us to source the best quality, ethically farmed coffees and that helps grow the brand awareness.
DISCLOSURE: The views and opinions expressed in this article are those of the authors, and do not represent the views of equities.com. Readers should not consider statements made by the author as formal recommendations and should consult their financial advisor before making any investment decisions. To read our full disclosure, please go to: http://www.equities.com/disclaimer