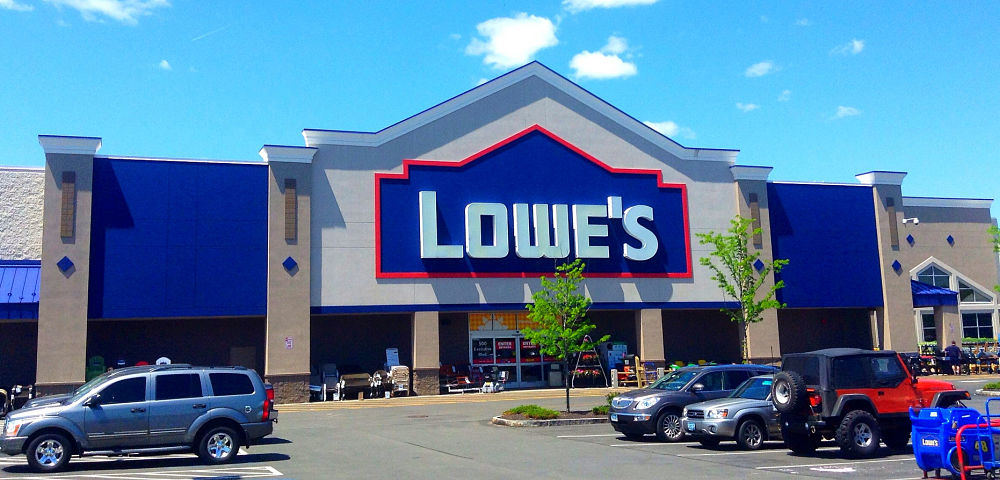 Image via Mike Mozart/Flickr CC
Lowe's (LOW) serves 17 million customers each week, via 2,144 stores with more than 210 million square feet of selling space, each store selling about 37,000 items, notes Richard Moroney, editor of Dow Theory Forecasts.
Yet as big as Lowe's already is (second-largest home-improvement retailer in the country), it still enjoys plenty of opportunities to grab share. Lowe's estimates the size of the U.S. home-improvement market at $775 billion.
The company's roughly 1,800 U.S. stores combine to capture about 8% of that highly fragmented market; it also operates about 300 stores in Canada ($36 billion market) and about 10 in Mexico ($40 billion market).
Given the robust buying power of U.S. consumers and the extra demand sparked by hurricanes in Texas and Florida and a spate of fi res in California, the home-improvement market should see growth in the year ahead.
The consensus projects per-share profit gains of just 1% for Lowe's in the January quarter but 23% in fiscal 2019 ending January. The 2019 target has risen 9% over the last two months.
The sales-growth target for fiscal 2019 remains just 4%, about half of the annualized growth rate from the last three years. Even modest outperformance in sales could render the profit projection conservative. Analysts expect annualized profit growth of 15% over the next five years, in part because cost cuts and increased effiiency are boosting profitability.
The company targets capital spending of about $1.2 billion a year through fiscal 2020, well below the $3 billion-plus common a decade ago. About 45% of the expected capital spending will go toward its omnichannel initiative.
To cope with a world where customers make an increasing percentage of purchases outside of physical stores, Lowe's has invested in an enhanced online experience, phone sales, and direct contact with customers at their home or place of business. Those jobsite visits represent part of Lowe's push to deepen its relationship with contractors, who represent nearly 50% of the home-improvement market but just 30% of Lowe's sales.
The hedge fund D.E. Shaw controls a $1 billion position in Lowe's. Earlier this month, Shaw presented Lowe's with plans to boost annual revenue by $8 billion and cut nearly $1 billion in expenses.
Lowe's shares jumped to another all-time high on news of Shaw's stake. Rather than fight the hedge fund, Lowe's agreed to add directors recommended by Shaw. Lowe's is rated Long-Term Buy.
Richard Moroney is editor of Dow Theory Forecasts.
Subscribe to Richard Moroney's Dow Theory Forecasts here…
About MoneyShow.com: Founded in 1981, MoneyShow is a privately held financial media company headquartered in Sarasota, Florida. As a global network of investing and trading education, MoneyShow presents an extensive agenda of live and online events that attract over 75,000 investors, traders and financial advisors around the world.