How Important are People in Profits?
William Corley Follow |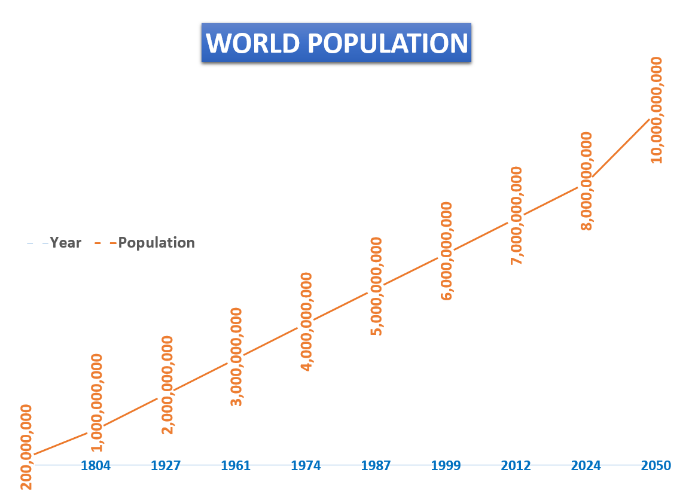 "Age may only be a number, but when it comes to the age of the universe, it's a pretty important one."
As illustrated in the chart above, after World War I Western society roared into the late 1920s, during which global population hit the two billion mark. The Industrial Age raised living standards for millions of people and brought about the great migration. Rural dwellers relocated in droves to metropolitan areas in search of economic opportunity, educational attainment, richer lifestyles, and personal betterment. Improved health care, denser population, higher fertility rates, and falling mortality rates ignited faster population expansion. By 1961, my year of birth, the population surpassed three billion. In '74, the year of Nixon's resignation, global population rose to four billion. Thirteen years later, concurrent with the '87 stock market crash, the population exceeded five billion. A dozen years later, the six billion bar was eclipsed, and Prince sang, "Tonight we're gonna party like it's 1999." In 2019, the current world population is forecast to surpass 7.7 billion.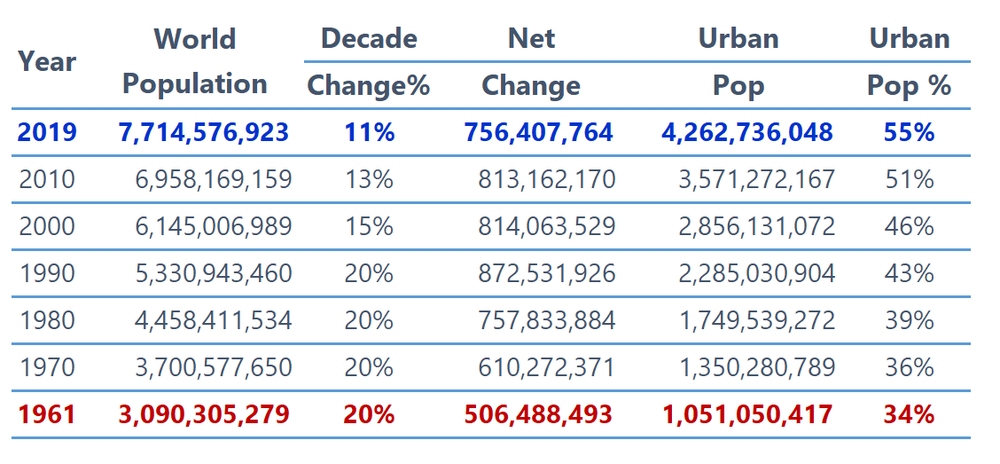 Image Source: World Population Clock
Since my birth 57 years ago, the world has witnessed unprecedented growth in economic output and expansion. Urban areas that accounted for one billion residents in 1961 account for over four billion residents today. Suburbs are becoming mini metro areas. The South Florida geographic area from Palm Beach to Miami has become one giant city. Tabloids and news jockey sensationalists fan the flames of regional differences and political polarity; they're wrong. As a money manager, I serve all walks of life, faiths, party affiliations, genders, and race. I've found that almost all people share far more in common than have differences. As a society, we are all in this marvelous mess together.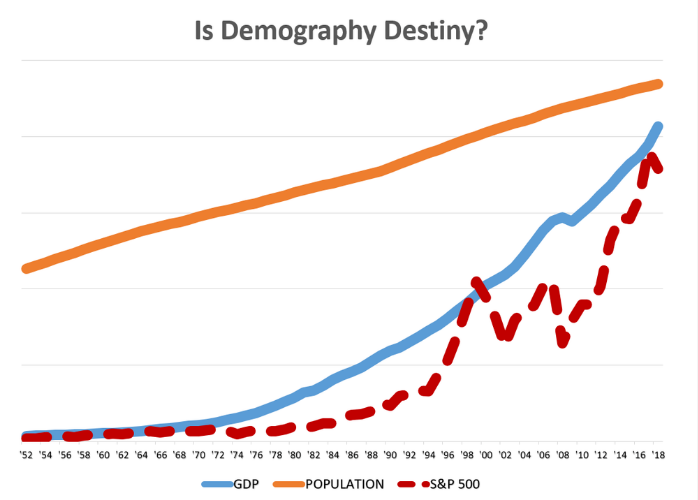 Notice in the chart above the directional similarities between population growth, gross domestic product expansion, and stock prices represented by the Standard & Poor's 500. The economy has grown robustly with stocks following suit. Population growth is the powerful locomotive moving all this onward. Whenever I am speaking publicly or conversing with clients and they ask me how the stock market works, I tell them, "The stock market is, and always has been, all about people." People matter most.
We are living in a new age, a new era, a time when human longevity, prosperity, civility, inclusion, compassion, and purpose are the new normal. Technology is universally empowering consumers. The wave of change is impacting everyone, and I sense we are on the cusp of a significant inflection point. For some, possibly many, this time in history may become a golden renaissance. For others, the wave of innovation could eliminate their jobs and means to earn a living, leaving them in a state of financial uncertainty and despair. Opportunities will be abundant in this "everything digital" existence for people educated and equipped. Workers finding themselves displaced by automation will need to retool themselves by learning relevant new skills on the job or in community colleges and specialized trade schools; the U.S. military is an option. None of this will be easy; it all takes an enormous amount of effort. My instincts tell me this wave of change is upon us, and vigilance is the better way.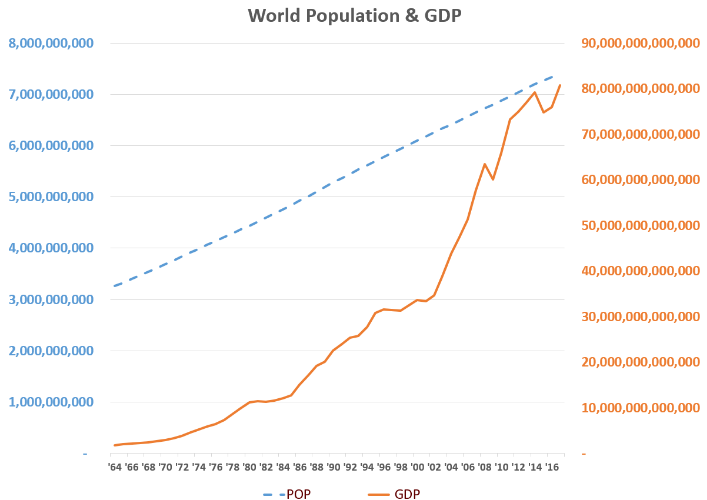 I believe there will be an enormous quantity of winners in this tectonic shift towards digital everything. Almost anyone and everyone will be empowered to participate in the digital advance. How? By investing one's capital in the best companies, services, products, people, stocks, corporate bonds, commercial real estate, residential properties, Treasuries, and sovereign debt, globally. Because we are moving into an "everything digital" world, savers (anyone earning more than they spend) can now have their money invested and professionally managed through advanced technology and algorithms starting with just one dollar. 1DB is at the forefront of this movement and nearing the rollout of our investor-centric revolutionary offering. We have been developing our Digital Advisory solution and expect to launch this quarter. I'll have more to say about this in short order.
In 1932, after the DJIA crashed 90% from its 1929 highs, a famous financier quoted in the New York Times penned, "There are only two premises which are tenable as to the future, chaos and order." Americans are resilient, as are most of the human race. The world has evolved and expanded for the better. My favorite quote sums it up, "Growth isn't everything; it is the only thing!" When it comes to raising living standards for all walks of life, growth is essential. For prudent investors to earn rational returns on their investments, Wall Street aficionados champion the phrase, "Follow the money." I'd add another rule to the mix, "Follow the people."
—William "Chip" Corley
Author of Financial Fitness: The Journey from Wall Street to Badwater 135
Stock price data is provided by IEX Cloud on a 15-minute delayed basis. Chart price data is provided by TradingView on a 15-minute delayed basis.
DISCLOSURE: The opinions made herein are for informational purposes and are not recommendations to any person to buy or sell any securities. The information is purported to be reliable, but its accuracy and completeness are not guaranteed. 1st Discount Brokerage does not accept any liability for the use of this column. Readers of this column who buy or sell securities based on the information in this column are solely responsible for their actions. Investors/traders are advised to satisfy themselves before making any investment. Nothing published on this site/ article should be considered as investment advice. It's not an offer to buy or sell any security. Readers are solely responsible for their profits or losses.

---
The views and opinions expressed in this article are those of the authors, and do not necessarily represent the views of equities.com. Readers should not consider statements made by the author as formal recommendations and should consult their financial advisor before making any investment decisions. To read our full disclosure, please go to: http://www.equities.com/disclaimer.
Trending Articles
Mixed Wireless Recovery at AT&T, Verizon, T-Mobile: Jeff Kagan
The Strong Dollar Is a Problem for Stocks
3 Ways Finance Teams Can Navigate Inflation Through Automation
Market Movers
Sponsored Financial Content