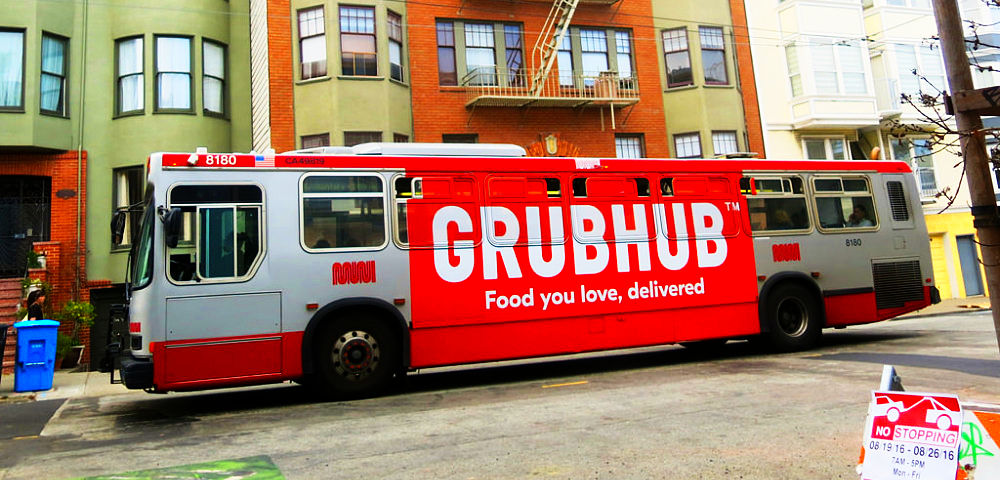 Image via torbakhopper/Flickr CC
GrubHub (GRUB), based in New York, provides an online and mobile service for restaurant pick-up and delivery orders; the stock is also our latest breakout buy, explains Leo Fasciocco, editor of Ticker Tape Digest.
With annual revenues of $493 million, the company is connected with some 50,000 local restaurants with diners in more than 1,100 cities across the U.S.
GrubHub provides diners on the platform with information that helps them search for local restaurants and then place an order from an Internet-connected device. It also provides diners with information about their orders and status.
In certain markets, the company also provides delivery services to restaurants on its platform that do not have their own delivery operations.
GrubHub came in with net for the fourth quarter of 37 cents a share, excluding items. That topped the consensus estimate of 31 cents a share. Revenues surged 49% for the quarter.
The company also announced a partnership deal with Yum Brands Inc. (YUM). Yum will acquire $200 million worth of shares of GRUB. The deal is aimed at driving online sales to Yum's units KFC, Taco Bell, Pizza Hut and its other restaurants.
The stock surged higher on the earnings report and news of the Yum Brands deal, breaking out from an eight-week flat base. It was particularly impressive that the stock did not yield ground on a day when the Dow Industrials took a 1,032-point dive.
This year, analysts have been forecasting a 32% surge in net to $1.58 a share from the $1.20 for 2017. The 2018 estimates may be boosted by analysts in coming days. Net for the upcoming first quarter should climb 28% to 37 cents a share from the 29 cents the year before.
We are targeting GRUB for a move to $105 within the next few months, or sooner. A protective stop can be placed near $84. We rate the stock a very good intermediate-term play due to its Yum deal. However, we note that this stock is suitable for aggressive investors.
Leo Fasciocco is editor of Ticker Tape Digest.
Subscribe to Leo Fasciocco's Ticker Tape Digest here…
About MoneyShow.com: Founded in 1981, MoneyShow is a privately held financial media company headquartered in Sarasota, Florida. As a global network of investing and trading education, MoneyShow presents an extensive agenda of live and online events that attract over 75,000 investors, traders and financial advisors around the world.