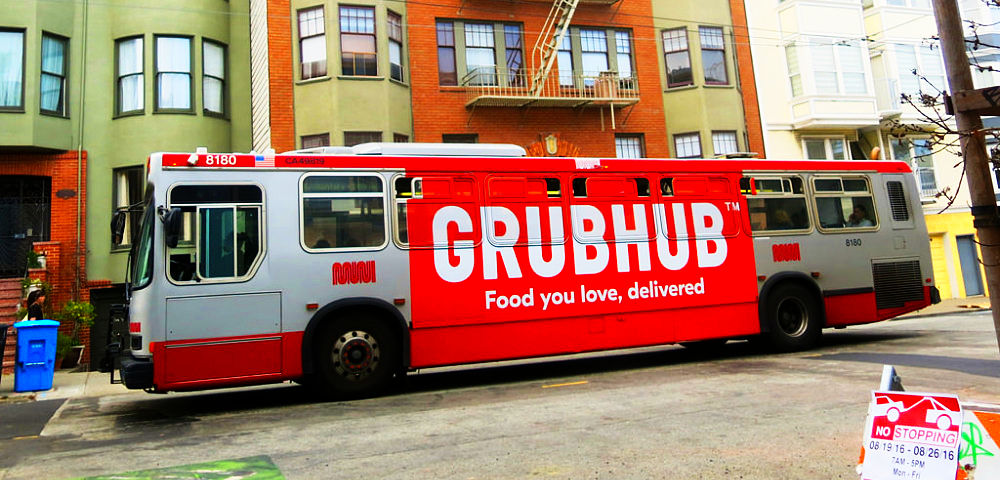 Image via torbakhopper/Flickr CC
Our long breakout recommendations tend to have strong earnings outlooks and are near new-52 week, or all-time highs; they are most suitable for aggressive investors seeking ideal entry points into leading stocks, especially during bull markets, asserts Leo Fasciocco, editor of Ticker Tape Digest.
Grubhub GRUB, based in Chicago, provides an online service for restaurant pick-up and delivery. Annual revenues are $683 million.
Its products include Grubhub and Seamless Mobile Applications and Mobile Website, Grubhub and Seamless Websites, Corporate Program, Delivery, Allmenus and MenuPages, Grubhub for Restaurants and Restaurant Websites.
The company connected more than 50,000 local restaurants with diners in more than 1,100 cities in the U.S. In certain markets, the company also provides delivery services to restaurants on its platform that do not have their own delivery operations.
Quarterly earnings will be strong. Analysts expect a 54% spurt in net to 40 cents a share from 26 cents the year before. The highest estimate on the Street is at 46 cents a share.
The company topped the consensus estimate the past three quarters by 16 cents a share, 6 cents and 4 cents. Profits for the third quarter are expected to be up 25% to 36 cents a share from 28 cents the year before.
For the full year, analysts are forecasting a 42% surge in GRUB's net to $1.70 a share from $1.20 the year before. Going out to 2019, the Street predicts a 26% increase in profits to $2.15 a share from the anticipated $1.70 this year.
The stock's 12-month performance chart shows the shares up 160% versus a 15% gain for the stock market. The stock has broken out from a 14-week, cup-and-handle base.
The move carries the stock close to a new all-time high. We are targeting GRUB for a move to $140 off of this breakout. A protective stop can be placed near $106.
Leo Fasciocco is editor of Ticker Tape Digest.
Subscribe to Leo Fasciocco's Ticker Tape Digest here…
About MoneyShow.com: Founded in 1981, MoneyShow is a privately held financial media company headquartered in Sarasota, Florida. As a global network of investing and trading education, MoneyShow presents an extensive agenda of live and online events that attract over 75,000 investors, traders and financial advisors around the world.