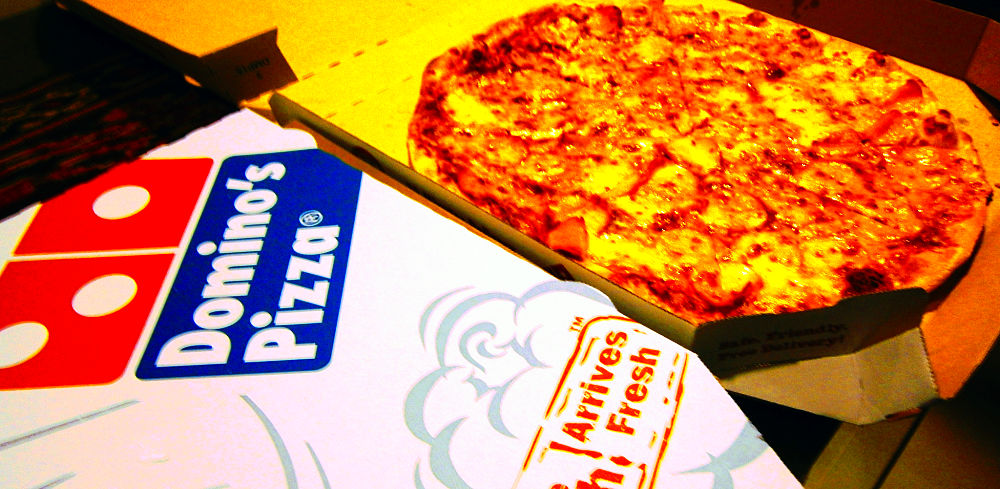 Image via Aero777/Flickr CC
Domino's Pizza (DPZ) is primarily a franchised system, operating stores that deliver pizzas; it has 13,800 stores in 85 international markets, notes Leo Fasciocco, editor of Ticker Tape Digest.
For 2018, analysts are forecasting a robust 49% surge in net to $7.98 a share from the $5.34 the year before. The stock sells with a price-earnings ratio of 28. We see that as attractive for value-growth investors.
Looking out to 2019, the Street expects a 17% increase in net to $9.31 a share from the anticipated $7.98 this year.
Analysts have been lifting their estimates. Profits for the upcoming first quarter are projected to leap 40% to $1.77 a share from $1.26 in the prior year.
The company has topped the consensus estimate the past seven quarters. Going out to the second quarter of 2018, analysts are predicting a 31% gain in net to $1.73 a share from the $1.32 the year before.
Technically, the long-term chart shows the stock in a solid long-term up trend holding above its long-term moving average line. The daily chart shows the stock climbing from $170 back in November to a peak around $220 by December.
The stock then put down a short cup-and-handle base. The recent price breakout above $222 clears the base with a pick up in volume. The breakout was triggered by favorable quarterly earnings. Based on a longer-term basis, the breakout clears a 9-month, double bottom base.
The stock's momentum indicators are now strongly bullish. We are targeting Domino's Pizza for a move to $270 off this breakout. A protective stop can be placed near $220. We also see chances for a stock split, which could boost the price. Overall, DPZ is a good intermediate-term play.
Leo Fasciocco is editor of Ticker Tape Digest.
Subscribe to Leo Fasciocco's Ticker Tape Digest here…
About MoneyShow.com: Founded in 1981, MoneyShow is a privately held financial media company headquartered in Sarasota, Florida. As a global network of investing and trading education, MoneyShow presents an extensive agenda of live and online events that attract over 75,000 investors, traders and financial advisors around the world.