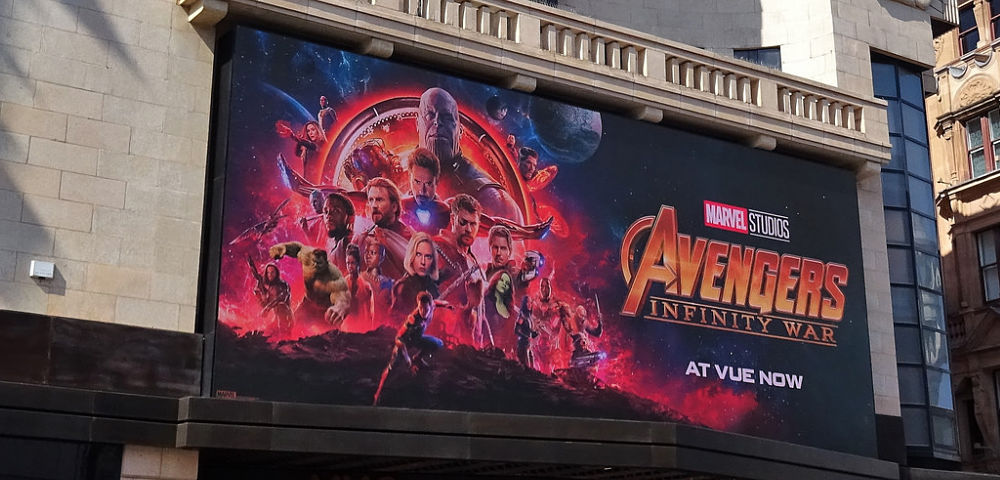 Image via David Holt/Flickr CC
Even if you're not a comic book fan, I still highly recommend watching the latest Avengers film — at least from an investor's standpoint. It should help you in appreciating what The Walt Disney Company (DIS)DIS is doing with Marvel, asserts Jason Stutman, editor of Wealth Daily.
With international sales taken into account, Avengers: Infinity War now holds the crown for the highest worldwide opening weekend ever. The movie grossed $641 million internationally and $258 million domestically.
Here's how that stacks up against the competition domestically:
Avengers: Infinity War (~$257.70 million)
Star Wars: The Force Awakens (~$247.97 million)
Star Wars: The Last Jedi (~$220 million)
Jurassic World (~$208.81 million)
Marvel's The Avengers (~$207.44 million)
Note that four of the five top-grossing openings ever fall under the Disney corporate umbrella. The company has a clear stranglehold on cinematic universes, with the Star Wars and Marvel franchises (among others) under its wing.
Indeed, Disney still has a lot of movies in the immediate pipeline. Solo: A Star Wars Story is due to release at the end of May. Pixar's The Incredibles 2 is set to release in June. And Marvels' Ant-Man and the Wasp is coming in July.
In 2019, the studio will also be releasing Captain Marvel, Dumbo (2019), another Avengers movie, Aladdin (2019), Toy Story 4, The Lion King (2019), Frozen 2, and Star Wars: Episode IX. This is lining up to be a blockbuster year for Disney and its shareholders.
On top of cinema, Disney is pulling its content from third-party streaming as it gears up for a 2019 launch of its own streaming service. There's enormous potential here for original shows and movies. And Disney CEO Bob Iger has even confirmed at least two Star Wars series on the platform. Marvel, Pixar, ESPN and Star Wars are surely compelling enough to build a substantial subscriber base on.
Now, I have to admit that I'd been a skeptic of Disney's stock until fairly recently. I once believed that content was too fickle for an investment. Trends come and go, so it's risky to take bets on movies and franchises that could prove volatile in nature.
That was my thinking until I saw Infinity Wars. That wasn't because the movie was necessarily a cinematic masterpiece, I've actually enjoyed other Marvel films more, but because it highlights how diversified and wide-reaching the MCU has actually become. Amazingly, more than 40 characters from the MCU appear in Infinity War, including 28 different heroes.
Marvel's Black Panther navigates attitudes about race relations without alienating anyone in particular. Captain America: Civil War tackles questions of government oversight. And Infinity War addresses the topics of failure, loss, and sacrifice. In a way, these characters have become the deities, or Greek myths, of our modern times.
Long term, Disney is an easy long hold for more reasons than just this one. Shareholders face some near-term risk as the company battles Comcast (CMCSA)CMCSA for 21st Century Fox (FOXA)FOXA assets. If Disney is able to complete that merger, it will become an absolute monster.
The company would gain a controlling stake in Hulu, which would propel it into the streaming business. It would complete its ownership of the Marvel Universe, gaining the rights to the likes of X-Men, Deadpool, and the Fantastic Four franchises.
And to top it all off, Disney would gain a host of new content, including the Avatar film franchise, classic shows like The Simpsons, and a massive library of other movies and shows. And as an investor, there's nothing not to like about that.
Jason Stutman is editor of Wealth Daily.
Subscribe to Wealth Daily here…
About MoneyShow.com: Founded in 1981, MoneyShow is a privately held financial media company headquartered in Sarasota, Florida. As a global network of investing and trading education, MoneyShow presents an extensive agenda of live and online events that attract over 75,000 investors, traders and financial advisors around the world.