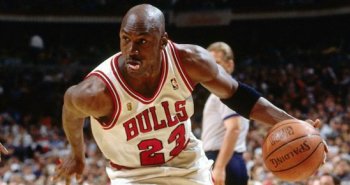 With the third overall pick in the 1984 NBA Draft, the Chicago Bulls changed the course of their franchise forever by selecting the greatest player to ever play the game: Michael Jordan. The six-time NBA Finals MVP and five-time league MVP has left an enduring legacy on basketball, establishing the standard of greatness to which all superstars are now compared.
But Jordan's legacy endures not only because of his greatness on the court, but also because of his presence throughout the sport of basketball, even as he remains off the court. The Air Jordan brand has become a staple in all levels of basketball and the international shoe market since its inception in 1984.
The Bet on a Future Superstar
The Air Jordan brand was founded in 1984 and the first shoe, the Air Jordan I, was released in 1985. Jordan was entertaining several offers from Adidas (ADDYY) , Converse, and Spot-Bilt. The deal Nike, Inc. (NKE) offered him though was unprecedented at the time. They offered him $500 thousand in cash every year for five years. The previous highest deal ever offered was to James Worthy at $150,000 per year for eight years. With incentives, Jordan's deal could have been worth up to seven million a year.
Jordan actually wanted to sign with Adidas, and offered them a chance to match the deal that Nike presented. They didn't think it was worth the investment. Nike took a gamble on Jordan and it paid off better than they could have ever imagined. In 2014, Air Jordan shoes sold $2.6 billion worth of product just in the United States. The Jordan apparel and shoes sold internationally added $1 billion in sales. In total, Air Jordan shoes accounted for 58% of the $4.2 billion US basketball shoe market. Nike's total share of the basketball shoe market is an astounding 95.5%. Adidas, Under Armour, Inc. (UA) , and Reebok ($RBK) fight for the remaining 4.5%.
A Revolutionary Design
Before Michael Jordan's shoes, basketball shoes were generally all white. Creativity in their overall design was lacking. Nike offered Jordan unique designs on the basketball shoes. Their scope of creativity was new to the industry, and Jordan was very interested. The first Air Jordan shoes were actually banned by the NBA because of their "lack of uniform color scheme."
Jordan continued to wear the shoes though. Nike paid the fines and created a commercial for the shoes. The shoes hit the market in March 1985 and by the end of the year, sales had yielded $100 million. Since then, Air Jordan has never looked back. They continued to rise to prominence, and with a nearly 60% control of the basketball shoe market in the United States, Jordan has solidified himself as a staple in basketball for years to come.
DISCLOSURE: The views and opinions expressed in this article are those of the authors, and do not represent the views of equities.com. Readers should not consider statements made by the author as formal recommendations and should consult their financial advisor before making any investment decisions. To read our full disclosure, please go to: http://www.equities.com/disclaimer