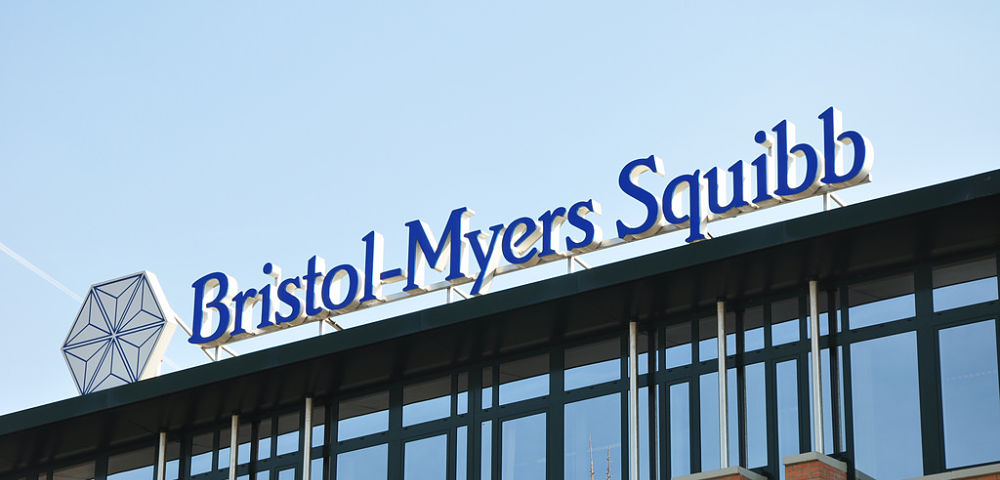 Image via A 4/Flickr CC
The biotechnology and pharmaceutical stocks have seen some tough times of late, especially Editor's Portfolio holding Bristol-Myers Squibb (BMY)BMY, suggests Chuck Carlson, dividend reinvestment specialist and editor of DRIP Investor.
The stock is down 25% since mid-February and is trading around its lowest level in a year. The shares are being buffeted by a number of factors. First, Wall Street continues to worry that the constant political rhetoric about high drug prices will eventually lead to price controls.
Second, Bristol-Myers has been lagging in a race to develop a treatment for advanced lung cancer. The firm recently reported positive news on a treatment for advanced lung cancer involving a combo therapy of two Bristol-Myers drugs — Opdivo and Yervoy.
The trial results showed the combination reduced the risk of cancer progression or death by 42% when compared to chemotherapy. However, competitor Merck (MRK)MRK announced trial results with its Keytruda drug that were better received by Wall Street. Keytruda reduced the risk of death in its advanced lung cancer trial by 51% when combined with chemotherapies, versus just chemo alone.
The price decline has made these shares a lot more attractive from a valuation standpoint. The stock now trades at 16 times 2018 consensus earnings estimate of $3.26 and less than 14 times the 2019 estimate of $3.73. The price decline has also boosted the yield to 3%.
I have owned Bristol-Myers Squibb stock for many years, and the stock's history has been one of large downdrafts and big upswings. This latest downdraft feels a bit overdone to me.
True, Bristol-Myers is facing tough competition in the lung cancer market, but assuming that this huge market will be a winner-take-all situation is probably a mistake. Buying a stock on bad news and in a sector that has been seeing plenty of turmoil is not for weak stomachs.
But it is not a reach to see Bristol-Myers posting a total return of at least 10% from current levels over the next 12 months. The other factor that could play a role in boosting the valuation is the takeover activity in the group.
Although Bristol-Myers' market cap is around $83 billion, it is not a stretch to see the firm merging with another drug company. Consolidation has been happening at the lower end of the market-cap spectrum in the biotechnology space, and it wouldn't surprise me to see takeover activity in the sector start to head up the market-cap ladder.
Bristol-Myers Squibb offers a direct-purchase plan whereby any investor may buy the first share and every share directly from the company.
Chuck Carlson is editor of DRIP Investor.
Subscribe to Chuck Carlson's DRIP Investor here…
About MoneyShow.com: Founded in 1981, MoneyShow is a privately held financial media company headquartered in Sarasota, Florida. As a global network of investing and trading education, MoneyShow presents an extensive agenda of live and online events that attract over 75,000 investors, traders and financial advisors around the world.