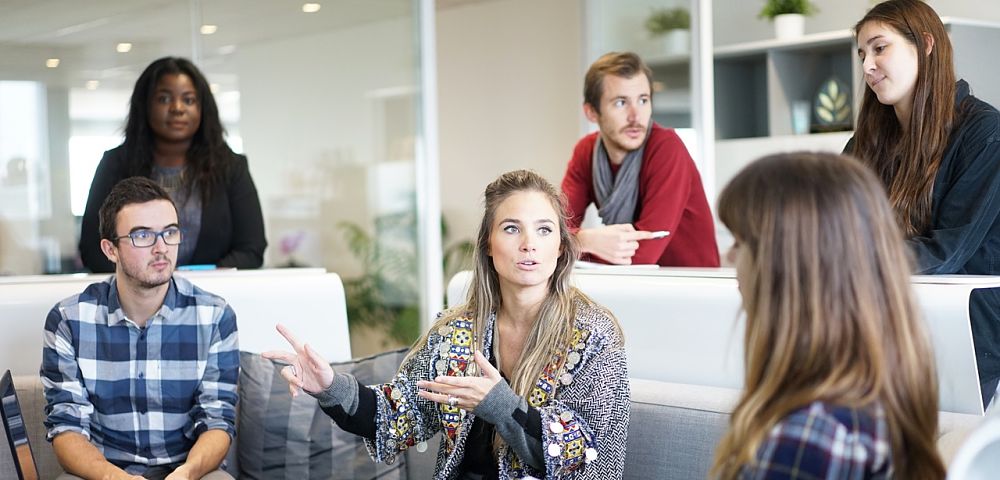 The secret to becoming a great storyteller is to have a story that is clear, concise and compelling.
When you tell stories you tug at the heartstrings which makes people want to open their purse strings. The person who tells the best story wins the sale. The old way of selling is pushing your message out like a TV ad. The new way of selling is to PULL people in with a great story that makes you magnetic.
The way our brain works is that when you sell by telling numbers and facts you are speaking from the left side of the brain which is analytical. People buy from the emotional, storytelling right side of the brain and then back it up with logic. The best way to open your story is using one of two openings:
WHAT IF–this starts the story off in a way that opens the buyer's mind to new possibilities. When I asked Guess jean, "WHAT IF" we did a joint celebration around your 30th anniversary and W magazine's 40th anniversary by showing photos of celebs like Drew Barrymore who had been both a Guess model and on the cover of W magazine at an event? That turned into a huge six figure exclusive sale which resulted in me winning salesperson of the year at Conde Nast.
IMAGINE — Another great way to start off a story is with the word imagine. At a recent funding pitch for a cryptocurrency called Quantm.one, I worked with Matthew Sullivan, the CEO, on his opening "Imagine if you could unlock a $27 trillion dollar market that would create an asset backed token while helping people get equity out of their home without having to take on more debt. Well you don't have to imagine it because Quantm.one has figured out how to do just that." The response was very positive with one investor loving the pitch so much they asked if they could become an advisor for the company.
When you paint a picture of a potential new future that your product or service could create, you are on your way to becoming a master storyteller. The secret to a good story is that you cause the audience to lean in to what to know what happens next . The ideal way to talk about a case study is to tell the story in such a way that the listener sees themselves in the story. When I tell the story of how I helped Cole Smith get multiple offers when he pitched to get his Tresit startup funded, there are elements in my story where I tell how he was scared he would not know the answers to the questions investors would ask as well as being afraid of stumbling through his pitch.
Once I tell the story of how I was able to get him the questions in advance (in school that is cheating on a test, in life it is preparation) he would most likely be asked and helped him answer them, his confidence soared and he got the investors to want to fund his startup. After I tell that story, I ask people who are interested in hiring me to help them with their pitch, "Does that sound like the type of journey you would like to go on ? Do you want to have me as your sherpa helping you get up the mountain where the funding is faster than you can on your own and without all the frustration?"
John Livesay is known as "The Pitch Whisperer," who is a keynote sales speaker to brands like Coca-Cola, Anthem insurance and Coldwell Banker. He shares lessons learned from his award winning career at Conde Nast. His keynote talk gives sales teams the tools they need to become revenue rockstars. When that happens they win new clients and even learn how to win back ones that have left.
Get your FREE copy of my ebook "Getting To YES" and learn how to climb the ladder from invisible to irresistible! Here is your link to my Free eBook http://bit.ly/2BbJ5kH